Moto X 2015 vs Galaxy Note 4: 5 Key Differences
Now that most major smartphone manufacturers have released all their phones this year, with the exception being a few from Motorola and Samsung's Galaxy Note 5, buyers have lots of options. Here we'll be comparing the new 2015 Moto X Pure Edition "Style" to the Galaxy Note 4 for those considering an update, or one vs the other.
On July 28th Motorola took the stage and unveiled three brand new devices and put all prior rumors to rest. An upgraded Moto G for 2015, and two variants of the Moto X which are called the Moto X Style and the Moto X Play. In the US the Moto X Style will be sold as the Moto X Pure Edition, and the Play won't even be available in the States.
Read: Moto X 2015 "Pure Edition" Release Date Breakdown
This year Motorola has an excellent new flagship smartphone in the 2015 Moto X, and after shocking millions by releasing a phone with a huge 5.7-inch screen, it now instantly is being compared to other phablets, like the Note 4. Below is a comparison and highlights of a few key differences for those considering one of these two smartphones.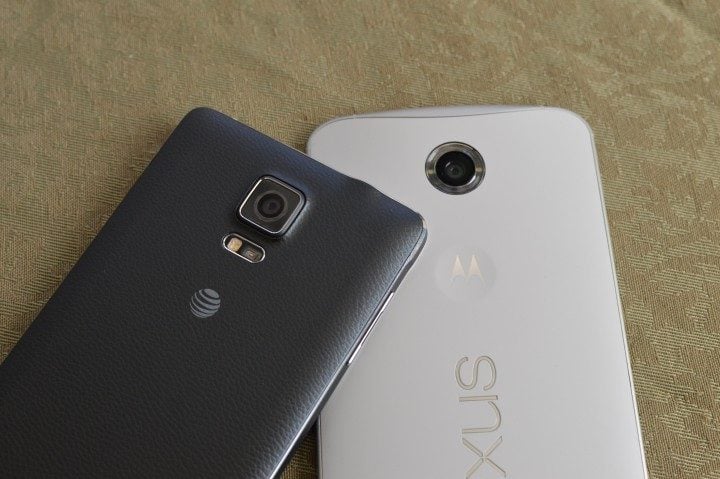 Motorola's all new 2015 Moto X Pure Edition "Style" has a lot to offer, but with a big screen it also needs to compete with the Galaxy Note 4, the incoming Galaxy Note 5, and even Apple's iPhone 6 Plus. That's a lot to battle, especially if they're trying to offer a great device for a low price.
In September of 2014 the Galaxy Note 4 was announced live in Berlin at the annual IFA event, and it eventually went on sale in the United States in October. The Note 4 is still a great smartphone with plenty to offer, and might be better than the Note 5 if rumors of a smaller battery and no micro-SD slot are accurate.
As a result, many owners are trying to decide if they should upgrade to the Note 4 instead of the Note 5, get something different. And even Note 4 owners are weighing all of their options, and trying to decide of Motorola's new phablet is a worthy alternative.
Read: Galaxy Note 5 vs New Moto X 2015: What We Know So Far
These two smartphones have a few similarities, yet some important differences that buyers will need to be aware of. Motorola's new smartphone packs of lot of power under its big screen and offers a lot of customization for a low price, and users will want to know all about it.
That all said, here are five key differences between the 2015 Moto X Pure Edition (Style) and the Galaxy Note 4 for those considering an upgrade or one of these as their next smartphone.
Design
The new Moto X and Galaxy Note 4 are similar in a few ways, and two are the design and screen size. They are both plastic devices with a thin aluminum bezel for added durability and to give it a premium feel, but they aren't as premium as an iPhone or Galaxy S6.
Samsung's Note 4 is a large 5.7-inch phone with one of the most premium design of any Samsung phone for its time, but it still has a lot of plastic to it. The back is removable, and it has a replaceable battery and a micro-SD slot. Two things the new Note 5 won't have. It has a physical home button with a fingerprint scanner, and capacitive touch buttons. Moto's device has all on-screen keys, for those curious. That means while they have the same screen size, the Galaxy Note 4 has more screen to actually use.
The 2015 Moto X though, is a completely different approach. The back can't be removed but it can be completely customized with over 100 different combinations to look how you'd like, it has a bigger display, and the stereo speakers are front facing, for improved sound. It does however, have a micro-SD slot as well.
We can't give one a nod vs the other as I've yet to try the new Moto X, but the Note 4 was one of the best smartphones of 2014, and could still be among the top 5 here in 2015 if the new Note 5 doesn't impress.
You'll want to try both in a store to decide which is right for you. A big factor though will be the price, specs, and customization. Which we'll go over in a moment.

As an Amazon Associate I earn from qualifying purchases.