Nexus 5 Android 6.0 Marshmallow Review
We've been using the Nexus 5 Marshmallow update for just about a week now and that means it's time to take another look at its performance. This Nexus 5 Android 6.0 Marshmallow review focuses on key areas like battery life and it will help you decide if the update is worth it. It will also help you fix Marshmallow problems.
In May, Google confirmed another update for its aging former flagship, the Nexus 5. The Nexus 5 has received a ton of Android updates over the years though maybe none as exciting as the Marshmallow update and its collection of features.
Earlier this month, Google started rolling out the Nexus 5 Android 6.0 Marshmallow update alongside several others. The company's Nexus 6, Nexus 9, Nexus Player, and Nexus 7 2013 are also getting the upgrade to the new operating system.
It's a huge update for the Nexus 5 and it could wind up being the last major update that the device gets (officially, at least) from Google. Nexus devices typically get two years of software support (not including security updates) before they're kicked to the curb. Believe it or not, the Nexus 5 is now two years old.
I've been a Nexus 5 user for two years and counting. I've kept my device stock and I've installed every single update Google's thrown at the device. For me, these updates have produced a mix bag of results. Some have been great, others have been awful.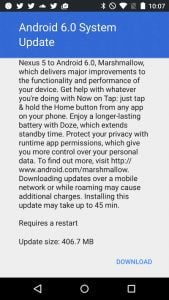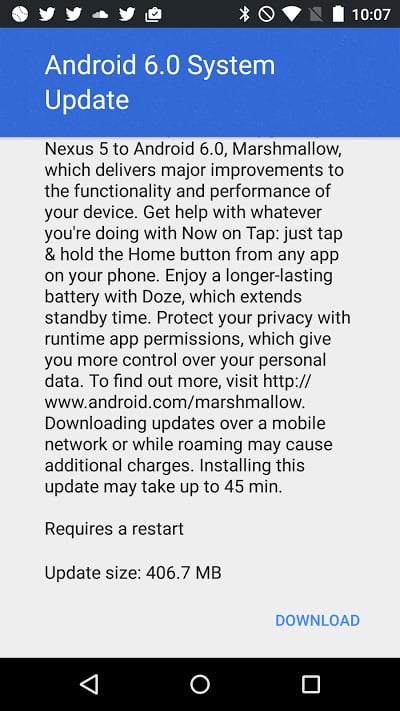 Last week, my Nexus 5 finally prompted me to install Marshmallow (I typically avoid manually installing updates so that I can detail the OTA process and its length) and I installed it on my version of the device immediately.
The Nexus 5 Marshmallow update is still rolling out but I believe that it should finish up soon. If you haven't seen it already, expect an OTA in the near future.
Google's Nexus 5 Marshmallow update is a big update and big updates can have a big impact on performance. Nexus 5 Marshmallow problems are already plaguing some users and that's why I've been taking a close look at the update.
This Nexus 5 Marshmallow review will provide you with additional feedback about the update and help you decide if it's worth the move from Lollipop or whatever you're on.
Nexus 5 Marshmallow Update Review
This review is aimed at those of you that are still on an older version of Android though it will also help those of you who have, like me, taken the plunge.
Before I offer up my thoughts on the Nexus 5's Marshmallow update, it's important for me to note several things. First, I'm running stock Android. I've never modified the software on this Nexus 5.
Second, and most important, mileage always varies when it comes to Android updates. I probably don't use my device the same way that you do.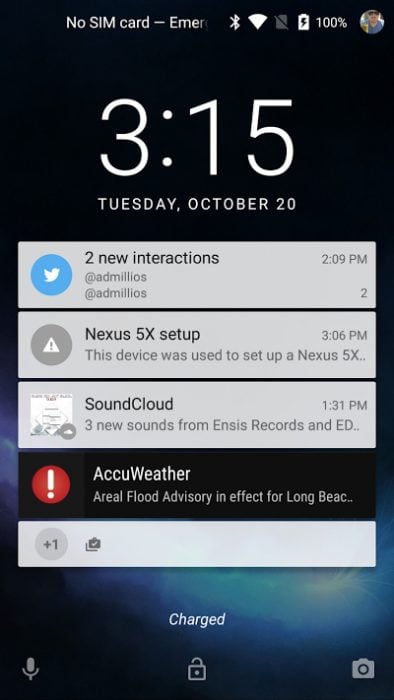 I'm going to do my best to help and steer you in the right direction but I recommend seeking out additional feedback if you're feeling leery or anxious about Android 6.0 Marshmallow or if you're dealing with Marshmallow problems.
And finally, this review is focused on the update's performance. I'll talk a little bit about the features I use most but this is going to be focused on key areas like battery life, connectivity and speed of the UI.
If you want more information about the Nexus 5 Marshmallow update's features, take a look at our full run down of the update.
Apps
Before the release of Marshmallow, I trimmed down my list of apps. My Nexus 5 now features around 75 applications, down from the 100 I had when it was running Lollipop.
While I have a ton of applications installed on my Nexus 5, I only use a core set on a regular basis. I've been using Asana, Slack, YouTube, Twitter, Instagram, Gmail, Hangouts, Facebook, Amazon, SoundCloud, Spotify, and Xbox One Smartglass a ton since I installed Marshmallow and so far, I haven't experienced any issues. Chrome's performance in particular has been a breath of fresh air.
I've seen a few crashes during my week with the official version of Marshmallow (Twitter, Facebook) but nothing out of the ordinary.
The apps I use more sparingly, apps like Yelp and AccuWeather and Yahoo! Fantasy Sports, haven't given me any major problems either.
Obviously, I can't speak for every single application on the Google Play Store. But what I can tell you is that my apps, Google and third-party, have been holding up since last week's install.
Now keep in mind, I've been installing tons of updates. Developers have been hard at work issuing support updates for Marshmallow. If you are having problems with an app, check for an update. There's a good chance an update will iron out your problems.
If the update has horrible reviews, you should take a look at our list of fixes for Android app problems. There are some simple fixes that could help you squash your problems once and for all.
Nexus 5 Battery Life
Doze was one of the Marshmallow features that Google put front and center and for good reason. Doze has been an absolute godsend for me and other Nexus 5 users.
If you're not familiar with Doze, it's a feature that automatically puts your device and its apps into a sleep state so that they aren't sucking up precious battery life. And yes, Doze works.
I've noticed a dramatic uptick in battery life during my week with the official Nexus 5 Marshmallow update. With Lollipop, there were some days when I couldn't get through a full day of use on one charge, even when using a combo of LTE and Wi-Fi.
With Marshmallow on board, I've been able to get a full day of use out of the Nexus 5. With ease. I took my Nexus 5 on a recent trip to Chicago and I was left with about 15% charge after a full day of travel and use. 8AM to 8:30PM.
I'm not the only one who has experienced a revelation. Others are reporting similar results and my guess is that some Nexus 5 users will be holding off on an upgrade to the Nexus 5X or Nexus 6P or something else entirely.
As is the case with all Android updates, there are some rotten apples. Some people are seeing a dip in battery life. If you're not getting the kind of results you want, take a look at our list of fixes for Marshmallow battery issues. They should help.
Wi-Fi, LTE & Bluetooth
Connectivity problems are extremely common after Android updates and it hasn't been surprising to see complaints about cellular data, Bluetooth and Wi-Fi in the aftermath of the Nexus 5 Marshmallow release.
There are a number of threads on Google's Nexus Help Forums and I've heard about various issues from fellow Nexus 5 users. There are problems, no doubt, but I'm just not running into any with my version of the Nexus 5.
I've tested the Nexus 5 and the Marshmallow update with a handful of Bluetooth devices and routers/modems. I've been able to successfully pair my device to various kinds of Bluetooth speakers and headsets.
I've tested the software and hardware with several different routers including TP-Link's Archer C9, a Belkin AC750 and a stock Verizon FiOS router. I haven't experienced any dips in speed and my connections have held up.
When I have a SIM card in, I use the Nexus 5 on AT&T's network. I haven't experienced any issues with LTE or 4G after installing Marshmallow.
Bugs & Issues
I've been using the Nexus 5 Marshmallow update for a week now and I haven't noticed any major problems with the update.
I haven't noticed any problems with charging. I haven't had any problems with my device's sound. I thankfully haven't seen any random reboots (memory issues). And my Contacts and phone numbers seem to be in place.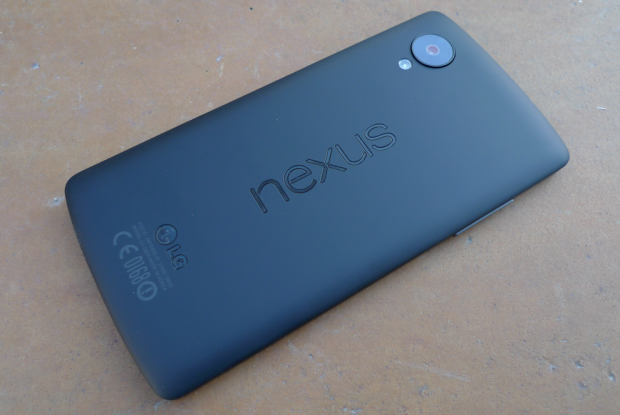 If there are issues on my version of Marshmallow, and there very well could be, I haven't run into them just yet. Smaller bugs and issues sometimes pop up days, weeks or sometimes even months after an update so there's a very good chance I'll run into something.
If you are running into issues with Marshmallow, take a look at our list of common Android 6.0 problems and fixes. It's the first play I'll turn if I do run into a bug of problem.
Speed
Lollipop had its fair share of problems but speed wasn't one of them. It was extremely fast and fluid on my Nexus 5. Marshmallow is more of the same.
I haven't experienced any weird lag or slowdown after a week with it on board. Animations and transitions are as they should be.
Not bad for a device that's two years old.
Is The Nexus 5 Marshmallow Update Worth Installing?
The Nexus 5 Marshmallow update has been excellent thus far. And the new features and enhancements are just part of what I love about it.
The software has delivered outstanding performance in several key areas including battery life. Doze and battery saving capabilities are the standout feature for me. The Nexus 5's battery life and camera were, in my opinion, its two biggest faults and Marshmallow has rectified one of them.
You're always taking a risk when you install new Android updates but I think Marshmallow is worth the risk. Assuming I don't run into major issues in the days ahead, I think Marshmallow is going to keep the Nexus 5 at my side for another year. It's that good.
If you do decide to install Marshmallow, make sure you prepare.
10 Nexus Android Marshmallow Release Date Tips
Your Nexus Android 6.0 Marshmallow Release Date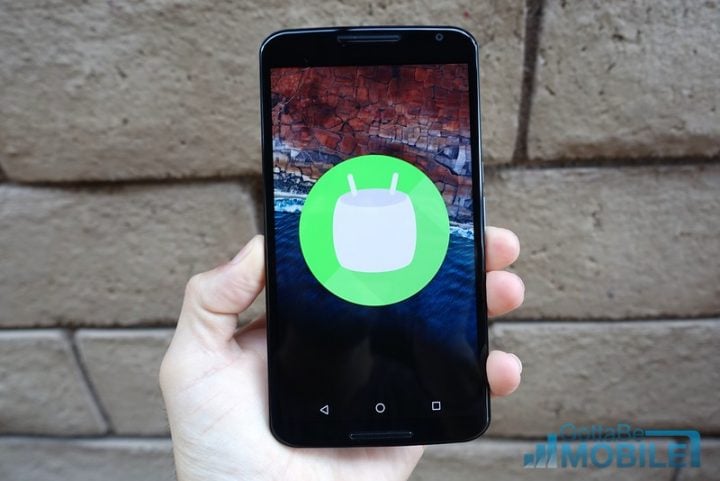 Today is the first Android 6.0 Marshmallow release date for Nexus users. But unless you install it manually, there's a very good chance you won't see the update arrive for your Nexus 5, Nexus 6, Nexus 9, Nexus 7, or Nexus Player.
While it would be nice if Google rolled out Android 6.0 to everyone at the same time, that's not how Google roll outs work. Predicting your exact Nexus Android 6.0 release date is going to be close to impossible. So is predicting your Android 6.0 Marshmallow release time.
Android updates can appear at all hours of the day. We've gotten prompts at 8:30AM and we've gotten them at 11PM. Updates roll out randomly in stages and Google's already confirmed Android 6.0 will follow standard procedure.
If you're not familiar with Google's Nexus Android roll out process, here's a Google engineer describing the roll out process in great detail. You're going to need to remain patient and check your device a couple of times a day.
Google's Android roll outs typically take a few weeks so it could be a few days or even a few weeks before you see the prompt for Android 6.0.

As an Amazon Associate I earn from qualifying purchases.