Nexus 6 vs Galaxy Note 4 (Rumored)
The Samsung Galaxy Note was the first huge smartphone to become popular. The first "phablet" worth buying so to speak. Over the years the Galaxy Note lineup has improved drastically and we now have a new Galaxy Note 4 release coming up in the next few weeks. However, it will have some strong competition from the iPhone 6 Plus, and the incoming Nexus 6.
While the Nexus 6 is still largely just a mystery device that's been rumored for months, it appears to be a real product that is on track for a release sometime in the next month or so. With the Note 4 release quickly approaching, buyers will want to know if it's worth buying, or worth waiting for something else.
Read: Nexus 6 Rumors: What We Know So Far
Last month Samsung took the stage in Berlin to announce the all-new Galaxy Note 4 with a redesigned aluminum exterior, an improved quad-hd display, and tons of improvements across the board. It's a worthy successor to the Note 3 from 2013, but the new Motorola Nexus 6 looks to be a pretty great phablet too. It's the first big Nexus smartphone, rumored to have a 5.92-inch display, so read on to see how they both compare.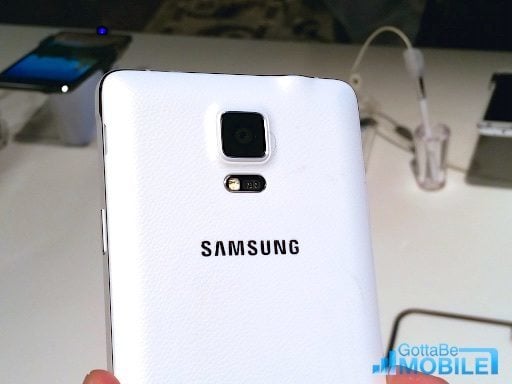 Over the past few weeks, we've gotten a good look at what very well could be the Motorola Nexus 6, a device that's codenamed "Shamu." Android Police recently leaked a number of key details including a render of what could very well be the Nexus 6. That render shows a large smartphone running Android L and a form factor that differs from the current Nexus smartphone.
While we wait for Google to make an announcement, enthusiasts are taking it upon themselves to deliver early comparisons to current devices. One user on Reddit was able to figure out the Nexus 6′s potential size. He then compared that potential size to the dimensions of the Samsung Galaxy Note 4 and the iPhone 6 Plus. We'll start with that, then break down the rest of the details below.
Based on the image above, the Nexus 6 will actually be the smaller of these device, all while offering a bigger display at the same time. While it's too early to say what the Nexus 6 will offer, simply because it has yet to be announced, we have a pretty good idea of what to expect and hopefully can help prospective buyers decide which of these two phones is right for them.
Display
It's no secret the Galaxy Note 4 is going to be an impressive device, we loved it when we got our hands on it during the launch event, and it's been a popular series for years. The Note 4 keeps the same 5.7-inch screen size as the previous generation, but increases the resolution to a stunning 2560 x 1440 Quad-HD display. Also known as a 2k screen by enthusiasts.
This is an AMOLED panel, mind you, so colors are going to be extremely vibrant and crisp. That being said, Google's upcoming Nexus 6 will reportedly be giving it a run for its money. Sources claim the Nexus 6 will have a huge 5.92-inch 2560 x 1440 Quad-HD display too, and be quite impressive. This will be the biggest Nexus phone to date. Something that worries many Nexus fans.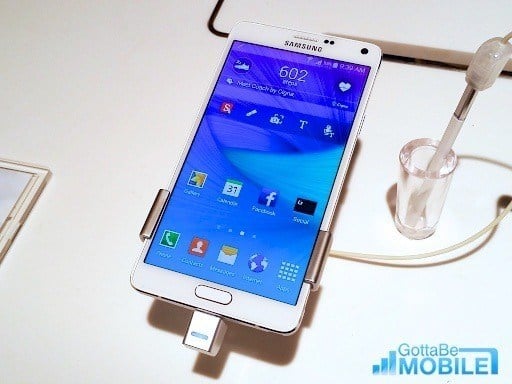 The leaked images we've seen show a Nexus 6 with extremely thin bezels, a front facing speaker similar to the Moto X (considering its made by Motorola) and a sleek design all around. Thin bezels will keep the size down so it doesn't seem so huge, but 5.92-inches may still be too big for many. We'll have to wait and see.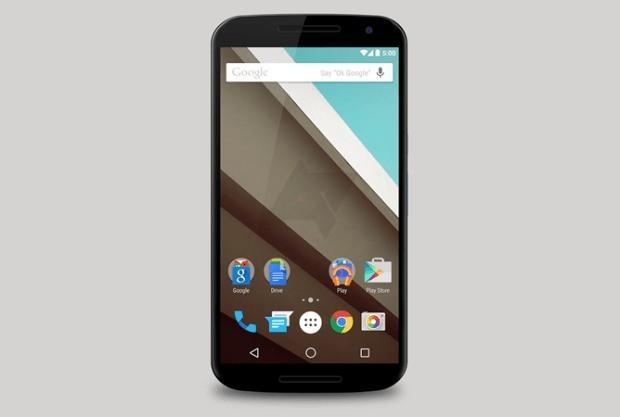 Design
The design is something we can't comment much on yet, as there isn't a lot of details yet. We know everything about the Galaxy Note 4 already, as does everyone else. It features the same Samsung plastic design we've seen for years, but has incorporated a chamfered aluminum ring around the entire edge. This makes it more durable, premium feeling, and just looks better.
At the same time, the Nexus 6 will have a lot to offer too. Most likely the same soft-touch matte plastic casing will house the device, but we may have some customization options or different color choices, considering Motorola is behind the new phone. The Nexus 5 is available in black, white, and red, with rumors of a yellow model that never came to fruition. Motorola could offer custom color backplates, but that's doubtful at this point. Google's never done such a thing, and we don't see that changing.
While the details about the Nexus 6 are still scarce, here's an image that leaked earlier this week giving us a great look at the front of the phone, and just how big it really is.
The device overall design and dimensions are hidden under a protective case, so we'll have to wait for more leaks or Google's official announcement before we learn more.
What it all comes down to though, is the size. If you're considering the Note 4, the Nexus 6 might actually be a bit smaller even with a bigger display, so take that into consideration. All things aside, I'd try the Note 4 in a store before you buy either phone simply to see if the huge size works for your hands.
Specs
While specs don't completely matter, nor does how many cores the processor has, many still love to see the raw numbers. Software will be key, but both of these phones are sporting some of the latest cutting edge hardware and are top-tier flagship smartphones in every sense of the word.
Nexus 6 (Rumored)
5.92-inch 2560 x 1440 Quad-HD Display
2.7 GHz Quad-Core Snapdragon 805 processor with 3GB of RAM
32GB internal storage
Android 5.0 "L Release" (64-bit support)
13 Megapixel camera with OIS, 2.1 front camera
Ring Flash similar to Moto X
Front Facing Speaker (bottom, look close)
Aluminum frame around device like the new Moto X 2014
3,200 mAh battery
Galaxy Note 4 Specs
5.7-inch 2560 x 1440 Quad-HD AMOLED Display
2.7 GHz Quad-Core Snapdragon 805 processor with 3GB of RAM
32GB storage (micro-SD support up to 128GB)
Android 4.4.4 KitKat (will see Android L eventually)
16 Megapixel OIS camera, 3.7 front camera
Fingerprint scanner, heart rate monitor, UV sensors
Aluminum design around edge
3,220 mAh battery
S-Pen stylus
It looks like both phones will have an aluminum ring around them for added durability and styling, huge displays, impressive cameras with optical image stabilization, and overall just impressive smartphones. What really matters is if you want a a device this big, a stylus, or what type of software you prefer. The Nexus 6 will have Android L, Google's latest release, while the Note 4 will have a heavily skinned version of Android 4.4.4 KitKat until they can update to the Android L release later this year.
All that aside, these two phones are closer in terms of raw numbers and performance than one might expect.
Software
We're not going to dive into the software too much here, simply because you all know what you'll be getting from Samsung. They use a skinned version of Android called TouchWiz full of fancy features, S-apps, motion and gesture controls, and even a Multi-window mode for multitasking.
Above is a quick look at some of the software on the Note 4, including the multi-window mode, but we're also hearing Google could finally be adding this to Android 5.0 L release too. A few rumors suggest that along with a bigger Nexus 6 and Nexus 9 the next version of Android will support dual-window mode for improved multi-tasking. Well have to wait and see.
Read: Android L Preview: Hands-On
Android L is the next major version of Android. It's rumored to debut on the Nexus 6 and 9 later this month and possibly be called Android 5.0. Google announced it back in June and let out a developer preview, which you can see below, but we're expecting things to look a little different and more refined come release date.
Again the video above is a very early preview of Android L, and surely things will be different once it arrives. We can expect the Note 4 to get Android L in the future, but it won't be for at least a month or longer. This means that those wanting the latest Samsung experience will want to head to the Nexus range.
Release
One factor between which device a buyer will choose is the release date. We're less than two weeks away from the Galaxy Note 4 release in the United States, and it will be arriving on all four major US carriers, regional carriers, and more. Samsung's a powerhouse in the smartphone market, and you'll be able to get their phone everywhere.
So what about the Nexus 6? Well, that is a answer we don't yet have.
Same source: Announcement rather than launch of the HTC Nexus 9 on 16th October. 8.9" (of course!)

— Paul O'Brien (@PaulOBrien) September 18, 2014
Above, is a tweet from a popular Android developer who's been accurate with leaked information in the past. His anonymous sources confirm the new HTC Nexus 9 tablet will be launched on October 15th, and officially released and available to buy at a later date. This has also been rumored as the release date for the Nexus 6.
However, another report from AndroidAuthority claims October 15th or 16th, as the date isn't final. Their tipster says both the new Nexus smartphone and tablet will debut with Android L on the 15/16th, as a general announcement, and the release will be on or slightly after November 1st. This means that right around the time the Galaxy Note 4 becomes available to buyers is when Google will reveal the Nexus 6, potentially leaving buyers in a tough spot regarding which to buy.
The Nexus 6 will be available from the Google Play Store, and eventually from a few other outlets. We've heard a few small rumors that a Verizon Nexus 6 is coming in 2014, but we're not holding our breath. The unlocked model from the Google Play Store will work on AT&T, T-Mobile and other GSM carriers, and it's somewhat possible we'll also get Verizon 4G LTE support, but that's something we'll have to wait for announcement to confirm. Verizon does things much different, and haven't played nice with Google in the past.
Price
Price is another thing we don't yet know, so buyers will have to wait this one out. Well, for the Nexus 6 at least. The brand new Samsung Galaxy Note 4 is going to be $299 with a new 2-year contract from basically all US carriers, and likely around the $699-$750 price depending on carrier. Ouch.
Google's Nexus 5 rings in at $349 or $399, and they've always kept Nexus prices lower than the competition. We can expect the same this year, even though the device is getting some major improvements. Motorola has some of the best and least expensive phones on the market (read: Moto X, Moto G) and that same strategy will likely be in play for the Nexus 6.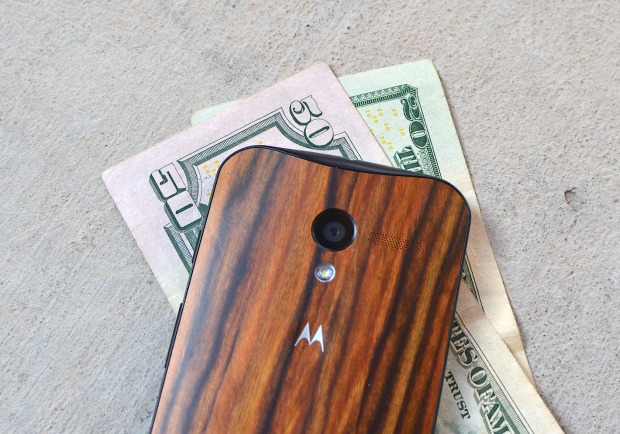 It's highly possible the new Nexus 6 will be $399 for the 16GB variant and $449 for the 32GB model, but we're also hoping Google makes a few changes and offers 32 and 64GB models instead. Sadly we won't know until more leaks surface, or until Google and Motorola announce the all-new Nexus 6 hopefully in the near future.
Final Thoughts
These are two vastly different devices. The Motorola-made Nexus 6 will be a pure Android experience aimed at developers, enthusiast, or those looking for a different smartphone than the norm. All while the Samsung Galaxy Note 4 is extremely similar to the model last year, but with some minor key improvements across the board.
If you want a pure Android experience with the latest version of Android and quick updates, the Nexus 6 is your phone. If you love content creation, using an S-Pen stylus, or are a fan of Samsung's wildly popular array of devices, grab the Note 4. All said and done, we'll have to wait a few more weeks to truly know what's coming and how the Nexus 6 will compare.

This article may contain affiliate links. Click here for more details.