NHL 16 Beta: 5 Things to Know
The NHL 16 release date inches closer, but fans don't have to wait to play NHL 16 early thanks to a new NHL 16 beta that starts next week.
EA announced the NHL 16 release date for September 15th, as part of the trio of sports games that arrive in a short span this fall.
The NHL 16 beta is focused on EA Sports Hockey League, EASHL, an online mode with the opportunity to choose specialized classes of players, combined with your skill and team-play.
After a rough go with NHL 15, EA Canada is reaching out to fans directly through a Ask NHL 16 developers mode and the new NHL 16 beta that delivers early access to EASHL to gather feedback.
EA is making major changes to EASHL with NHL 16, including the removal of player progression from this game mode, which could be part of the reason that the developer wants fans to try this new mode before the release for fine-tuning. This game mode supports two to six players with up to 12 user controlled players on the ice at one time.
There are a lot of questions about what the NHL 16 beta includes and how many of the new NHL 16 features you can try out in the beta. Here is a closer look at what gamers need to know about the NHL 16 EASHL beta.
NHL 16 Beta Release Date
The NHL 16 beta release date is July 30th, a Thursday. This is when the short one week beta starts and it closes on August 6th.
We don't know exactly when the NHL 16 beta will go live for users to download on this day, as EA says this will vary by region. The NHL 16 EASHL beta download will come through NHL 15, not on a store.
There is no option to pre-load the 5GB download to your console. This is only available on the Xbox One and PS4.
You can visit this thread today to start finding other players and teams to join in the NHL 16 EASHL beta.
How to Join the NHL 16 Beta?
This is a public NHL 16 beta, but not everyone gets access. In order to play you need to own NHL 15 for PS4 or Xbox One. If you bought NHL 15 on Xbox 360 or PS3 you can register for an invite to the beta, but it is not a sure thing like it is for owners of the newer version.
On July 30th NHL 15 owners will see a new panel in the game that allows them to download and access the NHL 16 beta.
For Xbox 360 and PS3 owners, go to this page and opt in to the NHL 16 beta before midnight eastern on July 25th for a chance to play.
EA Access for NHL 16 Beta
EA Access members can play the NHL 16 beta even if they didn't buy NHL 15. The NHL 15 game is part of the EA Access vault that allows gamers on the Xbox One to play the full version of this and many other EA games for $5 a month or $30 a year.
Make sure you download NHL 15 so that you are ready to download the NHL 16 beta. If you are a EA Access member you will also get to play NHL 16 five days before the release in September, but that will be the full game. EA Access also includes 10% off the digital game.
NHL 16 Beta Progress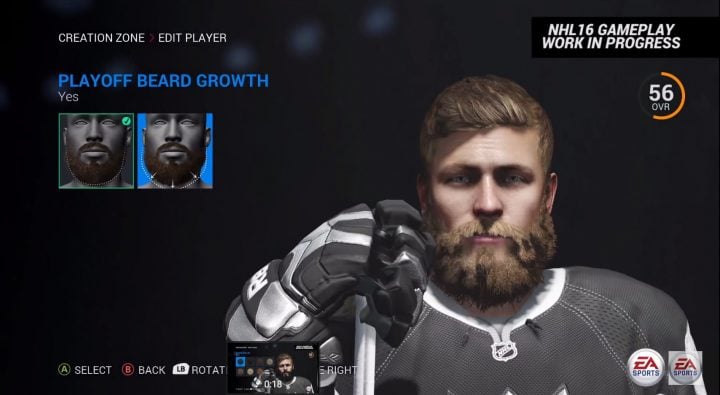 EA already confirmed that there is no player progression in EASHL in NHL 16, and the studio also made an important announcement about the progress you do make and customization you make.
EA Canada shares, "Player and team stats will not carry over to the main game when NHL 16 launches in September. However, individual & team skills you learn through this beta will!"
The same goes for teams you create in the beta, which will not carry over to the final NHL 16 release date.
Players can customize players and goalies in the NHL 16 beta, but these will not carry over to the final release either.
NHL 16 EASHL Beta Feedback
The main reason for the NHL 16 EASHL beta is to gather feedback from users about the game. This suggests that EA plans to fine-tune the experience ahead of the NHL 16 release date and in patches to the game.
EA Canada shares, "We are still in the process of tuning gameplay for EASHL and want your feedback. You can fill out a gameplay survey here."
Players can start to give feedback on July 30th to shape the final release of NHL 16.
9 Exciting NHL 16 Details
NHL 16 Release Date Confirmed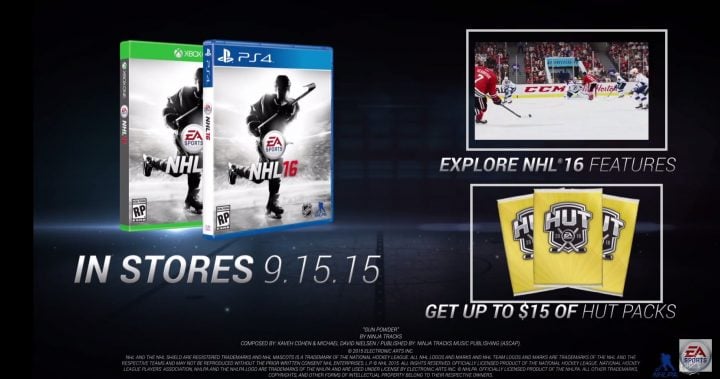 EA Sports confirmed the NHL 16 release date for September 15th. This places the game ahead of FIFA 16 and leaves room for a NHL 16 demo release date in early September.
We also learned that there is an early NHL 16 release date on Xbox One with EA Access. The EA Access program offers new EA games up to play five days early, with six hours of gameplay. These are the full games and progress carries over to the official release. EA Access is $5 a month or $30 a year. The service also offers access to a range of older EA games.
Gamers can pre-order NHL 16 on Amazon, at GameStop and Best Buy. The game is $59.99 for the base version and $69.99 for a deluxe version with Hockey Ultimate Team bonus content. Expect to see NHL 16 deals closer to the release.

As an Amazon Associate I earn from qualifying purchases.