OS X Yosemite Download Problems
There is no official OS X Yosemite download time, but the free update is now available on the Mac App Store and users are running into OS X Yosemite download problems that prevent them from starting the installation or even the download.
We expected long OS X Yosemite download times, but it's surprising to see Apple start off the release with OS X Yosemite download problems that don't include any helpful information.
This is one reason you may not want to install OS X Yosemite today. Most of the time these types of download problems go away after a few hours. If you see any of these OS X Yosemite download errors, try again in an hour or two, or wait until tomorrow.
The two main OS X Yosemite download problems include an early message saying the OS X Yosemite download is not available in the U.S. App Store, which was a temporary message while Apple turned on the page and made the download available.
Read: OS X Yosemite Release Date Tips
Now users are seeing two OS X Yosemite download errors when they attempt to buy the free update or when they try to click on download OS X Yosemite in the Mac App Store. They are shown below.
"This item is temporarily unavailable. Try again later."
After clicking OK, users see a second message stating,
"We could not complete your request. There was an error in the App Store. Please try again later. (null)"
Clicking OK closes this window and returns the user to the OS X Yosemite listing in the Mac App Store. This prevents the OS X Yosemite download from starting.
Gotta Be Mobile experienced this error on multiple Macs. If you see either of these OS X Yosemite download errors you should try again in a little while.
Users on Twitter report similar OS X Yosemite download errors, including the (null) error that prevents the download from starting.
OS X Yosemite – #MacAppStore still not able to actually download OS X Yosemite #null #error #apple #fail https://t.co/joEB1qjBIG

— jliquor (@jliquor) October 16, 2014
Not quite ready for download it appears. pic.twitter.com/yKsDrb4Iq0

— Warner Crocker (@WarnerCrocker) October 16, 2014
The best thing to do is to wait for these OS X Yosemite download problems to pass. It is very likely that within 30 to 60 minutes Apple will complete the behind the scenes work and make the OS X 10.10 available to everyone without any download problems.
You can follow our tips to prepare for the OS X Yosemite release while you wait and check out the new OS X Yosemite features in the slides below to see what is coming to your Mac soon.
OS X Yosemite Release & Feature Roundup
New OS X Yosemite Design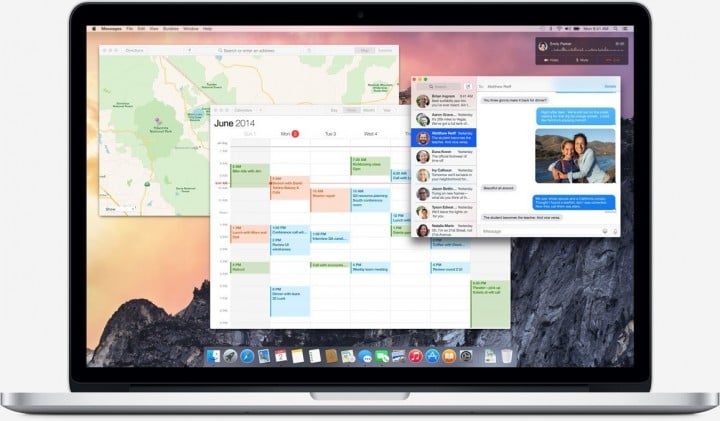 The biggest change in OS X Yosemite is the new look and design. Similar to the visual upgrade the iPhone and iPad received last year this free OS X update brings a new, but familiar look to your Mac.
Apple's new look for OS X Yosemite starts with redesigned buttons, windows and elements. You won't be lost when you open Yosemite, but you will notice a cleaner overall design. There are now translucent areas in some apps that show a blurred view of what's behind and the toolbars are now less cluttered and more useful.
Apple also changes the OS X Yosemite dock and system fonts to make OS X Yosemite look better on a Retina display. Notification Center and Spotlight are also new, which we cover in more detail below.
The OS X Yosemite video above walks through the various changes to OS X Yosemite design.

This article may contain affiliate links. Click here for more details.