How Long will the OS X Yosemite Download Take?
We're still waiting for the OS X Yosemite release time to arrive after the special event, but we can help you figure out if you have time for the OS X Yosemite download today.
The OS X Yosemite download link is not on the App Store yet, but it should appear in the next several hours. After OS X 10.10 is on the Mac App Store you can start your download.
One of the biggest questions is how long will the OS X Yosemite download take? This is a valid question, especially with the need to install the update after you complete the download.
When available, this is the OS X Yosemite download link.
Overall the OS X Yosemite download time will vary based on how fast your connection is and how many people attempt to download it on the Yosemite release date.
There is a good chance that most users will be able to download OS X Yosemite in about 30 minutes with a fast cable connection. For users with a lighter cable connection it could take up to an hour.
Read: How to Prepare for OS X Yosemite Release
These OS X Yosemite download times assume Apple servers can handle the load. On release days we typically see servers slow to a crawl which could push the OS X Yosemite download to several hours.
The Apple OS X 10.10 download measures in just over 5GB, which is not a small file. You should download this on a home or work connection. Using your phone as a hotspot to download this much data may be faster than a slow home connection, but it will also use a lot of mobile data and could push you over your data limits.
With the iOS 8 update we saw users run into big delays with downloads as Apple struggled to keep up with millions of users who wanted to download the update. This smaller update clocked in at just over 1GB, and it took some users hours to download on the release day.
We may see the same OS X Yosemite download times if the same demand is present when the OS X Yosemite download goes live in the Mac App Store. The only OS X Yosemite download is in the Mac App Store, so you shouldn't go looking for alternate downloads.
For most users the OS X 10.10 download will take less than an hour on a good home Internet connection. In most homes using WiFi will be as fast as using a wired connection, as long as you are on the same floor as your router. The limiting factors are the connection speed you pay for and the stress on Apple's servers.
If you wait until later this evening or even until Friday or the weekend you can count on a faster OS X Yosemite download time, closer to that 30 minute estimate. This is about how long it took to download the Yosemite beta yesterday and similar to the time for Apple's last update.
OS X Yosemite Release & Feature Roundup
New OS X Yosemite Design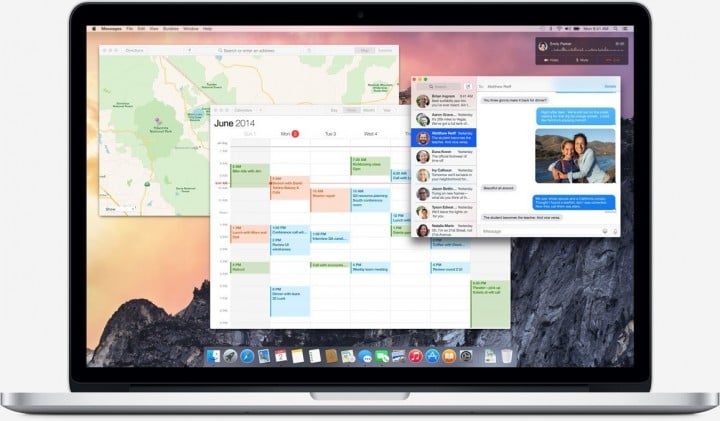 The biggest change in OS X Yosemite is the new look and design. Similar to the visual upgrade the iPhone and iPad received last year this free OS X update brings a new, but familiar look to your Mac.
Apple's new look for OS X Yosemite starts with redesigned buttons, windows and elements. You won't be lost when you open Yosemite, but you will notice a cleaner overall design. There are now translucent areas in some apps that show a blurred view of what's behind and the toolbars are now less cluttered and more useful.
Apple also changes the OS X Yosemite dock and system fonts to make OS X Yosemite look better on a Retina display. Notification Center and Spotlight are also new, which we cover in more detail below.
The OS X Yosemite video above walks through the various changes to OS X Yosemite design.