OS X Yosemite Release Date Confirmed
The OS X Yosemite release date is confirmed for today, as a free download for Mac users looking for a new features and improved performance.
Apple announced OS X Yosemite at WWDC earlier this year with a public and developer beta allowing many users to try OS X 10.10 early.
The OS X Yosemite release date arrives today after the Apple Event is over. OS X Yosemite is free and compatible with many Macs, even those as old as 2007.
At the October Apple Event Craig Federighi delivered an overview of the new OS X Yosemite features that deliver a new experience on Yosemite include the way this update works with iOS 8.1 to keep your documents, phone calls, photos, video and more across all Apple devices.
Read: How to Prepare for OS X Yosemite Release
This included Continuity features like Handoff, which lets you pick up on a document or email you had open on another Apple device, options to use the Mac as a speakerphone for the iPhone and to send text messages from your Mac using the iPhone.
During the OS X Yosemite release announcement Federighi demonstrated Handoff. In the demo we saw Federighi switch from iPhone to iPad, back to the iPhone and then to an iMac running OS X Yosemite where all of his changes are included. This only works with Apple apps right now, like KeyNote and other apps.
Throughout the demo the company also showed the ability to make a phone call from OS X Yosemite on a Mac. To start this Federighi used the new Spotlight function in OS X 10.10 to find the Stephen Colbert contact information in his address book and start a call with the Mac as a speakerphone for his iPhone 6.
Apple made a huge deal about battery life in the new Safari for OS X Yosemite, boasting that Safari delivers three hours of longer web browsing battery life than Chrome or FireFox and three hours longer of streaming Netflix.
The OS X Yosemite compatibility list includes the following Apple computers.
iMac – Mid 2007 on.
MacBook 13-inch Aluminum – Late 2008 and on.
13-inch MacBook – Early 2009 and on.
13-inch MacBook Pro – Mid-2009 and on
15-inch MacBook Pro – Mid 2007 and on.
17-inch MacBook Pro – Late 2007 and on.
MacBook Air – Late 2008 and on.
Mac Mini – Early 2009 and on.
Mac Pro – Early 2008 and on.
The free OS X Yosemite update will arrive in the Mac App store later today as a free update. This may arrive soon after Apple completes the special event.
OS X Yosemite Features
Check out the exciting OS X Yosemite features in the slide show below, highlighting the new design and many of the ways you can use the iPhone, iPad and a Mac with OS X Yosemite together.
OS X Yosemite Release & Feature Roundup
New OS X Yosemite Design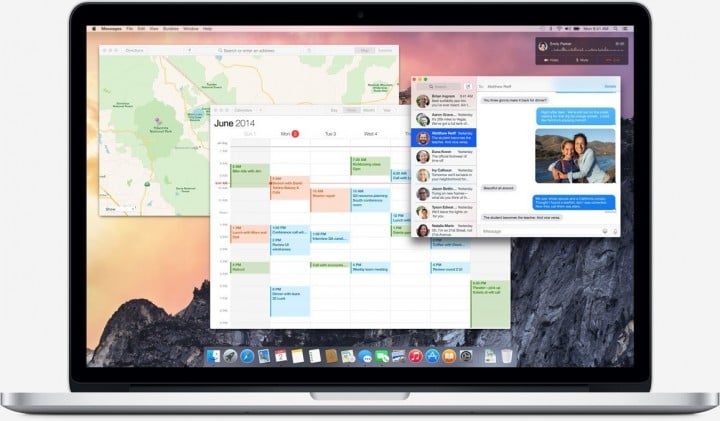 The biggest change in OS X Yosemite is the new look and design. Similar to the visual upgrade the iPhone and iPad received last year this free OS X update brings a new, but familiar look to your Mac.
Apple's new look for OS X Yosemite starts with redesigned buttons, windows and elements. You won't be lost when you open Yosemite, but you will notice a cleaner overall design. There are now translucent areas in some apps that show a blurred view of what's behind and the toolbars are now less cluttered and more useful.
Apple also changes the OS X Yosemite dock and system fonts to make OS X Yosemite look better on a Retina display. Notification Center and Spotlight are also new, which we cover in more detail below.
The OS X Yosemite video above walks through the various changes to OS X Yosemite design.

As an Amazon Associate I earn from qualifying purchases.