34 PC Fallout 4 Mods You Should Try Right Now
PC Fallout 4 mods have been out for awhile but if you're just getting around to trying them out, take a look at this running list of Fallout 4 mods for PC.
When Bethesda announced Fallout 4 at E3 2015, it confirmed plans to deliver Fallout 4 mods to PC, Xbox One and PS4 users. PC mods have been around for ages (see: Skyrim) but consoles presented a whole new challenge.
When Fallout 4 arrived in November, developers immediately got to work on PC Fallout 4 mods. These days, there's a vast collection of excellent Fallout 4 mods to choose from on Nexus Mods and the official Bethesda marketplace.
Earlier this year, PC Fallout 4 mods emerged on Bethesda's official marketplace giving PC gamers another place to hunt for tweaks, new weapons, fixes, and more.
There are over two thousand PC Fallout 4 mods on the official marketplace and many more available via Nexus Mods. Sorting through them all can prove to be a tedious task.
If you're just picking up Fallout 4 or Fallout 4 mods for the first time, we want to help narrow things down a bit and highlight some of our favorite Fallout 4 mods on PC.
This is only the beginning and this list will grow in size as developers push out incredible new mods for the game. Keep an eye out for regular updates.
No DotDot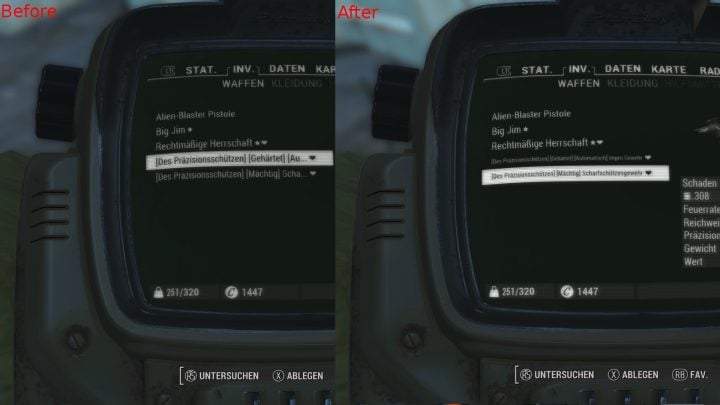 We start with one of our absolute favorites, a PC Fallout 4 mod that goes by the name of No DotDot.
No DotDot is a simple mod but it will have a huge impact to your game's user interface when it's installed on your PC.
When it's on board, you'll no longer see those annoying little dots at the end of items in your inventory. Instead, you'll see the full name of an item. It's a small change but it's one that we, and many others, appreciate.
The developer hasn't brought it over to the official Fallout 4 marketplace yet so you'll need to install it via the instructions over on Nexus Mods.
A small price to pay for an excellent PC Fallout 4 mod.

This article may contain affiliate links. Click here for more details.