5 Things to Know About the Pixel November Android 10 Update
Earlier this month Google released another update to Android 10. That being the November Pixel Android 10 update and security patch, which they do on the first Monday of every month. This November 4th update delivers some important changes and fixes for the Pixel 2, 3XL, 3a and the new Pixel 4. Here's what owners need to know, what's changing and how to get the latest update right now.
This is the second monthly update of Android 10 and the first for the Pixel 4, so it's a big deal. With the hopes it will improve security & performance, patch issues and fix any lingering problems. You'll absolutely want to accept and download it right away. Here's more info.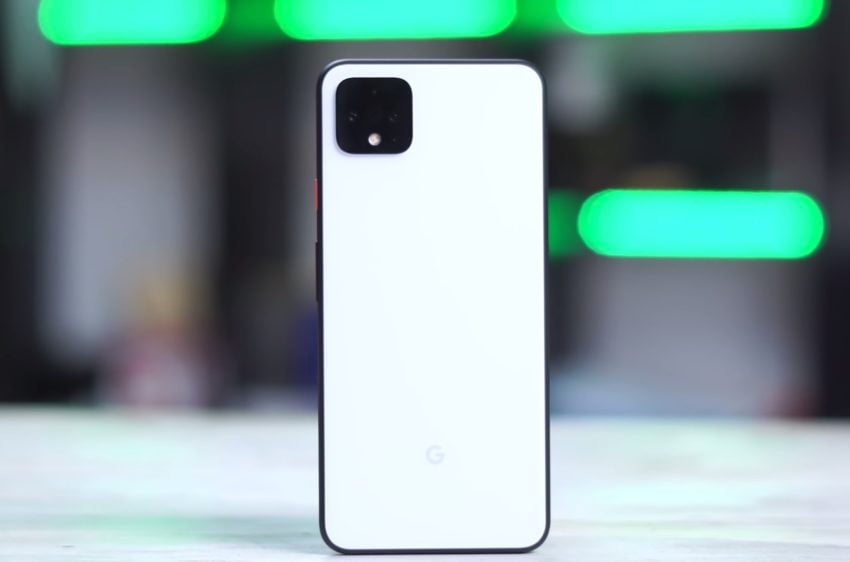 Before we begin, it's worth noting that this is the first update the original Google Pixel or Pixel XL will NOT get. They're now several years old, and will likely not get too many updates moving forward. That aside, your Pixel 2, Pixel 2 XL, Pixel 3, Pixel 3 XL, Pixel 3a, Pixel 4 and Pixel 4 XL will get a new update this week with the latest, greatest, fastest and most secure version of Android 10 available.
Update: It looks like while most Pixel devices already got the update, a growing number of Pixel 4 and Pixel 4 XL users didn't get the update right away. In fact, we're finally seeing it roll-out as of November 15th. We're not sure what the delay was for, but it's finally ready so go get it.
Supported Devices
Pixel 2 and Pixel 2 XL
Pixel 3 and Pixel 3 XL
Pixel 3a and Pixel 3a XL
Pixel 4 and Pixel 4 XL
Unfortunately, it looks like Google continues to leave the older Pixel C tablet out, which makes sense, as it's as old as the original Pixel phones.
November Android 10 Update, Changes, & What's New
Google releases the latest security updates on the first Monday of every month, which is Monday, November 4th, 2019 this month. The over-the-air update started hitting devices immediately, although some people are still waiting. My Pixel 2 XL and Pixel 3 both got it within 48 hours.
You can find out more about any changes on the Android security bulletin, and Pixel phone-specific info at the Pixel security bulletin page. Overall we're seeing 30+ patches that will help keep your Android device safe.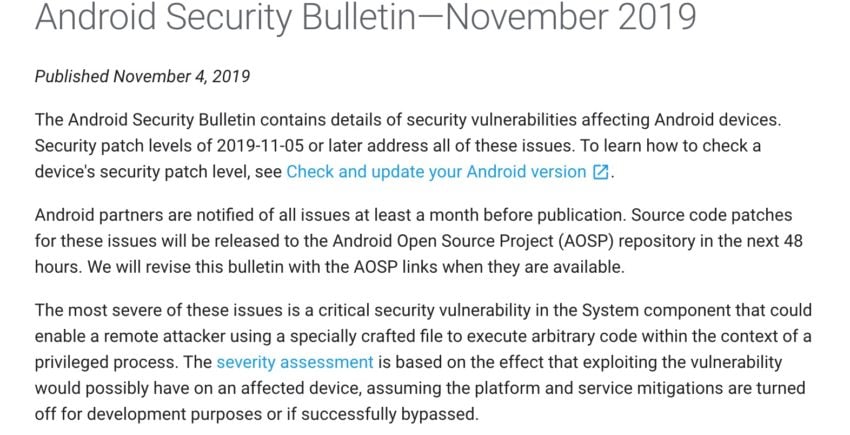 This month you'll get multiple "critical or high" patches that improve security, patch potential issues, and see several bug fixes for the new Pixel 4.
Being the first monthly Pixel 4 update and only the second for Android 10, we're seeing a lot that's new to improve the overall Android experience. The most notable fixes include changes to the camera and 90 Hz display on the Pixel 4. Not to mention fixes for speaker quality, Google Assistant launches, and controller support. Just to name a few.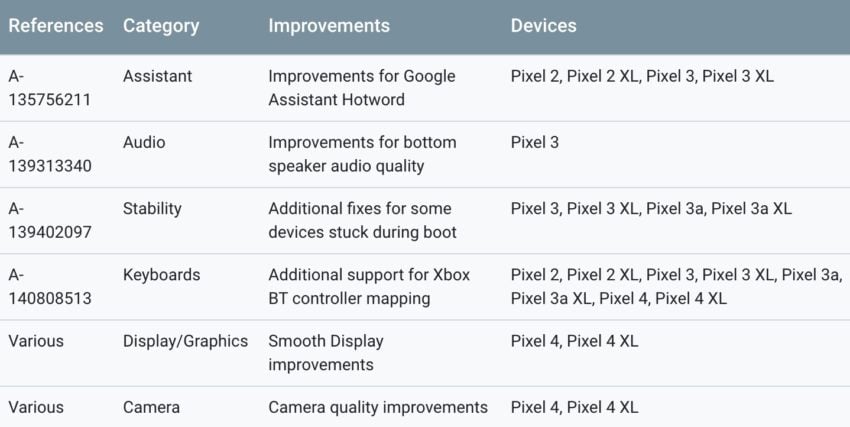 This is a pretty big list of changes, even if they seem minor. While the monthly August and September updates were big, as was the September release, but this November one really delivers on a few important things Pixel 2-Pixel 4 owners were waiting for.
Also, we can confirm the November update fixed the white balance camera issues on the Pixel 4. So, once your Pixel 4 finally gets this software you'll have a better camera experience.
Download the November Pixel Android 10 Update
If you'd like to get this newest version of Android for your Pixel device now, instead of waiting, you can download or flash it from the links below. That said, we're already seeing the update hit most devices, so we recommend waiting for the OTA instead of manually downloading the files.
Download Factory Images
Grab OTA Update Files
If you do manually download the files, here's how to update your Pixel device.
When Will I Get the Update?
Lately, these updates arrive almost instantly, or within 24-48 hours of the announcements going up online. As expected, my smaller Pixel 3 already got the November release this morning. So, expect an over-the-air update notification within an hour or two. If not, it'll most likely arrive within the next 24-48 hours. You typically shouldn't have to wait more than a few days, although it does happen on occasion.
You can also go to Settings > System > System Update > Check for Updates to get it immediately. This pulls the update from Google's servers to your phone. The entire process should take less than 10 minutes. From downloading to installing and rebooting on Android 10.
What's Next for Your Pixel 2, 3 or Pixel 4?
With all the changes and fixes from the August, September, and October updates, Pixel devices were running like well-oiled machines. However, Android 10 introduced a few new issues even after a long 6-month beta period. Google is still working out a few kinks, but these updates are making it right.
Now that we're on official Android 10 software, the next step is to simply improve the experience, fix bugs, and tweak the software for the best performance each and every month. We doubt Google will release Android 10.1 anytime soon, but it's certainly possible. For now, just expect an update this week, and another on the first Monday of the month in December and in early 2020.
Keep in mind that this update is only for the Google Pixel lineup. Other phones from OnePlus, Samsung, LG, or others are waiting for updates from the makers. Basically, this update doesn't apply to you yet unless you have a Pixel, Essential Phone, or maybe a OnePlus phone as they're pretty quick to updates.
So what's actually next for your Pixel phone? Well, aside from the December update, that's the Android R beta sometime in March of 2020. That'll be an important release for Android, but it's nowhere close to being time to talk about that. So, get the latest November Android 10 software for your Pixel 2, Pixel 3 and Pixel 4. Then, leave us a comment below if it fixes your problems or even adds a new one.
In closing, stay tuned for more details in the near future, or fix your Pixel problems with this guide.