Plantronics Voyager 6200 UC: Stylish, Neckband Business Headphones
The Plantronics Voyager 6200 UC might be the best business bluetooth headphone you've ever used. By bringing the popular neckband style headset that many consumers love to the business world, Plantronics is able to deliver crazy long battery life, active and passive noise cancellation, four microphones and it's Certified for Skype Business.
I was impressed with the design and build quality when we went hands on with the Voyager 6200 UC earlier this year and in addition to all the great features already listed, I also like that you can use one earbud at a time if you need to stay aware of your surroundings. With a classic neckband design, this Bluetooth headset for business can last all day and it even includes a vibration in the neckband to alert you to an incoming call.
Like other Plantronics headsets, this is designed to fit comfortably in a wide range of ears and it comes with the connectivity and certifications that are required in a business setting. The dynamic mute alert feature mean you won't accidentally waste time sharing your excellent idea through a muted line. If you talk while muted on a call, the headset will let you know with a whispered alert in your ear.
While working in a closed or open floor plan office distractions are a major issue. Gavin Sear, Global Product Marketing at Plantronics said, "We continue to hear that noise and distraction are the number one pain points for office professionals. The best way to get people to embrace technology that can help them communicate and collaborate better is by offering choices that speak to their individual workstyle as well as their lifestyle, whether they're in or out of the office. Voyager 6200 UC delivers this versatility with business-grade audio to a new group of users that find existing headset and headphone offerings too limiting."
Plantronics has brought several of their over the ear models to the business lineups with business ready features, and they offer a very wide range of traditional mono headphone options like the Voyager line, but this fills a much needed hole in the market for users who would rather wear something that looks like it's ready for a walk or even use at the gym than a single ear bluetooth headset that comes with its own set of stereotypes outside of an office setting. This matches the trend we've seen with business notebooks looking more like the notebooks younger users would buy to use at home and offering features that younger employees demand.







The Plantronics Voyager 6200 UC includes the following features;
Four omni-directional microphones that listen to sound from all directions and deliver a professional-grade audio experience on both sides of the call, without a microphone boom, via

Plantronics

clear talk technology
Active and passive noise cancellation, ensuring focus when surrounded by noise and distractions both in and out of the office
Wideband audio delivering clear PC calls and premium hi-fi stereo, which is especially important when listening to music
Versatile design, allowing users to listen to calls or media in stereo or simply drop either earbud for single ear use and to be more aware of their surroundings; the neckband discreetly vibrates to indicate an incoming call or alert
Certification for Microsoft Skype for Business; compatibility with Cisco Jabber, Microsoft Teams and numerous software apps
The ability to pair up to eight devices and connect to two simultaneously for easy audio management
Class 1 Bluetooth, providing a wireless range up to 30 m/98 ft
Dynamic mute alert, ensuring optimal productivity by sensing and alerting users via an in-ear whisper if they talk while muted
Up to nine hours of talk time, 16 hours of listen time to communicate and collaborate all day
The Voyager 6200 UC also supports Plantronics Manager Pro, which IT professionals can use to manage these devices and monitor usage and acoustic analysis. This is a separate subscription service.
Plantronics offers the Voyager 6200 UC in black and sand colors and are is available now for $299.95.
Best Wireless Headphones & Earbuds
Bose QC35 Wireless Noise Cancelling Headphones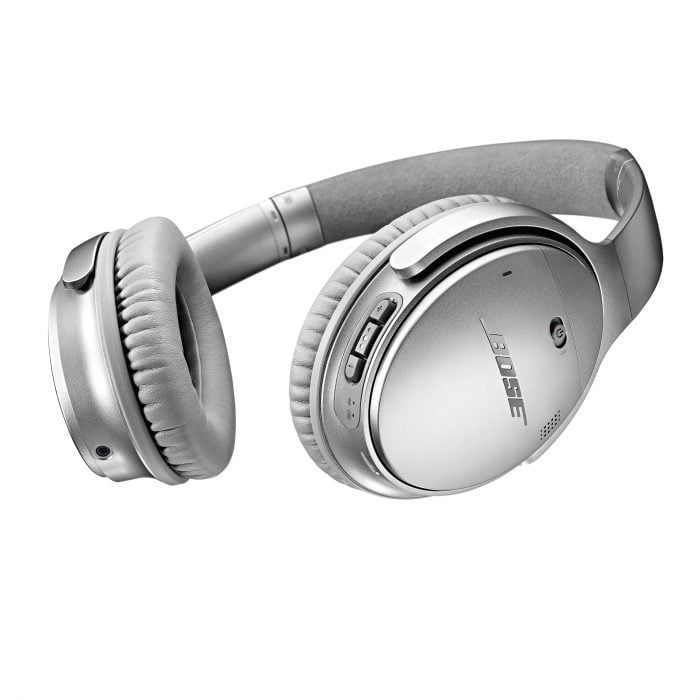 Bose sets the standard for noise cancelling headphones, delivering an instant reprieve from the noise and distractions at home, in the office and on an airplane. Now, the Bose QC35 bluetooth headphones offer this all without the need to plug a wire into your iPhone or Android smartphone. Sound quality is impressive and the range is great.
The Bose QC35 headphones are comfortable, block out distracting noises better than any other headset on the market, deliver 20 hour battery life and an option to use wired after the battery dies. Excellent call quality even in windy or noisy environments.
$349 at Amazon in Black and Silver