PlayStation VR vs New PlayStation VR: What You Need to Know
PlayStation VR brought virtual reality gaming to PS4 consoles around the world. Now Sony has the new PlayStation VR CUH-ZVR2. It's a new headset that addresses some of the major issues gamers had with its original PS4 accessory.
The new PlayStation VR isn't a complete redesign of Sony's first virtual reality gaming device at all. You can use the headset with all PS4 gaming consoles, not just Sony's latest models. Also, it works with all the PlayStation VR games that the existing model does, like Batman: Arkham VR and Star Wars Battlefront's virtual reality experience. That both headsets are so similar makes choosing which to buy more confusing than your average console or console accessory update.
Read: Sony PlayStation VR: What You Need to Know
Here's how the PlayStation VR headset that launched in 2016 compares to the PlayStation VR CUH-ZVR2, Sony's newest virtual reality headset for the PS4, PS4 Slim and PS4 Pro.
PlayStation VR vs the New PlayStation VR: How They're Different
The original PlayStation VR always felt like Sony concentrated so much on making virtual reality gaming affordable that it missed some small details. The company released a software update that brought high-dynamic color contrast support to every PS4, but PlayStation VR owners needed to disconnect their headset before they could enjoy it. Connecting a headset and everything else you needed to get the most out of the device was a chore. PlayStation VR CUH-ZVR2 rights these wrongs and a few others.
The new PlayStation VR headset includes headphones that curve gently to match the contours of the headset. That makes moving your head while wearing the device a little less awkward. Rather than needing to dive into menus or fumble around with on-screen controls, the headset lets you change audio settings with an inline remote.
Read: 5 Cool Things You Can Do with PlayStation VR
Every PlayStation VR connects to a processor unit. The unit included with the new PlayStation VR CUH-ZVR2 has HDR pass through so that you don't need to unplug it to watch HDR content on your television set. That's something that frustrated many gamers who invested in the first headset and wanted to take advantage of the expanded color contrast that their HDR television offered.
PlayStation VR vs the New PlayStation VR: How They're the Same
Aside from those differences, most things are the same with the PlayStation VR CUH-ZVR2.
Sony has never included everything you need to get the PlayStation VR working with your console in its cheapest bundles. You get the new headset with the new PlayStation VR, cables and its processing unit. You don't get a PlayStation Camera or a PlayStation Move controller with the device.
Again, every game that you can play on the original PlayStation VR works on the new PlayStation VR.
PlayStation VR vs the New PlayStation VR: Release Date & Price
The PlayStation VR CUH-ZVR2 is the same price as the headset it replaces in Japan. Japanese shoppers can buy the new PlayStation VR on October 14th.
The company hasn't said when the device will launch outside of Japan. It's possible that Sony might wait until after the holiday season to bring the new PlayStation VR to more countries and territories. We're already close to the holiday shopping season, and the company may not want to confuse shoppers thinking about picking up the system.
Read: 10 Exciting PlayStation VR Launch Games Revealed
We do have a rough idea of how much the device will cost. In Japan, the headset costs the same as the model it replaced. If that happens in the United States, expect a bundle with just the headset and cables to sell for $349.99. A bundle that includes a free game, two motion controllers and a PlayStation Camera could sell for $449.
PlayStation VR vs the New PlayStation VR: Which Should You Buy?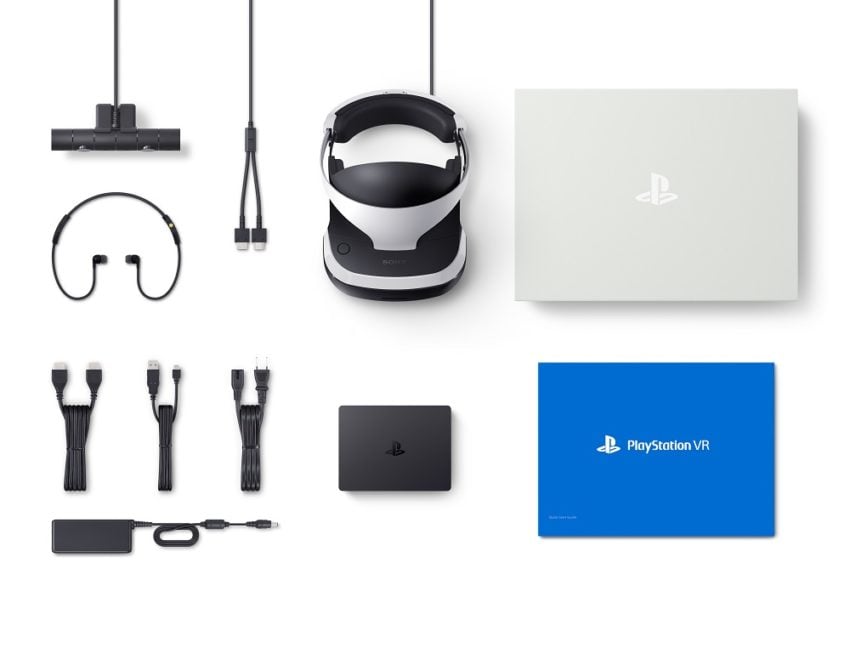 Whether you should buy the original PlayStation VR or the new PlayStation VR mostly depends on timing and how badly you want the best virtual reality gaming experience in your living room.
We don't know when the new PlayStation VR will launch in territories outside of Japan. If you can't wait to try virtual reality out, you don't have a choice: buy the current headset.
But, if you can wait to buy PlayStation VR, do. These hardware updates are small; however, every detail is important when you're trying something new like virtual reality. Also, if two devices cost the same, it's always better to spend your money and get all the latest features, no matter how unimportant you think they are.