PS4 Deals November: PS4 for $275
November is a perfect time to buy the PS4 thanks to a collection of PS4 deals that can drop the price to $75 or stack on over $100 in added game value — from games you'll actually love to play. Whether you dive in now or wait for PS4 Black Friday 2014 deals, you can save on a new PS4 now.
For gamers looking to buy used PS4, we've even discovered a deal where you can get a pre-owned PS4 for as low as $265, without the need to trade in any old consoles.
Read: PS4 Review
You may still see some bigger deals on Black Friday 2014, but keep in mind the biggest PS4 Black Friday 2014 deals will go quickly, and you may be left with an empty shopping cart.
The PS4 is one year old and while Microsoft is eager to offer Xbox One Deals in November and through Black Friday, Sony is not cutting the price of the PS4 at this time. This means you'll need PS4 deals from retailers like GameStop, Best Buy and others.
The November PS4 deals include Black Friday, so we'll see more discounts and deals added as November 28th approaches. The best deals are for trading in a PS3 or Xbox 360, which adds an extra $100 in trade-in value.
PS4 Deals for $275
Gamers with an old PS3 20GB or a Xbox 360 250GB or higher can trade it in at GameStop for $125 towards the PS4. This deal ends on November 11th, which means you'll need to move quickly. This is a trade-in boost of about $100 for some PS3 models.
You need to buy a new PS4, so you cannot stack this on any used PS4 deals that the company offers. There are no other big ways to stack on this deal, but it is possible we are coming to the final months of any big PS4 trade-in deals.
You don't need a coupon or a GameStop Pro membership. You just need to go in to your local GameStop with the PS3 or Xbox 360, controllers, cables and the console needs to turn on.
Used PS4 Deals for $265
If you don't have an old console to trade in, you can buy a used PS4 from CowBoom for $265.99. CowBoom sells returned and previously used gadgets at big discounts.
There may be cosmetic damage and the box does not include everything you would get from a retailer. Notably, most of the deals at this price do not include a controller, which you will need to buy on your own. Many list scratches and scuffs on the glossy part of the console, so a skin will also be a good idea.
Scroll through the listings, because you can find some with little damage and the controller included for the same $265 price.
PS4 Black Friday 2014 Deals
We expect to see $50 to $60 off for PS4 Black Friday 2014 deals, and we are already seeing bundles offer up to $120 in savings. Dell plans to sell the PS4 with GTA 5 for PS4 and The Last of Us Remastered for $399 on Thanksgiving Day at 6PM. This is online only, and is the first of many PS4 Black Friday deals we expect to see this year.
Black Friday 2014 Deals & Ads
Walmart Black Friday 2014 Ad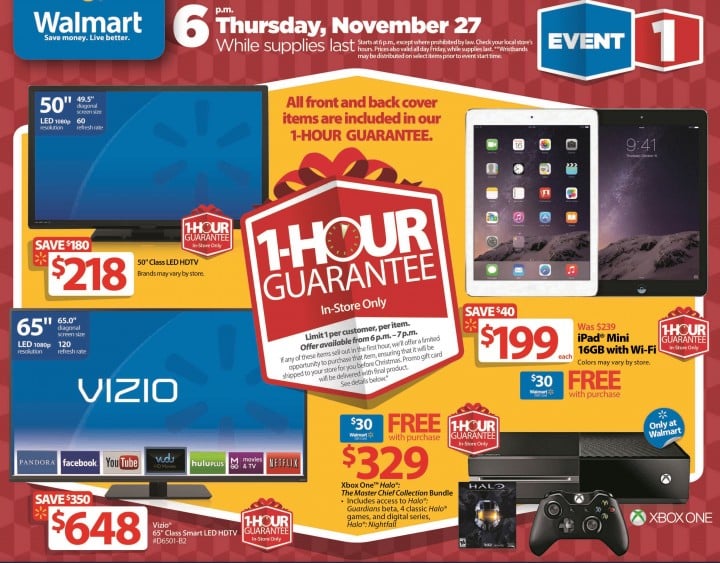 Walmart Black Friday 2014 deals start at 6PM on Thanksgiving and roll all the way through Cyber Monday. There are three specific events on Thanksgiving and Black Friday 2014, including nine 1 Hour Guarantee items that are in stock or you can get it by Christmas at the Black Friday price.
This includes a 65-inch Vizio HDTV for $648, the Xbox One with Halo for $299 after gift card rebate and an iPad mini for $169 after gift card.
You can check out more details on how the Walmart Black Friday 2014 1 Hour Guarantee will work. Duncan Mac Naughton, chief merchandising officer at Walmart states, "We've taken significant steps to improve the 1-Hour Guarantee process from beginning to end. It's simple and seamless."
Walmart beat our Xbox One and PS4 Black Friday 2014 predictions with big savings on the Xbox One and the PS4 GTA 5 and The Last of US Remastered bundle for $399. Here's a look at the nine guaranteed in stock items for 2014.

50" Class LED HDTV for $218 ($180 savings)
Vizio 65" Class Smart LED HDTV for $648 ($350 savings)
Apple iPad Mini 16GB with Wi-Fi for $199 with a $30 Walmart Gift Card ($70 value)
Xbox One Halo "The Master Chief Collection" Bundle for $329 with a $30 Walmart Gift Card
RCA 7" Google Play Wi-Fi Tablet for $29 (special buy)
Samsung Galaxy Ace Style on Straight Talk Wireless for $29 ($100 savings)
LG Blu-ray Disc Player for $35 (special buy)
Beats by Dr. Dre Wireless Headphones for $149 ($130 savings)
HP Intel Celeron Touch Laptop for $249 (special buy)

You can see the full Walmart Black Friday 2014 ad and deals online now. Wlaamrt will post store maps on November 18th and share more detials as the event approaches.