RavPower 20100mAh 30W USB C Battery Review: Perfect MacBook Accessory
The RavPower 20100mAh USB C battery pack with 30W of power is the perfect backup battery for the MacBook. The slim battery is capable of fully charging a dead MacBook and still having enough power to top off your phone. It's a bargain at $69 and there are often promotions on Amazon that include free USB C cables.
That's a completely full charge for your MacBook allowing you to go off the beaten path or just survive the hassles of air travel and road trips without worrying about running out of power. Instead of hunting for an outlet, you can simply grab the RavPower RP-PB043 out of your bag and plug it into your MacBook with the same USB C cable you use to charge and you'll be good to go.
[letsreview]
When your MacBook is in sleep mode this battery pack can fully charge it from empty and still have some power left over. There are four lights on the side of the battery to let you know how much power is left, and we had one left after charing up the MacBook.
If you want to use the MacBook and charge, you can do that as well, but it's not as efficient as charging while your MacBook is sleeping. This works best with the 12-inch MacBook that charges with a 29W adapter from Apple, but you can also use to to charge the 13-inch and 15-inch MacBook Pro models over USB C as well. In that case you'll definitely want to charge them when they are asleep since they demand more power while in use. Here's more on how to get better MacBook battery life.
We've been testing the RaVPower MacBook backup battery for the last month and love that it can quickly charge the MacBook up when we can't get to power. It can also charge the Nintendo Switch while you are playing it and charge up your iPhone, Android, Laptop and almost anything else with USB C or that you have a USB cord for.
This battery also matches the specs needed to fast charge the iPhone 8, iPhone 8 Plus and iPhone X, which we will be testing soon. This should allow you to get 50% of your iPhone battery in 30 minutes of charging if you have the new models and charge with the USB C to Lightning cable.




You can charge the RavPower 20100mAh USB C battery pack using USB C or you can use a QuickCharge 3.0 charger to charge the battery up faster so you're ready to go quickly. The battery pack includes a small, durable sleeve to store the battery and a cable, and it comes with a micro-USB to USB C cable so you can charge almost anything.
There are many models of 20100 mAh battery packs from RavPower, so you'll want to make sure you get the one with 30W and USB PD support so that you can charge your MacBook, Nintendo Switch and fast charge your iPhone 8. It is $69.99 on Amazon and also available from RavPower.
8 Best MacBook Cases, Skins and Covers
Moshi Muse for MacBook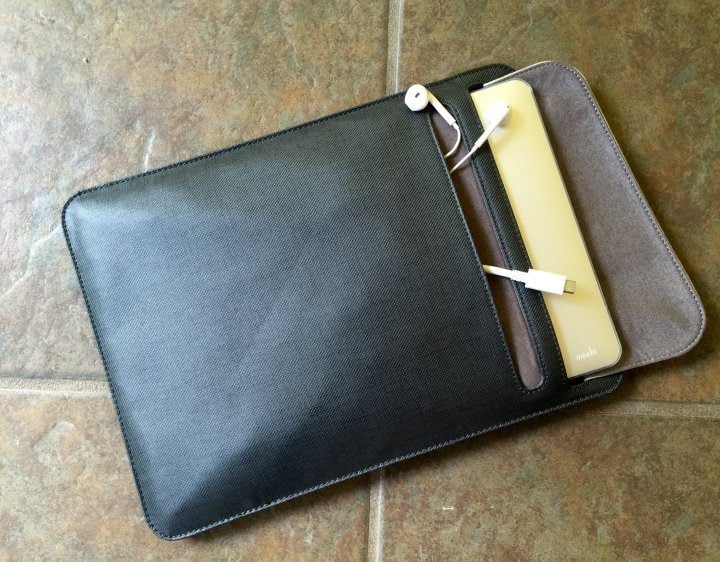 When you need a small 2016 MacBook sleeve to hold your new MacBook and the collection of adapters that you need to get work done the Moshi Muse for MacBook is an excellent option.

Read: Moshi Muse Review
This case features a stay tight design that keeps your MacBook in the sleeve without velcro or zippers and the microfiber interior protects the finish of your notebook while also wiping fingerprints off the finish. An outer pocket allows users to slide in a few small adapters so you have what you need to get work done.
$44.95 at Moshi and available at the Apple Store.

This article may contain affiliate links. Click here for more details.