Realm Royale Release: Everything You Need to Know
In this guide we'll tell you everything you need to know about Realm Royale. A new battle royale game you've probably heard mentioned by Ninja or other popular streamers. Yes, Realm Royale is another Fortnite and PUBG-style battle royale game, but with some notable differences.
At first glance, it looks like a mix between Fortnite, Overwatch, and World of Warcraft all blend into one. If that sounds interesting, here's info about Realm Royale for PC, Xbox, PS4 and more.
From the developers at Hi-Rez, Realm Royale is a spin-off from the popular game Paladins. Like everyone else, they're jumping on the battle royale bandwagon, and some are already calling Realm Royale the best Fortnite rival or alternative.
What is Realm Royale?
Realm Royale is a battle royale game just like everything else released lately, but with a dark medieval theme. It's available as we speak on Steam's early access for PC. You drop into a huge map and battle against 99 other players until you're the last person standing. You can even form a squad of four players for a better chance at winning.
Realm Royale Classes
In the Realm, you battle with one of five unique classes, which is one more thing that makes it stand out from the competition. Here's some information about each, although they're still changing a little bit as the beta period continues.
Right now you can play in Solo or Squad mode with four friends, or with random internet strangers. The squad makes sense though, as each group can use the classes above to help them win. Now, do you see the where the Overwatch comparison comes from? You can be a
Warrior
Engineer
Assassin
Hunter
Mage
We like being able to shoot fireballs long-range with the Mage. It's these classes, the unique weapons, and Forges all over the map where you can craft more unique weapons that really makes the game stand out.
If you're looking for a Fortnite alternative, one that'll come to Xbox or PS4, Realm Royale might be worth considering. It's the same intense, fast-paced action we've all come to love. In fact, Ninja plays and loves it too. It shares a lot of similarities with other titles in this genre while adding refreshing new additions.
Read: 5 Best Games Like Fortnite for Android
We really like how each class has their own unique weapons, or they can craft others during the battle. And as expected, weapons have a color-coded rarity system, just like Fortnite. Here's a Tweet and short gameplay clip from Tyler 'Ninja" Blevins.
CRAZY Double with the hunter in @realmroyale LOVING this game <3 pic.twitter.com/rAygzFrnD5

— Ninja (@Ninja) June 10, 2018
Being placed in the medieval times makes it unique, and unlike anything else released thus far, even if the graphics have a slight Fortnite look and feel. Another neat aspect is when you die (get knocked) you turn into a chicken that can run around holding a white surrender flag. If you run to safety you can come back to life and rejoin the battle. Just be careful, as the enemy will likely finish you off. Players are "thirsty" for those kills.
Realm Royale Release Date
If you're sick of playing PUBG and want to try something a little more rustic, join the Realm Royale Early Access beta on PC with Steam. Hi-Rez confirmed its availability on June 5th, and the popularity has continued to climb over the last few months. And yes, this is Paladins Battlegrounds, but now it's Realm Royale.
https://twitter.com/RealmRoyale/status/1004096887836815362
And while Realm Royale is available as an early preview (alpha) right now on Steam, we don't have an exact release date. Hi-Rez did say it's coming soon to PC, and we could see a release on PS4, Xbox, Switch and even iPhone or Android.
With all these battle-royale games flooding the market, expect a global release date sooner than later. And for those wondering, yes, it's completely free-to-play.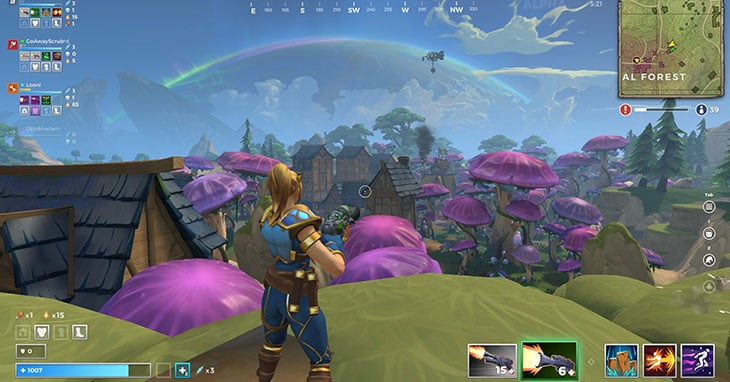 Realm Royale Xbox & PS4 Release?
Right now console gamers don't have a huge selection of battle royale games, even if a lot are coming. And considering that Paladins came out for PS4, there's certainly a good chance that Realm Royale will too. In fact, we know it will, as the beta is already here.
At first, Hi-Rez didn't give a definitive answer on whether or not Realm Royale is coming out for Xbox or PS4, but now we know. It's coming to both soon.
You can sign up for the Realm Royale PS4 beta right here, or the Realm Royale Xbox beta here.
More Realm Royale Release Details
We could even see Realm Royale for Nintendo Switch, iPhone, or Android at some point in the future. It all comes down to how successful the game is, and if the battle royale market gets over saturated with games.
In closing, this looks like another fun and exciting game worth trying. It's still in the early stages, so you can expect a lot of changes in the near future or before the release. We'll update once we know more about any release dates and additional platform availability. If you're already playing Realm Royale, check out this 17 kill solo win gameplay video.

As an Amazon Associate I earn from qualifying purchases.