Samsung Galaxy Note 7 First Time Start Up Guide
For those who picked up the Samsung Galaxy Note 7, we offer a first-time boot guide. Our guide is complete with the steps necessary to go from out of the box to using the phone along with explanations and tips.
Important Notice: The Samsung Recalled Galaxy Note 7 and the U.S. government is suggesting that ALL Note 7 users immediately stop using them and return them. Read our guide to the Galaxy Note 7 Recall here.
UPDATE 2: Even the replacements seem to have the same problem with burning up spontaneously so we recommend that you return your Samsung Galaxy Note 7 and get one of the alternatives in the slideshow at the bottom of this post.
Please See: GALAXY NOTE 7 RECALL & REPLACEMENTS: WHAT YOU NEED TO KNOW
The Samsung Galaxy Note 7 came out in August 2016. Samsung is skipping from Note 5 in 2015 to Galaxy Note 7 this year presumably to keep in line with Samsung Galaxy S7 and S7 Edge, which were released earlier in 2016.
The Galaxy Note 7 includes a beautiful 5.7-inch Super AMOLED display with a high-resolution of 1440 x 2560 pixels. The Samsung S Pen sets this phone apart from other larger screen phones. The S Pen fits in a silo on the bottom edge and gives users accurate fine-tipped inking. The rounded edges make it look beautiful. Samsung also added Iris scanning to the already great Fingerprint scanner for added security. The phone shipped with Android 6.0.1, 64GB of storage and 4GB of RAM. It also has a micro-SD card slot for expansion supporting up to 256GB.
Our setup guide will help users get started, add their accounts, tweak things to make it run better and get hooked up with the best accessories.
Before Turning On Your Galaxy Note 7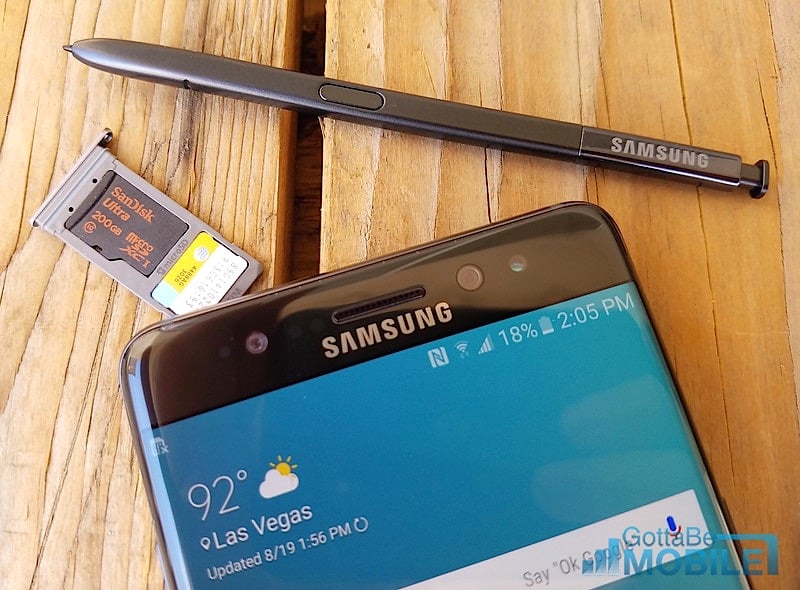 Before powering on the phone insert your carrier SIM card if they didn't already do it for you. Also, while you're there insert a micro-SD card slot. The Galaxy Note 7 will support up to a 256GB card. Grab one of the 7 cards listed in our roundup of micro-SD cards.
The phone likely will already come with the battery at least partly charged, but it's a good idea to plug in the USB Type-C charging cable right away either before or while the phone starts up for the first time. If you want to transfer data from another phone, then you'll want the battery at 100% charge.
Connecting to Wi-Fi on the Galaxy Note 7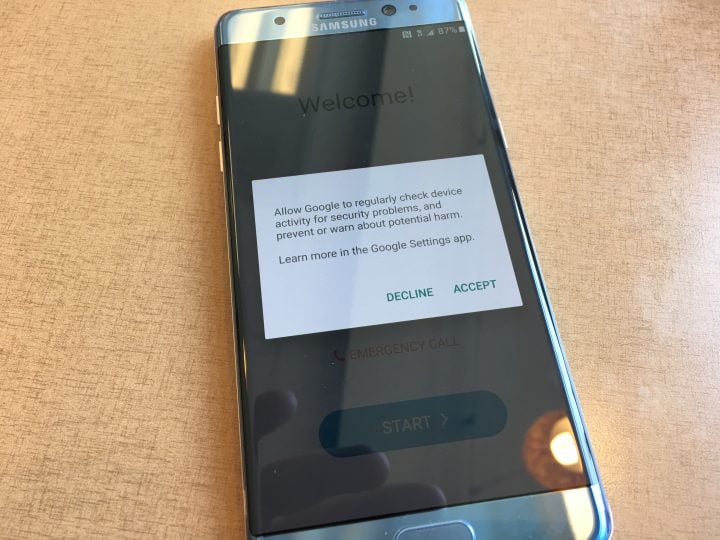 The first time you start the Samsung Galaxy Note 7 the operating system will ask you to "Allow Google to regularly check device activity for security problems …." This option, which you can either DECLINE or ACCEPT, will help with security issues, so it's a good idea to hit ACCEPT. However, if you don't want Google snooping on your phone, DECLINE this option.
Choose your language and hit START. Turn on Wi-Fi in the next screen and select your Wi-Fi network. Make sure you're in a good Wi-Fi network because this setup wizard will potentially download a bunch of information and apps during the process.
Before you can select the network, the phone will let you know about Wi-Fi calling if you're on a carrier that supports it. Wi-Fi calling uses the Wi-Fi network instead of the wireless carrier's cellular signal. This saves minutes for the few people still on a metered calling plan. It also gives you a better connection in areas without a good cellular signal. Either hit LEARN MORE to find out more about Wi-Fi calling or tap SKIP to move on to the next step to select your Wi-Fi network.
The Terms and conditions screen shows up. Make sure there's a check mark in the box and hit NEXT at the bottom of the screen. Tap AGREE in the pop up box. The phone will check the Wi-Fi connection, which can take a long time on slow connections.
Restoring and Backing Up to Google
The operating system will check for updates and then offer to let you download settings from another device backed up to Google's backup servers. If you own another Android device with NFC, you can use the feature that lets you hold the two phones back-to-back to find each other and transfer content from the old phone. If you do not own another Android device, then choose No Thanks on the screen asking "Got another device?"
Enter your Google email account in the next screen. Then, enter the password and choose ACCEPT on the third screen. The phone checks the account and asks you to enter a check mark in up to four boxes on the following screen related to Google Services.
Automatically back up device – this backs up the device to your Google account. It saves things like settings, app data, call history and passwords.
Help apps find your location – turns on the GPS to let Google know where you are. This makes it possible for apps like Maps to find you.
Improve location accuracy – this turns on Wi-Fi and uses your location and Wi-Fi radio to give the phone a more accurate picture of where you are.
Help improve your Android experience – this sends diagnostic info to Google to help them make Android better based on your usage of the phone and software.
The more concerned you are about privacy the fewer boxes you'll want to check. I checked them all because I don't mind if Google uses my data to improve Android and my experience.
When you finish selecting the options, tap on NEXT.
Adding Other Accounts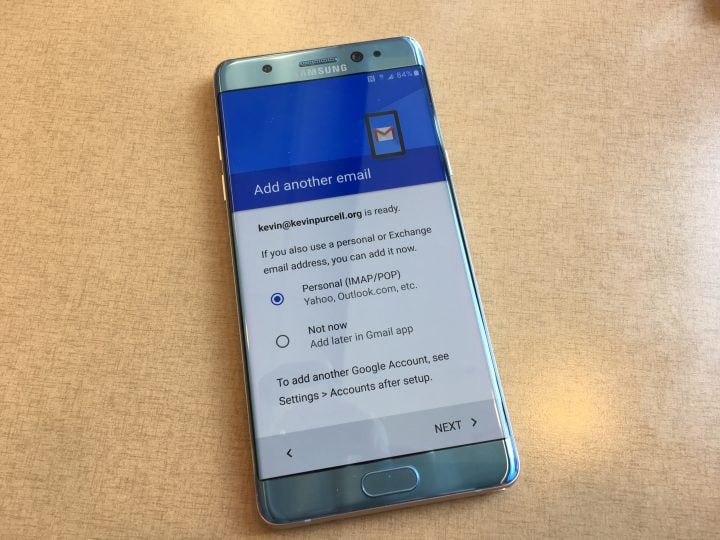 The startup wizard now asks if you want to add another email account besides the Google account you already added. You can add other mail accounts like your company or school's exchange/POP3 account or other services like Hotmail or Yahoo. To add another email account choose the Personal (IMAP/POP), which lets users add things like Yahoo, Outlook or a company/school account. Strangely, you can't add other Google accounts at this point. You can do this later in the Gmail app. If you want to do this later, then choose Not now.
Regardless of which option you select, tap NEXT. If you picked a personal account, follow the onscreen instructions for adding it. You'll need some info like a POP3 and SMTP address to add private accounts. The OS enters this automatically for popular third-party services like Hotmail or Yahoo.
Setup Security on Galaxy Note 7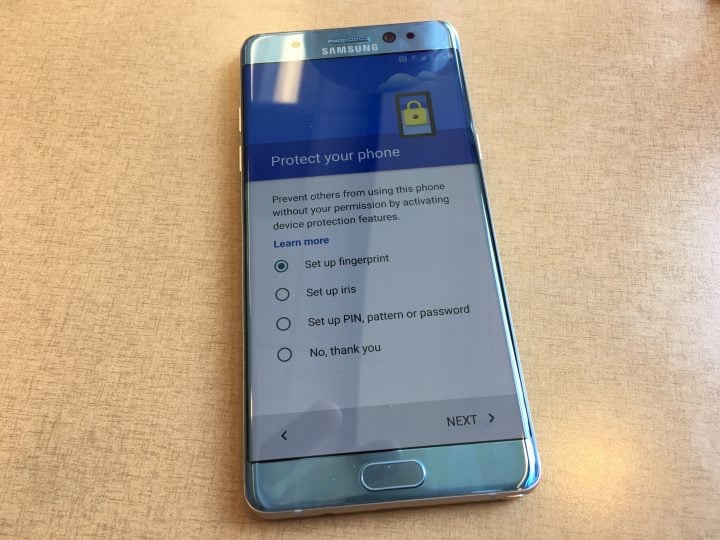 The wizard lets the user choose their preferred security. You have a few options.
Set up fingerprint – use the fingerprint reader incorporated into the home button to unlock the phone.
Set up iris – use the new iris scanner available for the first time in Galaxy Note 7.
Set up PIN, pattern or password – use this if you want to enter information on the screen each time you unlock the phone.
No, thank you – choose this if you don't want any security. This is not recommended unless you plan to set this up soon after running the Galaxy Note 7 setup wizard.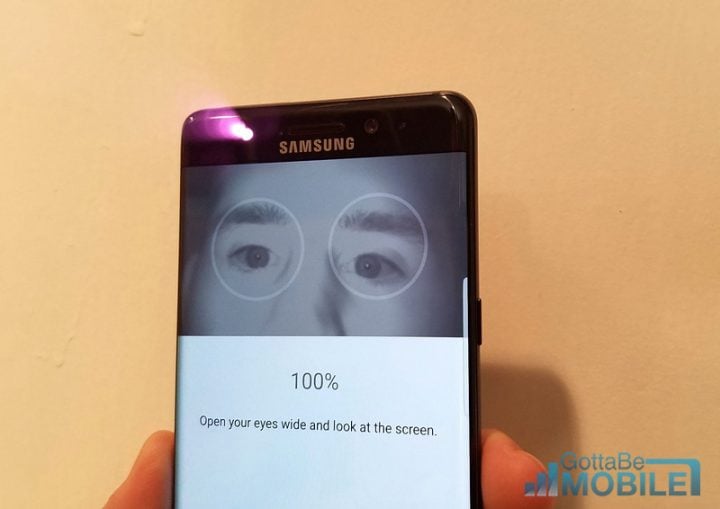 If you want to set up the Iris Scanner, see How to Fix Galaxy Note 7 Iris Scanner Problems. Those who prefer the Fingerprint scanner should see How to Fix Galaxy Note 7 Fingerprint Scanner Problems. After selecting your option, tap on NEXT.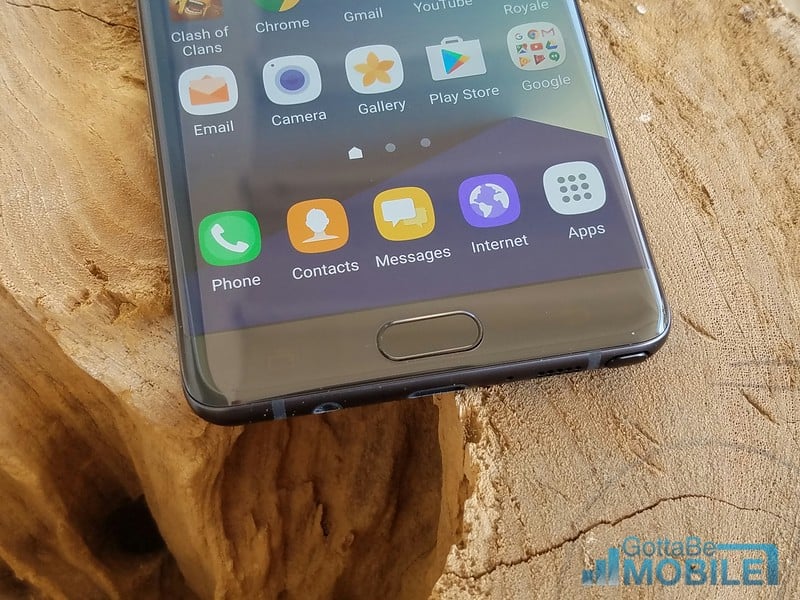 Which one should you choose? The Fingerprint scanner works best and offers the best balance of convenience versus security. The Iris scanner is a good idea, but it's not as easy to use and people with glasses struggle with it. It also doesn't really open the phone any faster than a password. Some may prefer a password, PIN or pattern, but those aren't as secure unless you pick a really good password. The PIN and Pattern are least secure since PINs are easier to guess and someone could guess your pattern based on residue from your finger left on a dirty screen.
https://www.youtube.com/watch?v=hkAuFVjp7zA
If you pick either the Fingerprint or Iris scanner, you will also have to add a pattern, PIN or password as a backup. Use a good password for the best security.
When you finish setting up the security, you can get information from another device at this point. This only happens if your Google account already has other phones or devices associated with it. The next screen will ask if you want to add the info and settings from that other device. Choose the device you want or scroll down and pick Don't restore. The last option starts fresh without restoring from a former device's backup.
Adding a Samsung Account to Galaxy Note 7
To get the most out of your Samsung Galaxy Note 7 sign up for a Samsung account or add it if you already have one. The next screen in the first-time boot setup wizard gives users that option after setting up security.
Enter the user ID (probably an email address) and password if you have a Samsung account already. Then tap SIGN IN.
If you don't have a Samsung account, you can connect the Samsung account to your Google account by choosing CREATE WITH GOOGLE ID. That keeps you from needing separate accounts, but it also gives Samsung access to your Google account. That's why I prefer to CREATE ACCOUNT, creating a separate account from my Google account. Follow the instructions to set up a new Samsung account or for connecting your Google account.
At this point the Galaxy Note 7 offers to import content from another device either from the cloud or using the adapter that comes in your box. You have three options.
Copy from old device using Smart Switch
Restore from Samsung Cloud
No, thank you
If you select the first option, the screen will show how to connect the adapter that came in the box to the phone. It's a small white adapter with a USB Type-C mail connector and a regular USB female connector. You can connect an iPhone running iOS 5 or higher, an Android phone with 4.3 or higher, or a Blackberry 7 device. Connect the phones like the animation on the screen shows and let it work. The screen will give you instructions. Samsung has a detailed support page that explains how to use Smart Switch.
This process can take a long time and you'll need a full battery to make it through the entire process. You can follow the instructions for the older version found in our guide.
Final Steps
In the last steps, the wizard will ask you to set up a Secure Folder. If you want this added security for private data, turn this feature to ON using the switch at the top and then hit NEXT at the bottom of the screen.
The operating system will ask you to set the size of your screen fonts and icons. You can choose between Large and Small. The image below the two options shows what things will look like when you select either of the options. When you pick the one you like, choose NEXT at the bottom of the screen.
Touchwiz, the Samsung user interface, offers to show "Get weather forecasts" based on user location. It puts this on the home screen with a widget. If you want to use this, turn on both options by putting check marks in the two boxes. Then tap on NEXT.
The following screens only show up on the T-Mobile version of the phone. Your carrier may offer similar screens. When you see these screens, you know you're nearly finished. Once you see the home screen, you're ready to start customizing things the way you want your Galaxy Note 7 to look. You can also install apps and get updates.
7 Best Galaxy Note 7 Alternatives
Samsung Galaxy S7 Edge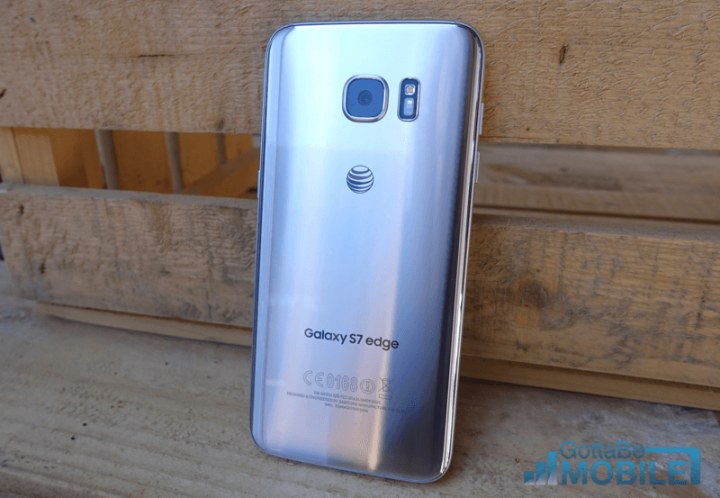 As we said above, the Samsung Galaxy S7 Edge is the best possible replacement, minus the S-Pen. Simply because it's a similar software experience, nearly identical in design, and shares most of the features that makes the Note 7 great. You can even buy the S7 Edge in the same Blue Coral color from Verizon or AT&T.
The Galaxy S7 Edge has the same glass and metal design, it's also water resistant. The screen is only 0.02-inches smaller, being 5.5-inches instead of 5.7-inches, and the difference is barely noticeable. It's actually easier to use.
One other thing to consider is the Galaxy S7 Edge uses a regular microUSB charging port, not the new Type-C plug on the bottom of the Note 7. So most old cables, chargers and accessories will actually work perfect with the S7 Edge.
It's also a lot cheaper, nearly $200 less if not more. Those who opt to return the Note 7 for the S7 Edge will get a refund for the difference, and likely a $250-100 gift card from carriers too. It's a pretty good route to take.
Oh, and the Galaxy S7 Edge has a bigger 3,600 mAh battery, compared to just 3,500 mAh in the Note 7. So it could technically get better battery life while offering a near-identical experience across the board.
Read: Galaxy S7 Edge Review
And for those asking, yes you have to return the Note 7. T-Mobile, Verizon and AT&T are pushing updates that render it useless. Sprint will do the same on January 8th.

As an Amazon Associate I earn from qualifying purchases.