Samsung Galaxy S6 Specs: 7 Things to Know Right Now
The Samsung Galaxy S6 rumor mill continues to focus on the Galaxy S6 specs, the features that Samsung will use to sell its Next Big Thing later on this year. With rumors starting to firming up ahead of its launch date, we want to take a look at what we think are the seven most important things to know about Galaxy S6 features right now.
Samsung still isn't talking about the Galaxy S6 but thanks to an avalanche of rumors, it's clear that the company is developing a successor to the Samsung Galaxy S5. The Samsung Galaxy S6 rumor mill has been on fire as of late with a steady stream of reports hinting at everything from the Galaxy S6 launch date to the Galaxy S6 release date to the Galaxy S6 specs.
In particular, Galaxy S6 rumors have flooded the news with tales of an upgraded display, a new processor, improved camera, changed software, and a whole lot more. The Samsung Galaxy S6 is unsurprisingly shaping up to be yet another powerful smartphone, a hallmark of the Galaxy S series. Exactly how it will stack up with flagships like the iPhone 6 and LG G3 isn't clear yet but these rumors have started the canvas. We expect it to continue to get filled as time goes on.
This week, we've seen a ton of movement and we realize that it can be a lot to digest. That's why we want to take a look at the current climate and offer an overview for those of you just sitting down on the Galaxy S6 rumor train. This will examine what we know so far about the Galaxy S6 specs and offer some of our thoughts on what we expect from the Next Big Thing.
Big Display
It appears that Samsung will be putting a large screen on the Galaxy S6 though there is some dispute about the exact size. Early Galaxy S6 rumors suggested that the screen size would be 5.5-inches though earlier this week, an alleged Galaxy S6 spec sheet pointed to the arrival of a smaller 5.1-inch display, similar to the Galaxy S5's size.
It's impossible to say at this point which size is correct. Samsung typically throws around several prototypes ahead of launch so it could be toying with both of these sizes. We're still several weeks from launch so it could still be finalizing its plans. Both sizes makes sense even the jump up to 5.5-inches which would, on paper, put the device much closer to the 5.7-inch Galaxy Note 4.
The LG G3 utilizes a 5.5-inch display though it's much smaller than the Galaxy Note 4 and much closer to the Galaxy S5's size thanks to the thin bezels LG installed on the design. So instead of a massive display and a massive phone, you get a massive display in a compact phone that is far more manageable than most big screen devices.
Point is, there isn't a whole lot to worry about here, even with the uncertainty. Samsung's Galaxy S6 will come with a big display and our hope is that it keeps the size down. With the Galaxy Note 4 on shelves, there's really no need to add another massive flagship.
Better Display
That won't be the only change Samsung makes. Galaxy S6 rumors all point to the arrival of a Quad HD display. Quad HD resolution isn't widely adopted but it is on the Galaxy Note 4 and the Galaxy Note Edge and that lends credibility to these rumors.
We've been using Quad HD resolution on several devices for several months now and we can say, without hesitation, that the panels offer better looking content than the Full HD displays from last year. There's a reason why DisplayMate, one of the leading voices in display technology, thinks the Galaxy Note 4's display is the best on the market. Samsung makes great screens and the Galaxy S6's display should be on par or better than the Galaxy Note 4's.
To get some idea about the benefits of Quad HD resolution, take a look at our LG G3 review and our Galaxy Note 4 review. There really is a big difference. It's not a gimmick.
It's a feature that's all but confirmed for the Galaxy S6, there's no going back to full HD now, so we suggest that you get familiar with the tech before the Galaxy S6 arrives.
New Processor
There's a ton of debate about the processor coming with the Galaxy S6. Reports indicate that Samsung will ditch the Qualcomm Snapdragon 810 chip in favor of an in-house Exynos processor. This would be a huge change given that Samsung's used Qualcomm's Snapdragon chips inside of its smartphones for a number of years now.
We haven't been able to compare Samsung's Exynos 7 Octo-Core chip to the Qualcomm Snapdragon 810 yet but what we can tell you is that Samsung's Exynos chips have a track record of being powerful alternatives to the Snapdragon line. And there's a good chance that whatever Samsung puts in the Galaxy S6, Exynos or not, it will deliver solid performance in key areas like battery life, gaming and more.
There will inevitably be a ton of back and forth about this from power users but average users probably aren't going to notice too much of a difference if Samsung winds up using its own chips. At this point, there's really nothing to get worked up about. Save that for after the Samsung Galaxy S6's arrival.
Design Improvements
The Samsung Galaxy S series, for years, has been made out of plastic. This year, we could see something different. The seeds appeared to have been planted with the arrivals of the Galaxy Note 4, Galaxy Note Edge and Galaxy Alpha. Those devices all use a metal rim around their plastic designs. Not exactly the iPhone but certainly a step up from the plastic designs Samsung's used in the past.
There's a theory going around that these devices were trial runs for the Galaxy S6 design that we're about to see. And while that's not confirmed, Galaxy S6 rumors point to one of two designs at this point. A design that uses glass and metal or one that's made completely out of metal. It's impossible to say which is correct at this point given the probability of prototypes floating around and given that Samsung always keeps its designs locked up tight ahead of launch.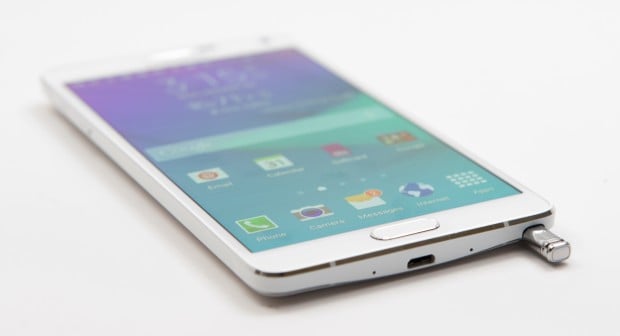 Glass, metal or not, the Galaxy S6 will almost certainly have a different design. Samsung never reuses its Galaxy S designs and it always improves them in some way.
This year could finally be the year that it releases a premium design that's on par with the HTC One and iPhone though these massive changes often come with some tradeoffs. For instance, rumors suggest that the Samsung Galaxy S6 won't offer the same water resistant qualities that were found on the Samsung Galaxy S5.
Camera Changes
Samsung always changes up its camera from year-to-year, both on the hardware side and on the software side. It's always working to tweak the camera sensor and it has, for the past several years, offered one of the best camera applications on the market.
Galaxy S6 rumors suggest that the device will move up to either 16MP or 20MP, the latest rumors point to 20MP, and that the front-facing camera will move to 5MP. Just remember, megapixels aren't everything.
Rumors also suggest that it will tack on Optical Image Stabilization, a feature that cuts down on the shakiness in videos, and a feature found on the Galaxy Note 4. Given its presence there, an arrival on the widely adopted Galaxy S series makes a whole lot of sense.
The Galaxy Note 4 takes good photos and video and the Galaxy S6 will as well. How it compares to other camera sensors, the iPhone 6 in particular, remains to be seen.
Smaller Additions
Samsung Galaxy S6 rumors also point to a number of smaller additions too. Not everything is going to be a blockbuster feature and not everything will be shown off on stage. But that doesn't mean that these features are any less important.
The latest rumors point to a large 2550 mAh battery, built-in wireless charging, Cat 6 LTE support, 32GB, 64GB or 128GB of storage, quick charging capabilities, and a payment service similar to Apple Pay.
Galaxy S6 & Galaxy S Complaints
Finally, it's worth noting that we've noticed a theme here with these Galaxy S6 specs leaks. If these are spot on, it looks like Samsung is working to address some of the biggest complaints people have about its phones.
Two of the biggest are about the plastic designs and the TouchWiz UI. It appears that the Galaxy S6 will feature a premium design and a rumor suggests that Samsung is trimming and optimizing TouchWiz to make it more like the Android 5.0 Lollipop software found on the Nexus 6. Faster, less bloat. If true, that would be significant.
Galaxy S6 specs also point to an improved fingerprint sensor. Instead of using a swipe-based sensor like the ones it used in the Galaxy S5 and Galaxy Note 4, it will apparently shift to a touch-based sensor like the one found in the iPhone. The Galaxy S5's sensor was widely panned. The Galaxy Note 4's was improved but still not on par with the Touch ID sensor on the iPhone 5s and iPhone 6.
We imagine that Samsung will address other complaints as well but it does look like the Galaxy S6 is on its way to fixing some of the biggest. Look for Galaxy S6 specs to continue to firm up as we approach its upcoming launch date, said to be in March at MWC 2015.

This article may contain affiliate links. Click here for more details.