4 Reasons to Install Android 7.1.1 Nougat & 2 Reasons Not To
Google's latest update to Android 7.1.1 Nougat has finally been released and is rolling out now to select Nexus smartphones and tablets, and the Pixel. Those who'd rather not wait, are also installing it manually. While many jumped at the chance to install it right away, myself included, there are also some reasons to avoid Android 7.1.1 Nougat at least for the first little while. Read on for more details.
In August after a long beta period Android 7.0 Nougat was finally released. Since then we've seen developer previews, Android 7.1 and now the latest Android 7.1.1 Nougat. It's loaded with improvements, new features, and bug fixes.
Read: How to Install Android Nougat Right Now
If you're trying to decide if you should accept and install the Android 7.1.1 Nougat over the air update, or install it yourself, below is some helpful information. We go over all the details, new features, changes and more for users. Not to mention a few reasons you may want to wait as well.
No one expected Google to unleash Android N so early. In fact, last year Android M debuted at the end of May and wasn't released until October. Google delivered much quicker in 2016. So fast actually, that we're already on Android 7.1.1 faster than the first update in 2015.
The search giant promised the first big Nougat update would arrive in Q4, and now it's officially here. Curious users can read all about Android 7.1.1 Nougat right here. It brings many Pixel features to all Nexus devices.
Read: Android 7.1 vs Android 6.0 Marshmallow: What's New
Users will love everything that Nougat has to offer. From multi-window support to run two apps at once, improved battery life with Doze, revamped and bundled notifications, a smarter settings menu, Android instant apps and more detailed in our link above. With 7.1.1 we received app shortcuts, more gestures, emojis, and other things It's a tempting offer, but here's what you should know first.
Below we take a look at multiple reasons users should accept and install the new Android 7.1.1 Nougat release, and a couple reasons why some may want to give it time and wait before jumping in head first.
Install Android 7.1.1 To Run Two Apps at Once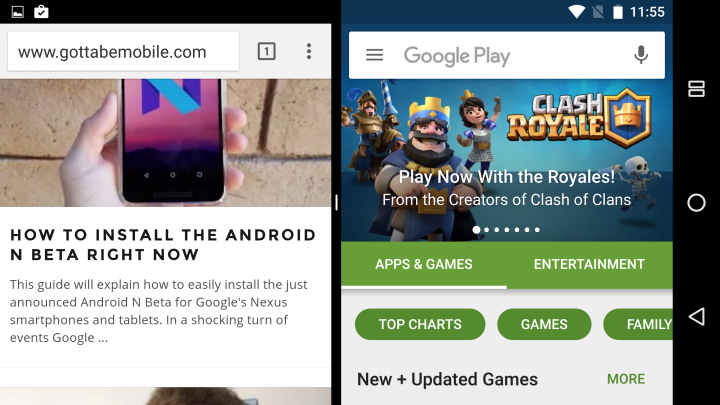 If you want to run two apps at the same time on your smartphone, or have a Nexus tablet (like the Pixel C) and want to do more with your device, Android 7.1.1 is for you. Google's finally added native "multi-window" support, which lets us run two apps simultaneously as shown above. If you're still on Marshmallow and waited after the initial launch of N, now is the time. Two maintenance updates later and it's very stable.
Simply click the recent apps button and long-press one of the running apps, and drag it to the top, then choose the second app. Both will work at the same time. Like watching YouTube and checking Gmail at the same time. Or replying to a message and using Google Maps simultaneously. Google even allows for two browser windows to be open at once, which is incredibly useful.
It works with almost every app we've tried, unlike Samsung's implementation that only runs with select apps made by them and a few of Google's apps as well. To make multi-window even better, Google added an ALT+Tab like function. Similar to a remote control "last channel" button, double tap the recent apps button on your device to minimize what you're on, and instantly go back to the last app you used. It's incredibly useful, and one of my favorite Nougat features.

As an Amazon Associate I earn from qualifying purchases.