Skull & Bones Release Date, Features & Details
Ubisoft's Skull & Bones release will put gamers in charge of their own pirate ship and crew sometime in 2018.
Skull & Bones players create their own captain to command ships and boats of all sizes. Real pirates inspired the weapons every ship carries. There are mortars to fire and canons to man. Players can ram their opponents and send boarding parties to rob other ships of their treasures.
Ubisoft surprised gamers with Skull & Bones at this year's Electronic Entertainment Expo. The game launches on video game consoles and PCs running Windows in 2018. Here is everything we know about the Skull & Bones release date, features and gameplay so far.
Skull & Bones Release Date, Features & Details
Skull & Bones Release Date
Skull & Bones Features
Skull & Bones for Xbox One X & PS4 Pro
Skull & Bones Release Date
Ubisoft has not confirmed the Skull & Bones release date yet. The company did reveal the Skull & Bones release window. Gamers can expect the title to launch in the fall of 2018, according to a post on the Ubiblog. Only Xbox One, PS4 and Windows PC gamers can play.
Skull & Bones Features
Assassin's Creed 4: Black Flag inspired Skull & Bones, developer Ubisoft Singapore says. Its teams created that game's pirate combat and gameplay.
Convoys and merchant ships try to deliver supplies as players terrorize and loot them at every opportunity. Like in Assassin's Creed, you sink these boats to pick up their supplies or board them for an epic battle with their crew and captain. Players need supplies to upgrade their ship or add new ships to their fleet.
Skull & Bones doesn't have the limitations ships in Assassin's Creed 4: Black Flag did. Gamers can sink ships on their own or join with friends for battles. Black Flag forced gamers to play alone. Every player in a Skull & Bones guild gets something for helping sink a merchant convoy. Gamers can turn on their friends and sink them for their share of the supplies. Expect more ship and character upgrades for the boats in Skull & Bones than in Black Flag. 
We only know of one competitive multiplayer mode now. Two teams of five players must balance sinking each with collecting as much treasure as possible in Loot Hunt. Players must escape the area with more loot than their competitors. A group of pirate hunters will destroy any ships that attempt to escape with their loot.
Skull and Bones won't have a single-player experience. It will have a story that takes place within the open-world portion of the game, Ubisoft says. The company hasn't fully explained how this story system works.
Gamers that don't like the idea of naval combat should stay away from Skull & Bones. Players buy supplies and upgrade their ships at docks scattered around the Indian Ocean. This game doesn't have any land missions or combat.
Skull & Bones for Xbox One X & PS4 Pro
Ubisoft will bring Skull & Bones to Xbox One or PS4. Gamers will need a PS4 Pro or Xbox One to get the best visuals. Ubisoft confirmed this in a profile posted to its UbiBlog.
Xbox One X and PS4 Pro gamers get "enhancements," the profile confirms. Players should expect sharper, more detailed textures and smoother character movements with these versions of Skull & Bones.  The PS4 Pro and Xbox One X are the only consoles that support 4K graphics. Visual updates for these consoles are free.
Skull & Bones for Xbox One X & PS4 Pro
Don't expect to hear more about Skull & Bones this year. Ubisoft will want to keep gamers focused on Mario + Rabbids: Kingdom Battle and Assassin's Creed: Origins. These games launch this fall.
Ubisoft will share more Skull & Bones details at E3 2018.  It will want to build hype and convince gamers to place their pre-order before release.
8 Best Free Xbox Games: January 2018
Warframe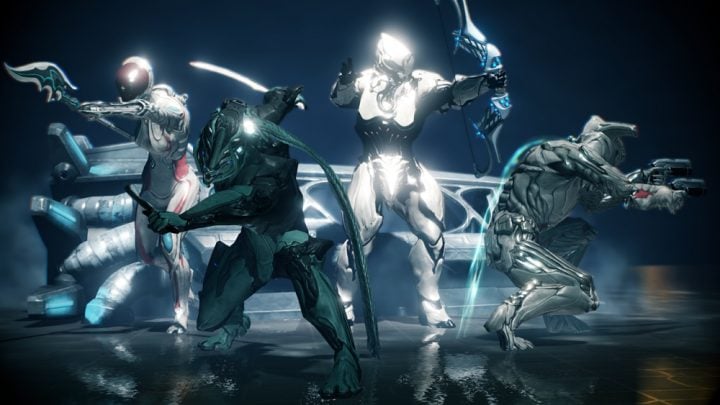 Many free-to-play games revolve around strategy or civilization building. Warframe is one of the free Xbox games that you can download now that doesn't. It's a third-person shooter.
The Tenno have just awoken after centuries of sleeping in stasis. Warframe takes its name from the suits that the Tenno use to do battle with the game's other races. There's the Greiner, who are clones of humans. The Corpus belong to a technology company with lots of robotic innovation at their disposal. Sentients consist of an alien race that's back to do battle.
Warframe features both player-vs-player combat and a single player experience.


As an Amazon Associate I earn from qualifying purchases.