Super Mario Run September Update: What to Know
The first big Super Mario Run update just arrived and it's exactly what the hit game needed. After hitting iOS in 2016 as a refreshing twist on the iconic Mario, the game is starting to slow down. This update brings a brand new twist to Super Mario Run, and here's what fans need to know.
After launching with a short amount of levels and a high price tag, Super Mario Run quickly ran out of steam. Eventually, it arrived for Android, but that wasn't enough. If you're one of many waiting on something else, this is it.
Read: Super Mario Run Cheats & Tricks
The September Super Mario Run update delivers a brand new game mode, along with tons of unpredictability that makes it refreshingly fun, again. We'll explain that and more after the break.
Super Mario Run Update Details
So what's new in this old-school turned touchscreen game? A new game mode called "Remix 10". Essentially, Remix 10 cuts up the Mario Run stages into little pieces and throws 10 different stages at you at a time. It's all out of order, exciting, yet easy to beat in a few seconds.
If you die, it's game over. Additionally, there are new rainbow-colored coins scattered throughout the game. If you don't die and collect the coins, after beating all 10 stages players can unlock new items in the Kingdom Builder Mode.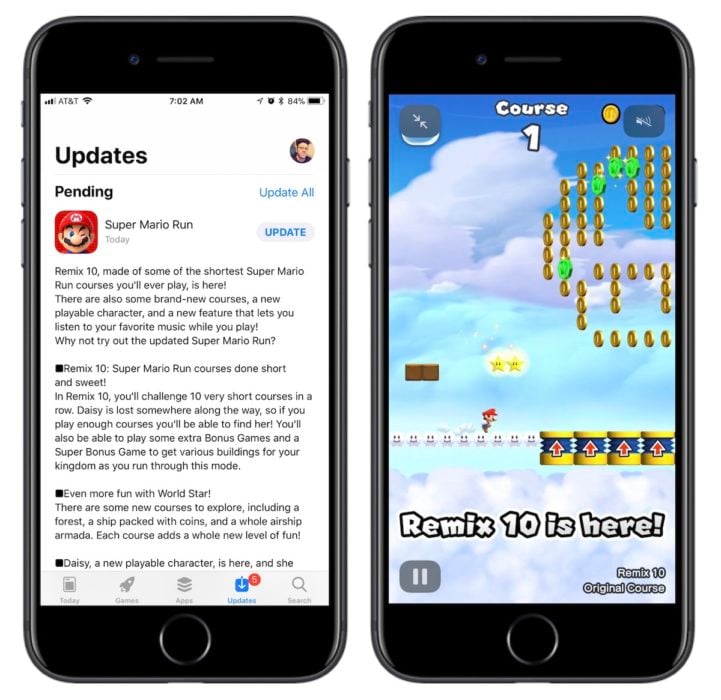 Better yet, if you complete enough of the Remix 10 courses you might even find Daisy. She's lost somewhere along the way, and it's up to you to find her.
New World & More
Furthermore, this "biggest update ever" added a new world. This includes the new World Tour that brings courses like a forest and an airship armada, giving players more options than ever before. Travel through plains, caverns, ghost houses, airships, castles, and more.
Another big aspect of this update is new the new Daisy character, who you can play as. Daisy is a neat new addition and can jump while she's already in the air. Basically a double-jump. This will surely help you finish some of the course. If you beat course 4-6 and build homes for Luigi, Yoshi, and Toadette in Kingdom Builder mode, you can get them to join your adventures as playable characters.
Finally, the Toad Rally received some changes. Do some crazy moves to start the coin rush mode. And if you win the rally, cheering toads come live with you in your kingdom. Nintendo also added the option for users to listen to their own music collection while playing.
Super Mario Run is half off until October 12th, and the update is available now. Next, we'll have to wait until next month for Super Mario Odyssey.

As an Amazon Associate I earn from qualifying purchases.