Surface Laptop vs 2016 MacBook: 7 Things to Know Before You Buy
The hallmark of a Surface has always been its ability to be more than one thing. The Surface Laptop, Microsoft's latest Surface device, isn't trying to be anything other than a great portable laptop. In fact, the company hopes that its new Surface Laptop is so great it'll dethrone Apple's successful MacBook line of laptops.
The MacBook line doesn't trade in two device categories. It's a laptop with solid battery life. In recent years, the 2016 MacBook became a solid force to be reckoned with on college campuses because of this. Students want a laptop that's so durable it'll last them the four years that they attend university. Getting the right mix of performance and battery life is important to them too.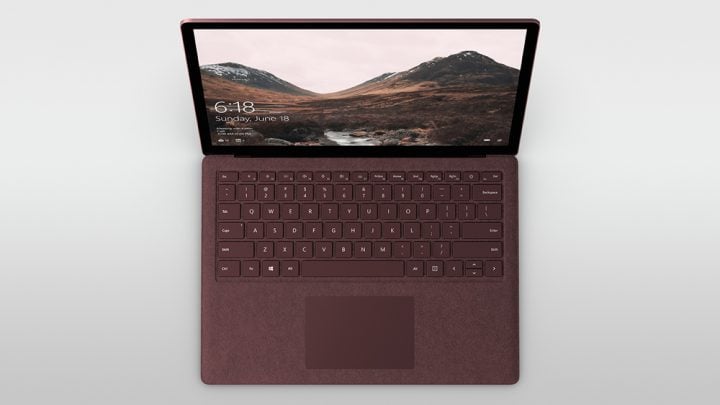 A battle is brewing this summer, and the money that college students spend on their technology for the upcoming school year is at stake. Should you spend that cash on a new Surface Laptop from Microsoft with a new version of Windows 10 or a 2016 MacBook with MacOS Sierra?
The Surface Laptop is available direct from Microsoft in June and the MacBook is available from Apple and at many retailers.
Surface Laptop vs 2016 MacBook: Design & Durability
As with smartphones, durability is very important for a laptop. It's even more important for young adults that'll be on the go. Apple earned a positive reputation thanks to premium materials and a well-built unibody design and these carry over to the ultra-portable MacBook.
Read: New MacBook 5 Things I Learned on the First Day
The MacBook has an Aluminum exterior. Buyers get to add a little personality to their device by choosing from one of the four colors that the laptop is available in. There's gold, rose gold, space gray and silver. These are the same colors used for the iPhone 7 and iPhone 7 Plus. This notebook is incredibly thin; it measures 13.1 mm from top to bottom. Students love it because they can barely tell it's in their bag. It weighs just 2 pounds.
The Surface Laptop is also made of Aluminum. Alcantara fabric across the keyboard deck gives users a soft area to place their wrists when typing. There are four colors of the device, Platinum, Burgundy, Cobalt Blue and Graphite Gold.
It's thicker and heavier than the 2016 MacBook. From top to bottom, the Surface Laptop only measures 14.48 mm. The notebook weighs 2.76 pounds. It's hard to judge the durability of the Surface Laptop because it won't go up on sale until June 15th. Microsoft is careful to note that the fabric on the laptop's keyboard deck is stain and dirt resistant. Putting a textured fabric on a keyboard deck isn't something that a lot of companies have tried before.
Both devices have backlit keyboards so that you can easily use them in the dark.
Surface Laptop vs 2016 MacBook: Screen, Processors & Storage Space
The Retina display in the MacBook is bright, offers good color accuracy and a wide color gamut. The latest generation Retina display in the MacBook has a resolution of 2304 pixels by 1440 pixels. It measures 12-inches from corner to corner too. The higher a screen's resolution, the crisper and more detailed pictures and videos look. The MacBook display delivers more pixels per inch, due to the smaller screen size.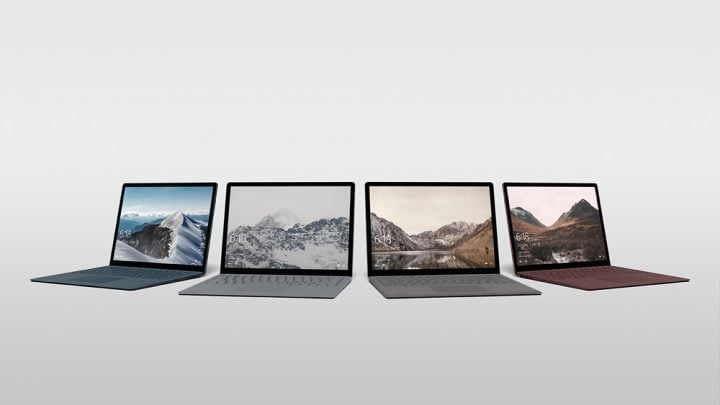 Microsoft calls its display technology PixelSense. The PixelSense Display inside the Surface Laptop measures 13.5-inches from corner to corner. Its resolution is 2256 x 1504, making it slightly less sharp than the display in the 2016 MacBook. It does have touchscreen technology so that you can navigate Windows 10 like you would navigate the operating system on your smartphone. PixelSense displays work with Microsoft's Surface Pen, but there's no real reason to use one with the Surface Laptop. That's probably why one isn't included in the box.
Processors & RAM
Processors, RAM, and storage are where everyone that buys a PC should focus. A durable frame gets a lot of attention from users looking for a device that'll last them years, but it's these factors that really determine how long the machine lasts. A PC holding up to scrapes and tumbles only matters if you can still get work done on it as quickly and easily as you could when you purchased it.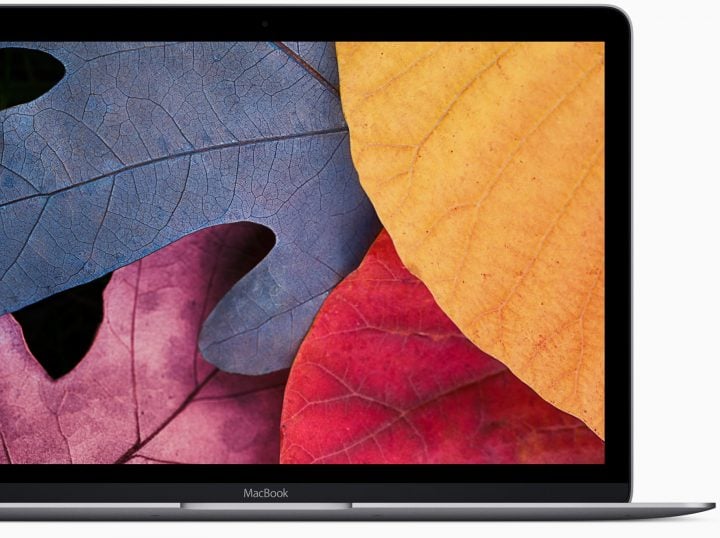 The 2016 MacBook uses Intel Core m processors. These processors range from the Intel Core m3 to the Intel Core m7. The more money you spend, the faster it is and the higher the processor can Turbo Boost to keep more apps running and handle image editing.
Microsoft's hardware benefits from being the second to arrive on store shelves. It has either the Intel Core i5 or the Intel Core i7 processor. Unlike the Core m chips in 2016 MacBook, these are more robust processors that offer more performance in exchange for less battery life. The Core i7 Surface Laptop models have Intel Iris Plus 640 graphics processors for handling light video editing and some very light gaming.
You have to watch yourself when ordering the Surface Laptop though. Every 2016 MacBook has 8GB of RAM, which is more than enough for everyday tasks. Microsoft includes only 4GB of RAM in the least expensive Surface Laptop. The amount of RAM will make running different apps and programs at the same time a little painful. For example, Microsoft Edge forces users to reload every tab when RAM becomes scarce. You can't upgrade either of these machines after you buy them, which is why it's important to get enough RAM now.
Surface Laptop vs 2016 MacBook: Ports
Office workers aren't the only people who love ports. College students love them too. You can never predict what equipment you'll need to connect your laptop to for a presentation. Bluetooth and other wireless technologies are growing in popularity, but nothing beats the simplicity of connecting to a printer with USB or a monitor with a physical connection.
The Surface Laptop and the MacBook both skimp on ports. The crowds these devices are aimed at are more likely to connect headphones and a mouse through Bluetooth. They're less likely to have USB keyboards and lots of hard drives.
Apple's relentless pursuit of simplicity and thin design has led it to kill almost every port in the MacBook. There are only a USB Type-C port and a headset jack. The charger included with the laptop uses this port. Adapters let the USB Type-C port do other things and quickly connect to a dock. There are HDMI and VGA docks. Hubs allow users to turn that 1 USB 3.1 port into connections for keyboards mice and more. The MacBook is certainly future proof, but for now, college students may find themselves carrying lots of dongles with their new laptop.
Microsoft likes to tout the Surface Laptop's array of ports. Its intention is clear, the company wants to imply that you can do more with a Surface Laptop without buying accessories. This is not entirely true. Buyers need an adapter to use the Mini DisplayPort to connect to displays and televisions. A full-size USB 3.0 port makes connecting to cameras, printers, and mice easy. It has a headset jack. Surface Connect is a fin-like port that connects to chargers and docks. The Surface Laptop has this port to make up for the lack of USB Type-C in some small way.
Surface Laptop vs 2016 MacBook: Battery Life
When you're in college, your laptop isn't just the way you get things done. It's also your primary entertainment center and web browsing machine. That is why most laptop makers tailor their battery life measurements for these activities. Apple is up front; the MacBook lasts for 10 hours of web browsing and 11 hours of HD video stored locally.
Microsoft claims the Surface Laptop can play HD video stored on it for up to 14 hours. The company doesn't offer estimates for how long the laptop's battery will last while browsing the web though. It could be significantly less than the 14 hours of battery life the company keeps touting.
MacOS vs Windows 10 S
Windows 10 S figures into battery estimates for the Surface Laptop in a big way. Microsoft describes the operating system as so streamlined that it's able to reach lofty battery goals and start very quickly. Windows 10 has a lot to offer, but the Windows 10 S version that the Surface Laptop has locks buyers to Windows Store apps unless they're willing to pay $50 to get rid of the restriction.
Then there are Outlook, Word and PowerPoint programs that students need to stay productive in and out of class to consider. A year-long subscription costs $69.99 a year. There's a free year of it included with the Surface Laptop. Buyers will need to keep paying for it after that year expires.
Read: 11 New MacOS Sierra Features Worth Upgrading For
Microsoft includes apps for email, listening to music and watching video with Windows 10, but to get desktop programs like iTunes onto the Surface Laptop you'll need that operating system upgrade. This becomes more of a problem when you consider how unlikely it is that you'd have a Windows Phone. MacOS' best feature is that it's so tightly integrated with the iPhone and iPad.
MacOS' best feature is that it's so tightly integrated with the iPhone and iPad. iPhone users will enjoy watching their videos on the 2016 MacBook. They'll appreciate sending iMessages or continuing to browse websites from whatever device they started on. iTunes has a Windows desktop app, but you can't install it on the Surface Laptop without paying for the extra Windows upgrade.
It's also worth noting that Microsoft's Office 365 offer is for a year-long subscription. Apple gives users access to all its iWork suite for as long as they have their machine. That's another $149 in savings for the MacBook.
Surface Laptop vs 2016 MacBook: Price
Surface Laptop missteps with pricing too. The cheapest model – the one with 4GB of RAM – starts at $999. To get 8GB of RAM and 256GB of storage, you'll need to pay $1,299. Models with an Intel Core i7 processor cost $1,599. Adding 16GB of RAM and 512MB of storage raises the price to $2,199.
The MacBook costs $1,299 in its cheapest version. The mode that includes 512GB of storage space and the more powerful Intel Core m5 processor costs $1,599.
The Surface Laptop will cost more for the same experience once the $50 Windows 10 Pro upgrade expires. Also, there's the free iWork offer to consider. MacBook buyers save a total of $120 when you add up the Windows 10 Pro upgrade and a year of Office 365 Personal.
Surface Laptop vs 2016 MacBook: Which to Buy?
Purely from a value standpoint, the 2016 MacBook wins. There are no extra restrictions on apps to consider. It's thinner and lighter than the Surface Laptop. Shoppers that only care about those things and are fine with the lack of extra ports should buy the 2016 MacBook.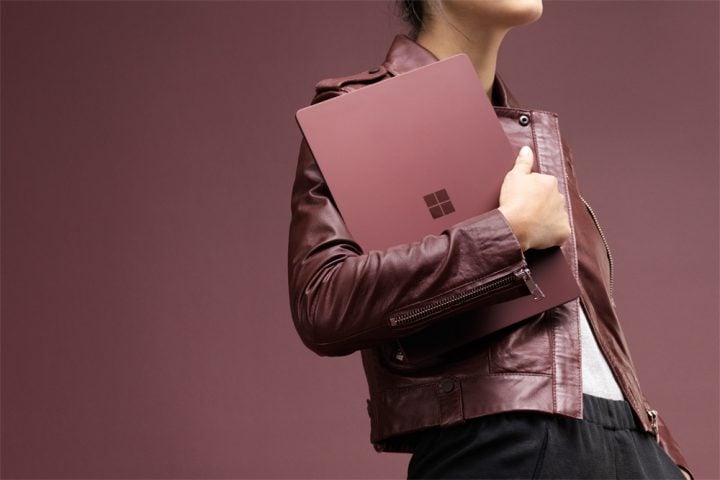 Read: Surface Laptop Release Date, Pre-Orders & Features
Surface Laptop has more ports, offers touch, lasts longer between charges and offers the latest processors. Microsoft is asking users to pay $50 more to take advantage of Windows' best feature, its enormous collection of programs available on the internet. What's more, you won't get the extremely tight experience that only owning Apple products can offer.
Pick you priorities, then choose the best laptop for you.