5 Surface Studio Alternatives & Touch Displays
Microsoft's Surface Studio is a digital drafting table, artist workstation and stunning looking PC. It's also incredibly expensive and limited, which is why you should consider purchasing one of the best Surface Studio alternatives or touch displays before buying one.
The Surface Studio is an all-in-one PC. It's RAM, storage, processor and graphics hardware are all tucked into the base that its 28-inch touch display rests on. A mouse and keyboard come with the unit and its hinges allow users to lower the touchscreen so that they can sketch, paint and draft plans using a Surface Pen and Surface Dial accessory. All these features come at a steep price though: the Surface Studio starts at $2,999.
Read: Surface Studio Release, Price & Pre-Orders
There aren't many PCs that can lower into an easel mode. However, there are Surface Studio alternatives that hide their components inside a slim frame. Like the Surface Studio, you don't need to connect them to other pieces of hardware. Also, you won't get stuck with lots of cables and wires on your desktop with these machines, and some of them have touchscreens.
All-in-One PCs aren't the best investment for everyone. That's why there are touch displays that you can lower whenever you want. They make drafting, digital artistry and just navigating Windows with your fingers less of a strain on your arms. You can pair these devices with the notebook or desktop you already have, which means you can use them long after the internals of the Surface Studio are no longer impressive.
Here are the 5 best Surface Studio alternatives and touch displays.
Surface Studio Alternatives & Touch Displays
Dell Canvas 27
HP Envy All-in-One 27
Lenovo IdeaCentre Y910 All-In-One
Dell XPS 27 All-In-One
Dell 24 Touch Monitor P2418HT
Dell Canvas 27 - $1,799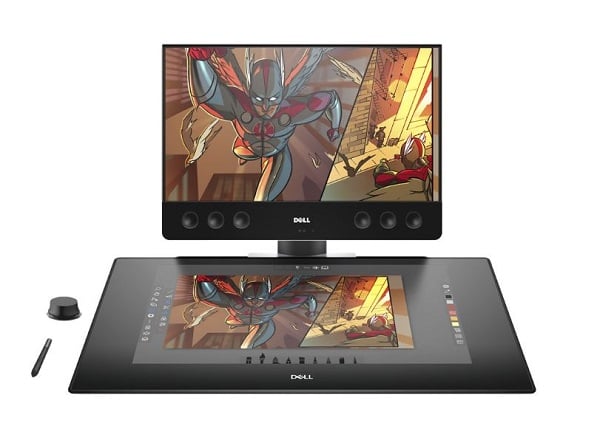 Dell's Canvas 27 impressed Gotta Be Mobile at the 2017 Consumer Electronics Expo. The accessory is available for purchase directly from Dell.com today and it costs $1,799.99.


Read: Dell Canvas Packs Surface Studio Experience


The Canvas 27 isn't a Surface Studio alternative. Instead, it's a monitor that you connect to your existing PC. This is a blessing because it keeps you from upgrading your entire setup when you need more horsepower.

You can lay this accessory flat on a table or use the built-in kickstand to elevate the back of it. Its screen is touch sensitive and 100% Adobe RGB compliant. Because of that compliance, every color you see on its display will look the same in the project you're working on.

Dell includes a pressure sensitive pen and a Surface Dial-like accessory with the Canvas so that you can change ink colors and other pen settings without tapping on menus inside of Adobe Photoshop and other software programs.


As an Amazon Associate I earn from qualifying purchases.