Target Black Friday 2014 Deals: What to Expect
Target Black Friday 2014 deals will soon offer major savings on iPads, HDTVs, iPhones and other gadgets on Thanksgiving and Black Friday 2014.
Target already announced free shipping on all purchases and a plan to price-match local competitors and select online competitors for purchases from November 1st through December 24th to help shoppers feel safe in buying early in the Black Friday 2014 season.
Shoppers flock to Target all year for a wide variety of items and the Black Friday 2014 sales are no different. We'll focus on Apple Black Friday 2014 deals, video game deals, smartphones and other gadgets you can expect to see in the Target Black Friday 2014 ad.
Here's a look at the things you can expect from Target's Black Friday 2014 sales, including those on Thanksgiving.
Target Black Friday 2014 Deals & Hours
We expect Target Black Friday 2014 hours to start on Thanksgiving, and stretch through Black Friday proper. There are no official hours yet, but in 2013 the Target Black Friday hours ran from 8PM on Thanksgiving until 10PM on Black Friday for 24+ hours of shopping.
Expect to see special Thanksgiving Day Target deals that start as doorbusters in the evening, and a new set of Target Black Friday 2014 deals that start early in the morning on November 28th.
Update: Corrected Target Black Friday hours.
The Target Black Friday 2014 ad will appear in your newspaper the day before Thanksgiving according to their official Black Friday page which states, "Buy the newspaper or pick it up off the front porch to find the weekly ad from Target and check out all the Black Friday deals."
Target also promises, "Are these deals good? No, these deals are great." which is what shoppers expect during the day after Thanksgiving sales. 
Shoppers can sign up for Target Black Friday 2014 deal info by email. The Target apps will update soon to include interactive store maps and wish lists that will offer one day of 10% off.
Target Black Friday 2014 Price Matching
Target promises price matching through the holiday season. This is live now and runs through December 24th. Here's the overview of this price match,
"We'll match the price if you buy a qualifying item at Target or CityTarget stores then find the identical item for less in the following week's Target weekly ad or within seven days at Target.com, Amazon.com, Walmart.com, BestBuy.com, ToysRUs.com, BabiesRUs.com or in a competitor's local printed ad."
There are some exclusions and of course Target stacks this in favor of the store to some extent. Check out all the details.
Target Black Friday 2014 iPhone & iPad Deals
You can count on some of the best Apple Black Friday 2014 deals at Target. Last year we saw $20 off the iPad Air and a $100 gift card and a $75 gift card for the iPad mini. We also saw $10 off the Apple TV and $10 off a $60 iTunes gift card.
We also expect an iPhone 6 Black Friday 2014 deal from Target. Last year it was a $20 off and a $30 gift card. Sam's Club plans a $99 iPhone 6 Black Friday deal that starts on November 15th according to a leaked ad. It's possible that Target will match this deal.
Target Black Friday 2014 Gaming Deals
When it comes to gaming deals at Target, you can expect to save at least $50 on the Xbox One as part of the general Xbox One Deals for November. We may see Target expand this with a game or controller bundled on to sweeten the deal.
This morning the first PS4 Black Friday 2014 deal leaked with a PS4, GTA 5 and Last of Us Remastered for $399. This is about $120 off the cost of these games, but the same base price.
You can also count on some PS4 Black Friday 2014 deals that chop $50 to $60 off the PS4 console without games.
Target Black Friday 2014 HDTV Deals
You can also count on Target HDTV deals during Black Friday 2014. Expect to see doorbuster deals on a 60-inch HDTV offer a off brand as low as $420 according to Dealnews and $725 for a brand name.
Consumer Reports also predicts 4K TV Black Friday deals this year, with new lower prices for the the ultra-high definition TV sets.
Black Friday 2014 Deals & Ads
Walmart Black Friday 2014 Ad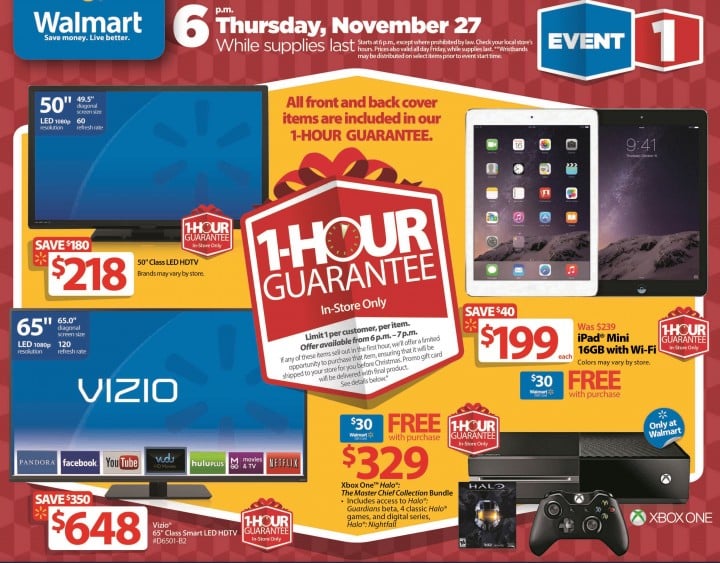 Walmart Black Friday 2014 deals start at 6PM on Thanksgiving and roll all the way through Cyber Monday. There are three specific events on Thanksgiving and Black Friday 2014, including nine 1 Hour Guarantee items that are in stock or you can get it by Christmas at the Black Friday price.
This includes a 65-inch Vizio HDTV for $648, the Xbox One with Halo for $299 after gift card rebate and an iPad mini for $169 after gift card.
You can check out more details on how the Walmart Black Friday 2014 1 Hour Guarantee will work. Duncan Mac Naughton, chief merchandising officer at Walmart states, "We've taken significant steps to improve the 1-Hour Guarantee process from beginning to end. It's simple and seamless."
Walmart beat our Xbox One and PS4 Black Friday 2014 predictions with big savings on the Xbox One and the PS4 GTA 5 and The Last of US Remastered bundle for $399. Here's a look at the nine guaranteed in stock items for 2014.

50" Class LED HDTV for $218 ($180 savings)
Vizio 65" Class Smart LED HDTV for $648 ($350 savings)
Apple iPad Mini 16GB with Wi-Fi for $199 with a $30 Walmart Gift Card ($70 value)
Xbox One Halo "The Master Chief Collection" Bundle for $329 with a $30 Walmart Gift Card
RCA 7" Google Play Wi-Fi Tablet for $29 (special buy)
Samsung Galaxy Ace Style on Straight Talk Wireless for $29 ($100 savings)
LG Blu-ray Disc Player for $35 (special buy)
Beats by Dr. Dre Wireless Headphones for $149 ($130 savings)
HP Intel Celeron Touch Laptop for $249 (special buy)

You can see the full Walmart Black Friday 2014 ad and deals online now. Wlaamrt will post store maps on November 18th and share more detials as the event approaches.

As an Amazon Associate I earn from qualifying purchases.