5 Things to Know About the Android Q Update
Google's next version of Android isn't coming out until August, but the Android Q Beta recently arrived for developers to test it early. In this guide we'll go over what you need to know about Android Q, or Android 10 and the beta program. From the latest news, potential names, how many betas are coming, and what to expect.
Google released the Android Q beta before a lot of devices even got last years update to Android 9 Pie. Basically, the search giant is ready to move on to what's next. Don't worry though, you'll still get Android Pie soon if you haven't yet. Then, Google will continue the Q beta and release a stable version of Android 10 later this year.
Android Q Release Date
For those that don't know, Android 9 Pie debuted in March of 2018 and was later released in August. And a similar beta program kicked off in 2016 and 2017 for Android 7.0 Nougat and Android 8.0 Oreo. Right on time and as expected, Google dropped the Android Q beta update on March 13th, 2019. The first of six betas coming in the next six months. Then on April 3rd released the second beta with bug fixes.

The first Android Q Beta arrived in March 2019
Multiple Beta updates will arrive over the summer
More devices will get the Android Q beta in the next month or two
We believe the Android 10 Q release date is in August
Google released Android Q for all six of its Pixel phones. Yes, the original Pixel and Pixel XL will get Android Q. Then, we're expecting Google to do the same thing as last year, and open the beta program to other manufacturers like Sony, OnePlus, Nokia and hopefully even Samsung. The Android P beta was available for 11 different devices last year.
We're hearing that Google has even more partners and manufacturers on board this year, which should make updates come faster towards the end of the year. We're currently on beta 2, but we expect the 3rd or 4th beta to allow other manufacturers to start testing the next version of Android.
Surprisingly, on April 10th Google released an update to the Android Q beta 2 release, which is odd, instead of just delivering the 3rd beta. This was an important bug-fix or patch to the developer preview 2. Basically, if you get another Android Q update this week don't worry, but don't expect the 3rd beta yet.
What Will Google Name Android Q?
Every year the internet takes part in a big discussion about what Google will name its next version of Android. We've heard Android 8.0 "Oatmeal Cookie" or Octopus, Android 9 Popsicle, Pancake, Pistachio, or Peanut Butter. Every version of Android is named after a tasty dessert.
So what will the next version of Android be called? Google's desert-themed alphabetical naming system suggests Android Q. More specifically, Android 10 Quindim.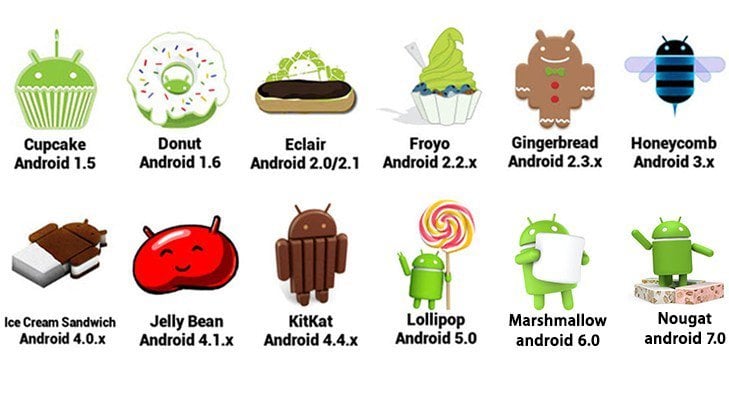 Google doesn't have a very good list of desserts that start with the letter Q. This year might be a challenge. Honestly, we think Google will drop the dessert names entirely, for this year or for good, and simply go with Android 10. You heard it here first.
We even saw hints of that with the last update. Instead of Android 9.0 Pie like every other past version had a ".0" they simply went with Android 9 Pie. Not 9.0 like we expected. Giving it a clear number, so in 2019 everyone will be fine and feel comfortable with Android 10.
Maybe we'll get Android 10 Quench Gum, Queijadinha, Qurabiya, Quindim or even Quesito. And if Google skips Q, they'll have no shortage of names for Android R if they want to go back to the dessert theme. Just think, we could get Android 11 Rocky Road or Rice Crispy Treat in 2020.
Android Q New Features
We already have a pretty good idea of what to expect in terms of new features, thanks to leaks before the beta arrived. That said, Google isn't sharing everything yet and we're already seeing hints of some big secrets, surprise new features, and other tidbits that will debut later this year. Basically, the Android Q beta doesn't have a lot that's new, at least not yet. And the Android Q second beta didn't add much either. Google will unveil all the goodies on stage at Google IO in May.
However, we do have a decent list of upcoming new Android Q features that we already know about from leaks, or from Google's blog post announcing the update. Here are some key things to be excited about, including support for folding screens in the 2nd beta. Developers can now start building Android for folding phones.
A Brand New Dark Theme
Desktop Mode in Android Q
Better Permissions & Privacy
Better Location Controls and Limits
Notification Assistant
Bubbles for Improved Multitasking
Improved Smart Lock & Lockscreen Controls
FaceID Type Security
Built-in Screen Recording
Support for Foldable Screens
Improved Gesture Controls
and more…
Thanks to huge leaks from XDA Developers or 9to5Google, the list above is pretty accurate and a great place to start. That's just a few of MANY new features coming in Android 10 Q. Google's just saving the big list for announcements later.
Additionally, we expect Google to further refine the software and experience around the notch, cutout holes in screens for front-facing cameras, and gestures for using these bezel-free phones. Plus, they're working to offer support for foldable phones, because that's the next big thing coming from Samsung and other manufacturers. Android Q supports the fold. We're also seeing a redesign of the gesture navigation, Google might ditch the back button, and several other changes are on the way.
Android Q Beta (Developer Preview)
Remember, if you own a Google Pixel or Pixel XL, you can try Android Q right now. There are several ways to try this new software update early, although we don't recommend average users try it until the 3rd or 4th beta this summer. It's still too new, and not complete.
The Android Q beta 2 software is available for the Pixel 1, 2, and 3 series of phones so far, but more are likely coming soon. The easiest way to get this software right now is through the Android Q beta program. Keep in mind that even the 2nd beta has problems, some apps and games (like Pokemon GO) still don't work, and you will run into issues.
Android Q Expectations
It's far too early to speculate on exactly what Google has in store for Android 10 or Android Q. What we do know though, is that Google loaded Android 8.0 and 9 with new features, smarter features, more Google Assistant, better security, QoL changes and focused on digital wellbeing and health. Letting people use phones easier and faster, not more.
Pie was a massive update under the hood, even if most of the changes weren't visually noticeable. Google made moves to improve battery life, clean up notifications and set the groundwork for faster software updates for all devices in 2019, 2020 and beyond.
So, what can you expect from Android Q in 2019? Well, more of that. Google isn't going to overhaul everything, and from these early betas, we're not seeing too many visual changes aside from the sweet new Dark Mode. Expect a huge part of this update to focus on security, privacy, users being able to control their data and privacy, and location data controls.
What you can almost guarantee is an Android that's smarter, faster, more secure, more useful, feature-rich, and works great on millions and millions of devices all around the world. Now if they could only fix this slow update problem, then we could all be happy.
In closing, Android Q is here, kind of, it's already rooted, but we only know a little bit about it right now. However, in the coming days or weeks, we'll have a better picture of what's next for Google, Android, our phones, and millions of other devices. Stay tuned for the Android Q beta 3 release and we'll update this post once we learn more.

As an Amazon Associate I earn from qualifying purchases.