Top 10 Things to Try in OS X Yosemite & iOS 8.1
The OS X Yosemite update includes a long list of exciting new features, but there are a few things you simple need to try after you install OS X Yosemite on your computer. You'll need the free iOS 8.1 release on your iPhone or iPad to make all of these features work.
Apple added 10 exciting OS X Yosemite features to the update that could change the way you use your computer. These include better connectivity with the iPhone and iPad, a new dark mode and much more.
OS X Yosemite is a free update for most Macs running OS X Mavericks. Some of these features do not work on computers more than a few years old, but you can at least try some out.
You can download OS X Yosemite from the Mac App Store and install it in about 45 to 60 minutes depending on the download time and other factors. You can install iOS 8.1 in about 30 minutes and it includes a number of fixes and features.
Top 10 Things to Try in OS X Yosemite
Here is a look at some of the most exciting OS X Yosemite features that you need to try now. These may change the way you use your Apple computer, especially if you have an iPhone or iPad.
Make and Receive Calls on Your Mac – You can answer a call using your Mac as a giant Bluetooth speakerphone. It's handy in many ways, especially if you already have headphones on connected to your Mac or your iPhone is in your pocket and you need a speaker phone.
AirDrop from iPhone to Mac – With iOS 8 and OS X Yosemite you can quickly share files and folders from iPhone to Mac using AirDrop. Learn how to use AirDrop on Yosemite and iOS 8.
Send Text Messages from Your Mac – In Yosemite the Mac connects to your iPhone to allow you to send text messages just like you could always send iMessages. Here's how to set up texting from your Mac.
Use Your Instant Hotspot – Turn on the hotspot feature on your iPhone, then click on WiFi on your Mac and you'll see an option to connect and use an Instant hotspot complete with signal and battery life.
Use Handoff on Yosemite – With Handoff you can quickly move your work from iPhone to iPad to Mac and back to the iPhone easily. You need compatible apps to make it work, so check out how to set up Handoff on iOS 8 and OS X Yosemite for more details.
Share Files With iCloud Drive – This is like an Apple version of Dropbox that keeps your files n sync across all of your devices. There is an iCloud Drive option in finder, and you can see more about how to set up iCloud Drive on Yosemite and iOS 8 for the rest of the important details.
Try the New Spotlight – In OS X Yosemite users will see a new Spotlight search tool in the middle of the screen. Press command and space at the same time to launch it and now you can search your local computer as well as get results from the web for movie times, Bing searches and more.
Try Dark Mode – If OS X Yosemite is too bright for you, turn on the new Dark Mode to dim things down a little. Go to System Preferences -> General -> Use dar menu bar and dock.
Get Better Battery Life With Safari – Many users rely on google Chrome or FireFox, but if you switch to Safari you can gain up to two hours of longer battery life on your MacBook and up to three hours if you are watching Netflix. Just use Safari instead of your other browser.
Send Huge Attachments – The OS X Yosemite Mail app lets users send files up to 5GB in size. all you need to do is attach a large file to an email and you'll use Mail Drop. The file is available for 30 days and it shows up as an attachment for another iCloud user or as a link to download for any email user.
You can check out other OS X Yosemite features in the slide show below, complete with the new look and improvements to other apps.
OS X Yosemite Release & Feature Roundup
New OS X Yosemite Design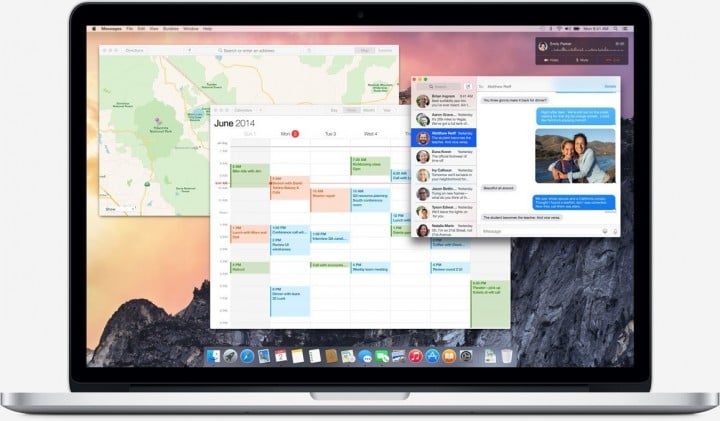 The biggest change in OS X Yosemite is the new look and design. Similar to the visual upgrade the iPhone and iPad received last year this free OS X update brings a new, but familiar look to your Mac.
Apple's new look for OS X Yosemite starts with redesigned buttons, windows and elements. You won't be lost when you open Yosemite, but you will notice a cleaner overall design. There are now translucent areas in some apps that show a blurred view of what's behind and the toolbars are now less cluttered and more useful.
Apple also changes the OS X Yosemite dock and system fonts to make OS X Yosemite look better on a Retina display. Notification Center and Spotlight are also new, which we cover in more detail below.
The OS X Yosemite video above walks through the various changes to OS X Yosemite design.

This article may contain affiliate links. Click here for more details.