Top 10 LG G5 Settings to Change
When buyers get the fancy new LG G5 out of the box and setup, a few things should be changed. In fact, multiple LG G5 settings or features can be enabled to offer a better overall experience, ease of use, and more on this unique modular smartphone.
These are some of the first LG G5 settings we change on our devices, and are what we recommend buyers do in order to enjoy their new phone to the fullest, explore all the options and G5 settings, and get the most from the phone.
Read: 15 Exciting LG G5 Cases
Now that the shiny and improved aluminum, dual camera, fingerprint scanner, modular G5 is available around the globe, users have a lot of questions. These changes will make things simple, add extra features, improve the LG G5 and have owners prepared for the future.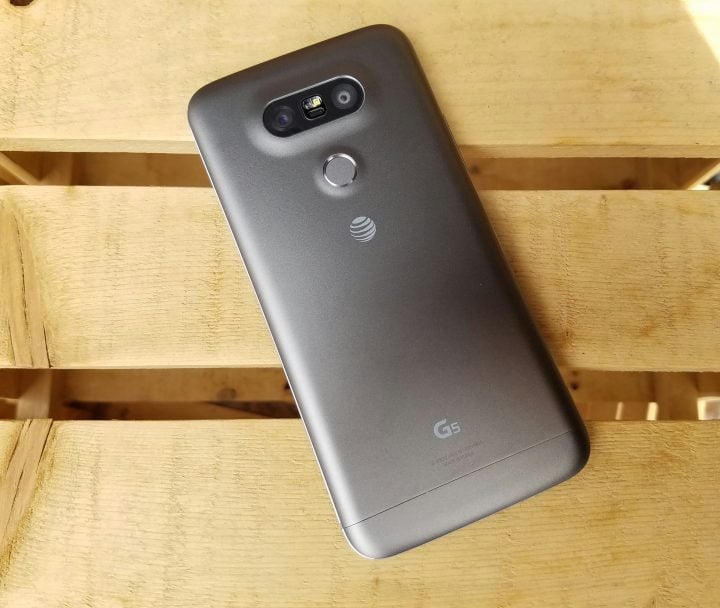 While most G5 users have enjoyed LG phones in the past, this could also be your first LG due to it having a replaceable battery and a micro-SD slot, something most phones don't offer. Exploring these settings will help users get familiar with the device, learn where everything is, and get set up for the best experience possible all at the same time.
Almost everything detailed above will improve performance and daily tasks on the G5, disable things most users don't need or want, and add or turn on additional features to make it the best smartphone possible. Some of which are disabled out of the box.
Of course all users should setup the fingerprint scanner, which it suggests during the first boot, customize the quick settings on the notification bar to give you fast access to the flash as a flashlight, and other things, but these LG G5 settings go further than that. Take a look at everything we recommend below.
Setup Multiple Fingerprints
On first boot the G5 will have owners setup a fingerprint along with a second level of security like a password, pattern or pin. The fingerprint scanner is extremely quick and easy to use, and setup only takes 7-8 taps of a finger. Samsung devices take more like 12-15, and much longer to save.
However, we'd recommend speeding through setup after the first fingerprint, and adding a few more. Of course the scanner being on the back most won't add a thumb, but you'll want to have more than one finger saved.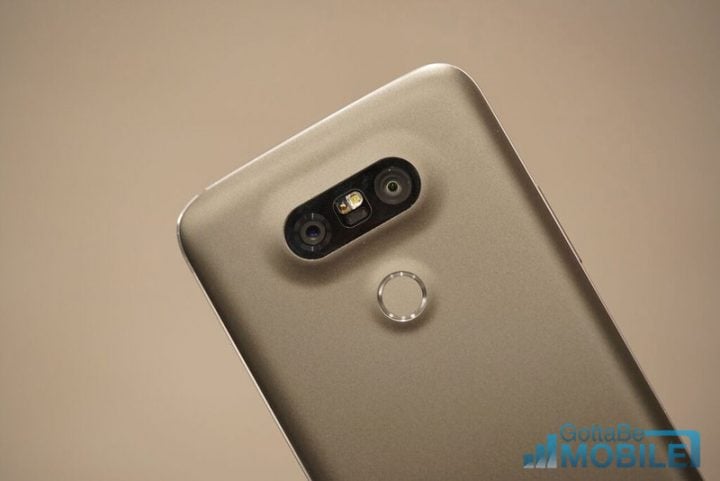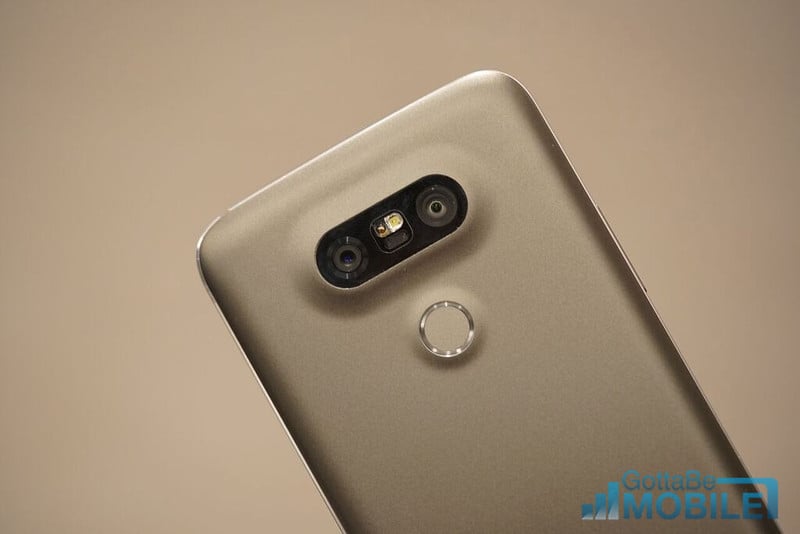 Built into the power button around back under the camera is the fingerprint scanner, located right where most users rest their index finger while holding the phone. It protrudes a bit, making it easy to find and tap.
Head into Settings > General Column > Fingerprints & security > Fingerprints > Enter Pin > and select "Add Fingerprint". We'd recommend users add both index fingers, for easy unlocking in either hand. As well as maybe a third finger. One thing I liked, was tap a finger to the scanner in here and it shows users which print that is saved to that specific finger. So owners don't accidentally delete the wrong one if they ever need to redo them.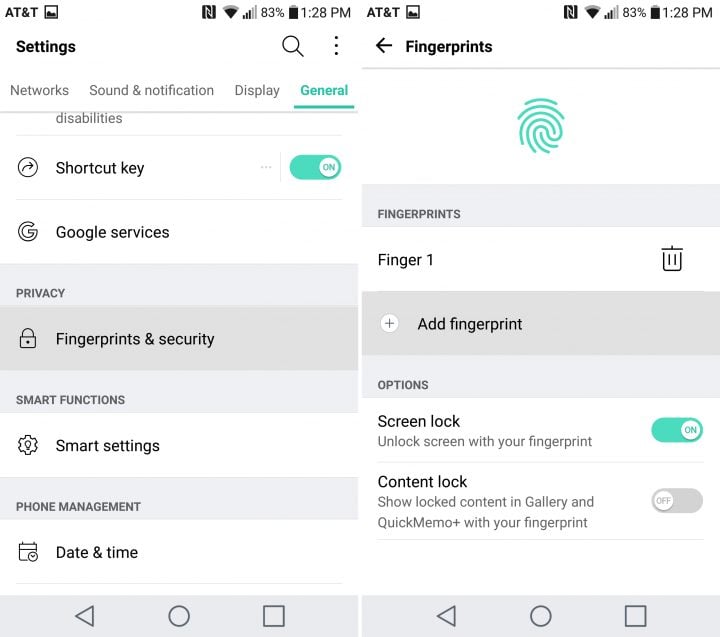 Also, we'd recommend redoing any saved fingerprint after a case has been installed, for the most precise angle and saved data possible. This will ensure a good experience moving forward.
Learn or Enable Quick Camera and Tap to Wake
There are two quick things that all owners need to know about. When the screen is off double tap volume down, or double tap the screen. Double clicking volume down instantly launches the camera in under 0.08 seconds, and double tapping the screen turns it on. Both of these are extremely convenient.
Being able to instantly launch the camera is a nice feature many love, and "KnockON" lets us use the phone even while it's laying on a desk. Double tap, enter a pin, and continue using the phone without ever picking it up and searching for the power or fingerprint scanner. It's quick, simple, and easy. Double tap anywhere that's blank on a screen and it will instantly turn the screen off too. LG was first to offer this, and it's still one of our favorite features.
Add a Micro-SD Card
The LG G5 only has 32GB of internal storage, and nearly 12GB is used out of the box on the AT&T model due to all the bloatware, LG apps, AT&T apps, Amazon Apps and other things users will never use. Below we'll explain how to hide most of that, too.
As a result your brand new phone only has around 20-22GB of space available, which will fill up quick with apps, games, photos and video. This has less space than a Samsung Galaxy S7, which is usually the worst when it comes to bloatware.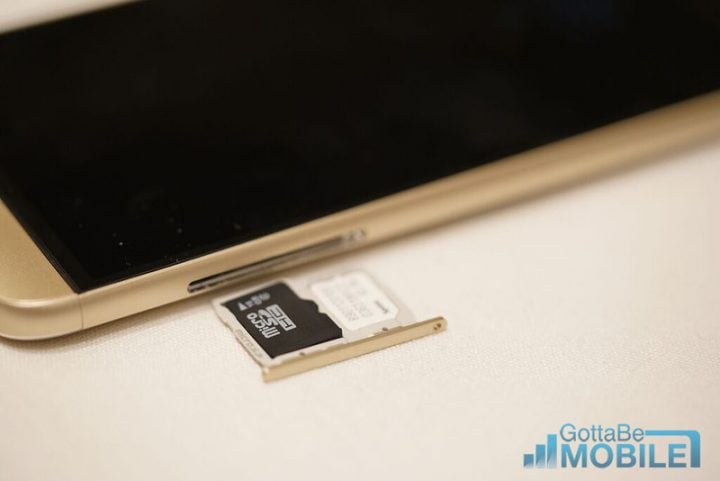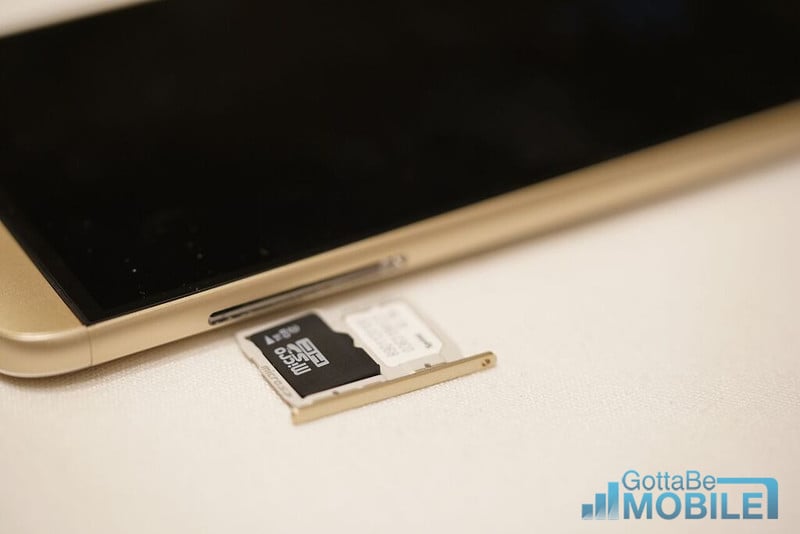 The G5 can handle up to 2TB of storage, which is a ton. However, the highest micro-SD available is 200GB, and some 128GB options are on sale on Amazon for super low prices all the time. Once done, make sure the camera is saving to the SD card, not internal storage. It should change this by default, but check camera settings to be sure.
Use the SIM removal tool, which is where the micro-SD card is located, and toss in some extra storage to last you a few years.
Turn On "Always On Display"
A big selling point on the LG G5 is the always on display. It turns on a tiny area of the screen 24/7 in a low power mode to show owners the time, date and missed calls or incoming notifications. Allowing us to see quick information without turning on the phone. Research suggests most users turn on their phone over 150 times a day.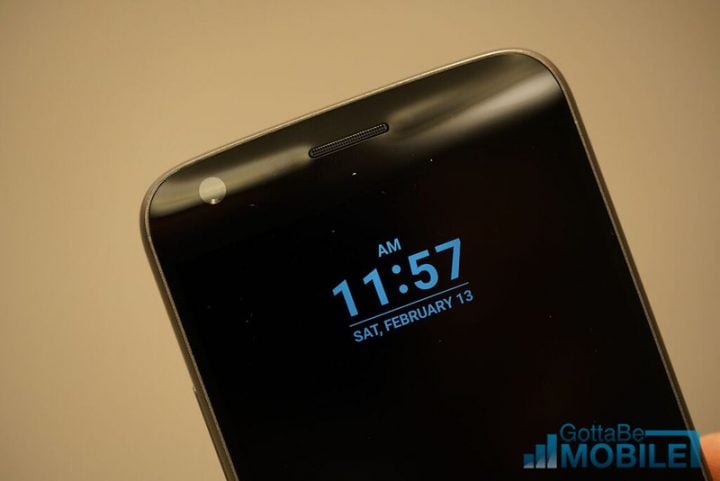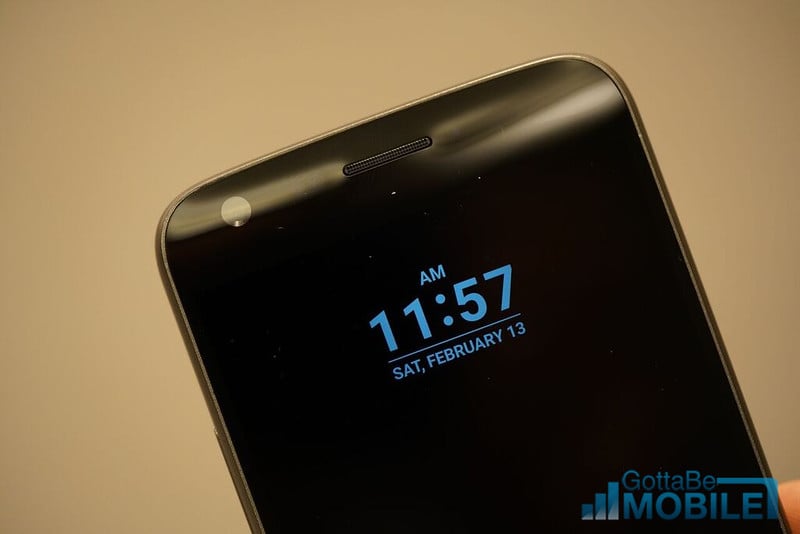 Having this feature enabled only uses about 1% of battery life an hour, so 8% during an entire day at work, and will save battery in the long run by keeping the screen off for those needing to take a quick glance.
For whatever reason (likely the small 2,800 mAh battery) this is disabled out of the box, although LG talked about it a lot while announcing the phone.
Read: How to Enable LG G5 Always On Display
Head into Settings > Display > and toggle the On/Off for the Always-On Display, and you're all set.
Download A New Home Launcher (App Tray)
You may have noticed that the LG G5 doesn't have an application drawer or tray like all Android devices. Similar to an iPhone, all the apps are plastered on the homescreens or in folders. Lets fix this.
This can be confusing for average smartphone owners, but Android devices can easily be completely changed in seconds. Change the entire look, feel, operation and features of the homescreen and application tray with something called a "launcher". These have been popular for years, and the LG Home Launcher on the G5 doesn't have an application tray. Meaning users don't know where to look to find apps, or their all shoved into folders on a second screen.
Read: How to Add An Application Drawer to the LG G5
Navigate to the Google Play Store and download the Google Now Launcher, NOVA Launcher, or even LG Home 4.0 (here) to get your phone operating like all other Android's you've ever owned. Meaning a few icons on the screens, and the rest in the app tray.
Clean Up & Customize the Pulldown Bar
The notification pulldown bar is extremely helpful on Android devices. There are 5 icons for quick shortcuts to some of the most used settings, which can be customized by hitting the little button in the top right next to the settings icon. I have WiFi, Bluetooth, Flashlight and an option to quickly take screenshots with the "Capture+" button.
However, owners probably noticed the notification center is also filled with tons of absolutely unnecessary stuff taking up space. Like a slider for brightness and volume, screen sharing and some silly file sharing icons. These are helpful in select scenarios on rare occasions, and don't need to be here all the time.
Above is an image of the notification bar options and quick settings, the edit button is highlighted, and then you can see we've unchecked everything we don't want. We'd recommend owners disable almost all of this, and keep maybe volume or brightness based on your needs.
This saves room for what's important, which are incoming messages, emails, Facebook notifications and other things.
Disable Bloatware
As we said above, the LG G5 is using nearly 12GB of storage out of the box with tons of useless apps. Things like AT&T apps, T-Mobile TV, Verizon Navigator (or their awful text app) and then even more stuff like Amazon, DirecTV, Yellow Pages, Uber, Lookout Security and more. It's really a ton of apps wasting space that almost no one will ever use.
Sadly we can't uninstall them and get our space back, but we can disable and hide them completely. Cleaning up the homescreen, app tray, and only allowing the phone to show apps we actually care about.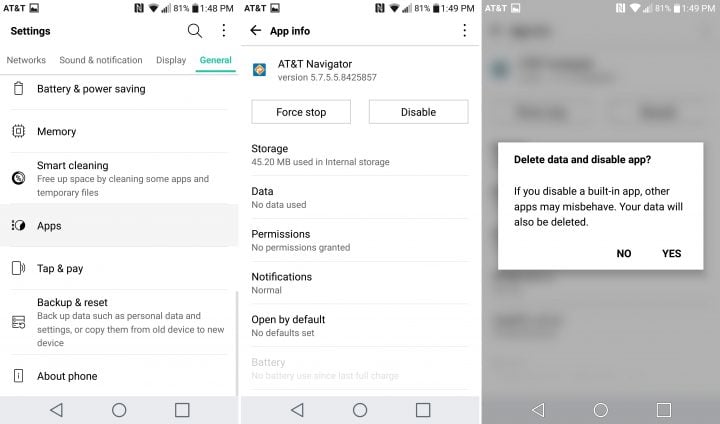 Pull down the notification bar and tap the gear-shaped Settings button, then navigate to General > Apps > and select any of the apps mentioned above and tap "Disable". This will uninstall the latest version and disable then hide the app. It's our only option, sadly, but better than nothing.
Use "Smart Settings"
LG has a nice option in settings called Smart Settings that are very useful and can save battery life and time. Similar to Motorola Actions back in the day. When you leave the house, Smart Settings will automatically turn off WiFi (if you'd like) and turn on Bluetooth for hands-free driving and calls in the car. When you get to work, it knows your location and will turn WiFi back on, if applicable.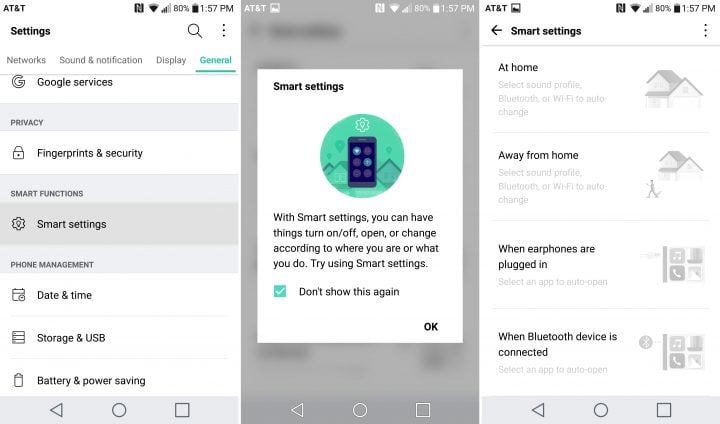 Head into Settings > General > Smart Settings > and try a few options. We can even set the G5 to automatically open Google Music when headphones are plugged in. They're nice little smart setting shortcuts that many owners love once all setup to perfection. Give it a try today.
Turn On NFC & Android Pay
Thanks to running Android 6.0.1 Marshmallow and having a fingerprint scanner, users can make wireless mobile payments with Android Pay. Go to the Google Play Store and download Android Pay, turn on NFC in settings, and add a credit card.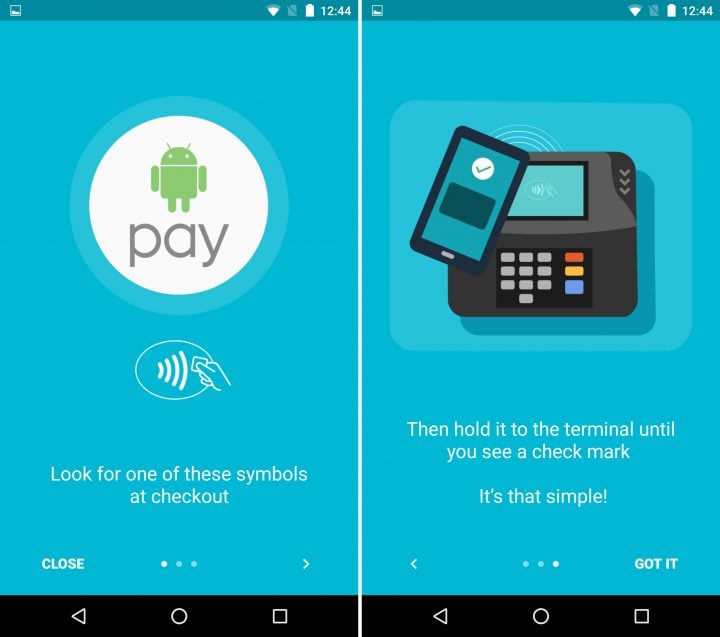 Then, just tap Android Pay, securely sign in with a fingerprint, and tap the LG G5 to a payment terminal to make a payment easily and quickly while on the go.
Turn On Battery Saver and Charge a Spare
Most buyers who ordered the LG G5 got a second spare 2,800 mAh battery, and a portable charging dock to charge it without putting it in the phone. This is very nice, as it allows you to quickly swap a full battery in a matter of seconds.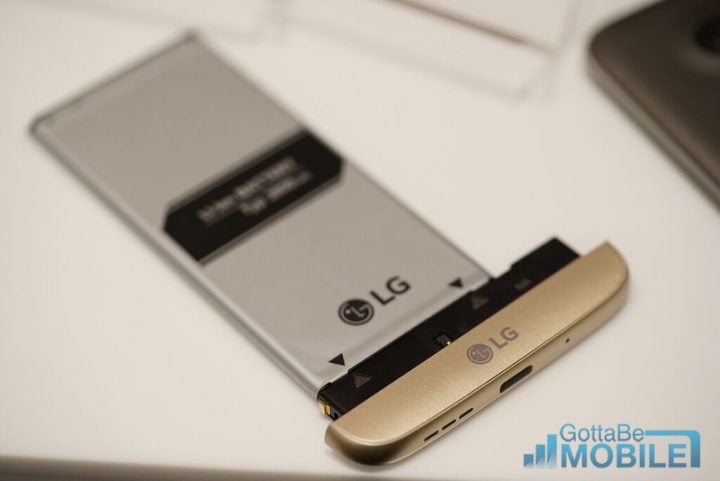 And while the LG G5 charges from 0-80% in about 35 minutes anyways using the included charger, it's even easier to have a spare full battery for after work. However, we can also extend how much time is left by using battery saver mode. Under Settings > Battery is a batter saver mode that once enabled will turn on at 15%. This turns off unnecessary things to extend battery life for a few more hours. Perfect for a night out, or while in emergency situations. It's good to have one, know about, and be prepared to use.
Now the LG G5 is ready for almost anything, but feel free to look through settings to learn more about the phone. Once down, check out some official LG G5 accessories below.
14 Official LG G5 Accessories
LG G5 Replaceable Battery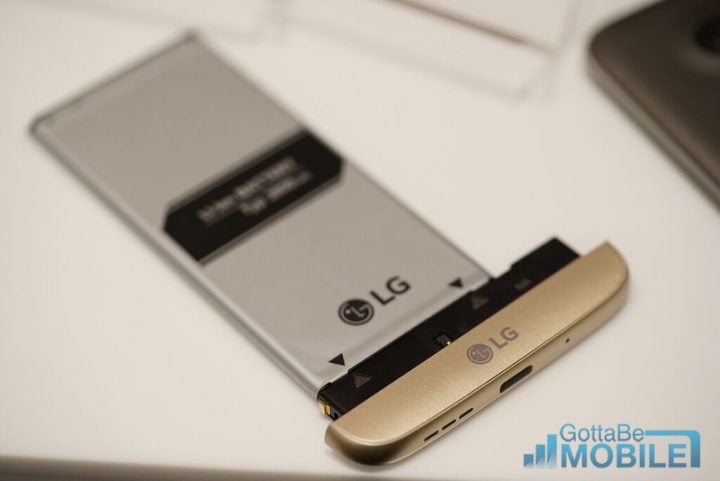 These days most smartphones have a fixed battery, meaning it cannot be removed. LG claims the fastest way to recharge a smartphone or the G5, is to replace the battery. Something that's easily achievable with the LG G5 and its modular design.
Click the little button on the bottom of the LG G5 and the battery is completely removable. The bottom slides out, and the battery can be replaced in seconds. It isn't the biggest battery, being just 2,800 mAh, but it's easy to replace. Additionally, it recharges faster than any LG phone to date, has battery saving features, and runs Android 7.0 Nougat. Meaning battery life shouldn't be a big concern.
Those who grab the LG G5 will want to get a spare battery to easily throw in when the phone is dead. Perfect for traveling or while busy at work when you need to recharge your phone.