Top 5 Smartphones to Consider Before Buying the LG G2 [June, 2014]
At the end of May, LG announced the brand new LG G3, a follow up to last year's exceptional LG G2. The LG G3 will replace the LG G2 as the company's flagship but it won't replace the LG G2 completely. No, last year's model will live on as a solid budget option aimed at consumers who want big specs without the big price.
While it did not receive the same kind of attention that devices like the iPhone 5s, iPhone 5c, Samsung Galaxy S4, HTC One, Samsung Galaxy Note 3, and Nexus 5 got ahead of release, the LG G2 flew under the radar and emerged as one of the top Android smartphones of 2013.
The LG G2 replaced the LG Optimus G as the company's top model and it did so with numerous upgrades on board including a 13MP camera with OIS, a large Full HD display, quad-core processor, some of the best battery life in the business, and a design that featured a volume rocker and power button on the back of the device.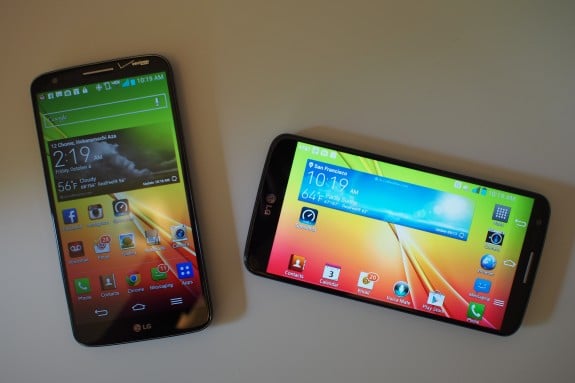 In May, LG announced the brand new G3, a device that is set to replace it as the company's flagship model. However, the LG G3 figures to be more expensive than the LG G2 which should push more budget-conscious consumers to the LG G2 and its feature set. And while we consider the LG G2 to be a solid option, we think there are some devices that consumers must consider before buying last year's model. Here, we take a look at the devices we consider to be the top five LG G2 alternatives.
Keep in mind, our list may differ from yours but these are the devices that Gotta Be Mobile editors have selected for recognition this month. We feel like they deliver the best, all-around package at the moment. This list will change from month to month as rumored devices get closer to announcement and announced devices get released.
LG G3
The LG G3 might be more expensive than the LG G2, the LG G2 can be found for pennies at various retailers, but there is a lot to like about LG's brand new flagship.
LG's new G3 comes with a 5.5-inch 2560 x 1440 Quad HD display, a new 2.5 GHz Snapdragon 801 quad-core processor with 2GB of RAM and 16GB of internal storage, as well as a micro-SD slot for expansion. It also features Google's brand new Android 4.4 KitKat update and an improved design.
It's a device that we think prospective LG G2 buyers must rule out before settling on last year's model. So keep an eye out for specific release dates.

This article may contain affiliate links. Click here for more details.