Top PS4 Games to Buy in 2014
Looking for PS4 games to buy so that you can enjoy your new console? There are plenty of great PS4 games available today, and many more PS4 games in 2014 that should be on your radar.
Now that you own a PS4, you need to add to you collection with these Top PS4 games to buy in 2014. If you are still considering a PS4, this list of PS4 games to buy in 2014 will help you find the must have games you need to plan for.
We're starting out with a list of 15 PS4 games to buy in 2014 that includes a few games already on the market, and many more that are still in the works. Some of these  PS4 games release dates are vaguely listed as December 31, 2014, which means it's coming this year, but we don't know when.
Read: Latest PS4 News
A few exclusives like MLB 14 The Show are almost reason enough to buy a PS4 instead of an Xbox One, but they are far from the only PS4 games in 2014.
In addition to outlining the games coming this year, we'll list the release dates, let you know if there are special editions, if there are any pre-order bonuses and if it is a PS4 exclusive. For gamers that want to buy now, or pre-order we have a link to Amazon. Each slide includes this information and when necessary we include gameplay videos to show you what the game looks like. The games are not in release date order, so you can jump around based on the images without worrying about when the game comes out.
Here's a closer look at the PS4 Games to Buy in 2014, to get the most out of your PS4. You can buy all these PS4 games digitally or on disc. The PS4 lets users pre-order and pre-load titles so that gamers can play at midnight without going to a midnight release event.
Call of Duty Advanced Warfare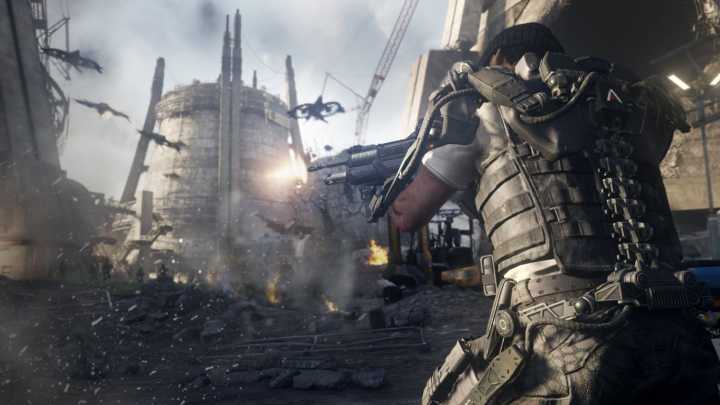 PS4 Call of Duty Advanced Warfare Details:

Call of Duty Advanced Warfare Release Date: 11/4/14
Pre-Order Bonus: Brass exoskeleton, EMP Weapon
Special Editions: Yes
Exclusive: No

Call of Duty Advanced Warfare is one of the top PS4 games to buy in 2014 not only becuase it is a new Call of Duty game, but because it is ready for a PS4 lacking fun shooters.

Yest it arrives into a fall filled with Destiny, but Killzone didn't live up to the excitement and there is no Titanfall for PS4.

Instead gamers get this Kevin Spacey filled Call of Duty Advanced Warfare release that delivers a super soldier with smart weapons and access to technology like never before including drones and hoverbikes.

Call of Duty Advanced Warfare Gameplay Video

As an Amazon Associate I earn from qualifying purchases.