Ultimate Android 2.3 Update List: Which Phones Will Get Gingerbread?
Back in December, Google announced that the Android 2.3 Gingerbread would follow Android 2.2 Froyo as the next operating system coming to Android OS smartphones. As of today, April 21st, there are only 3 phones that currently boast official Gingerbread leaving many device owners to wonder:
Am I going to be getting Android 2.3 Gingerbread?
If that sounds like you, then you've come to the right place because we're going to run down a list of Android devices on the market and let you know if they are going to be seeing the Android 2.3 update at any point in time.
HTC Desire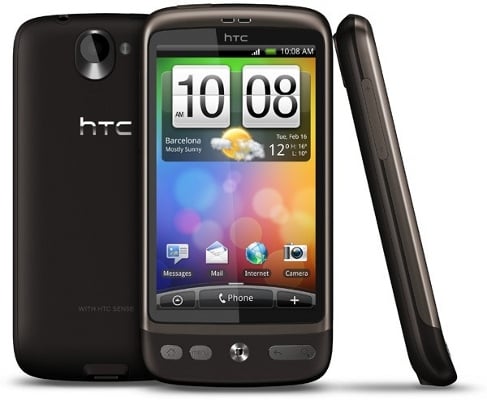 Three UK, has confirmed that the Gingerbread update for the HTC Desire was coming back in February and  HTC itself has said that the update would be coming at some point in Q2.
Just a few days ago, an official Gingerbread ROM for the HTC Desire leaked out which means that an update could very well be on the way in just a couple of days. We'll be sure to update you.
The Gingerbread update has been a long time coming for those with the device in the UK and in Asia who received their Froyo updates all the way back in August of 2010. Froyo for the HTC Desire came to U.S. owners much later in February of 2011.
The HTC Desire has been out since February 2010, almost as long as the Nexus One, which means that there is a slight chance that it might not be getting a boost up to Android 3.4 Ice Cream Sandwich. However, the fact that it has a 1GHz processor and 576MB of RAM should make it more than qualified for the update. Time, of course, will be the one that tells.
Update: HTC has confirmed the sad news. The HTC Desire will not be getting Gingerbread after all.
Update 2: It's back on.
HTC Desire HD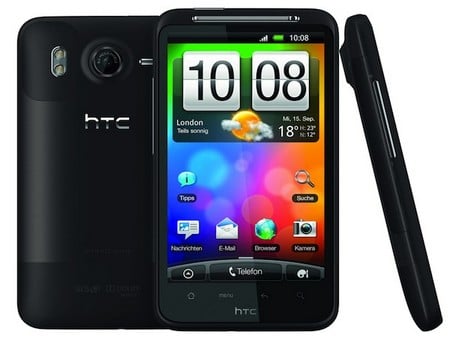 HTC said it would be coming at some point in Q2 and sure enough, it has arrived. The roll out for the HTC Desire HD began on May 4th and it appears that it's still rolling out as users are reporting that it's still hitting their phones.
Some people have been complaining about battery issues and the loss of Wi-Fi connectivity, but for the most part, it appears that the update has brought major upgrades to the Desire HD.
The HTC Desire HD rolled out back in October of 2010 so it's unlikely that Android 2.3 Gingerbread will be the last major upgrade it gets. Look for it to get Android 3.4 Ice Cream Sandwich when it arrives.
Update: HTC Desire HD has been updated.
HTC Desire Z
The final member of the Desire family, the HTC Desire Z, will also be getting Gingerbread and will be getting it in Q2 as well. Recently, HTC stated that the HTC Desire Z would be getting its Android 2.3 update by the end of June.
The HTC Desire Z is Europe and Canada's version of the T-Mobile G2 which of course means that it's a pretty solid phone and one that is only going to get better with an upgrade to Android 2.3 Gingerbread.
An update to Android 3.4 Ice Cream is almost certainly in its future as its only been out since November and came with Android 2.2 Froyo out of the box.
Update: Gingerbread for the HTC Desire Z has begun to roll out.
HTC Droid Incredible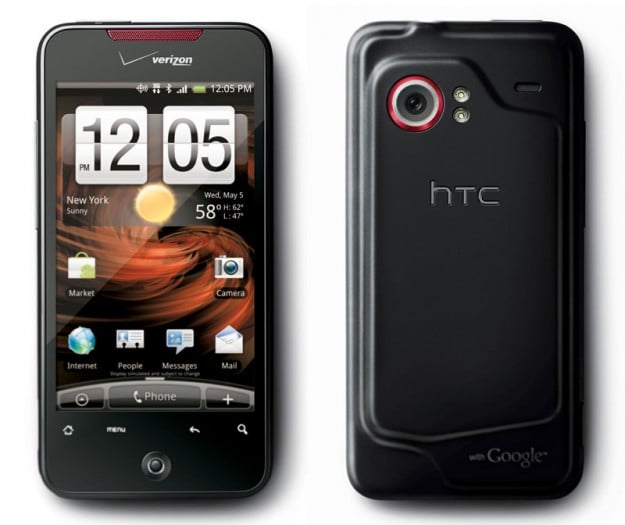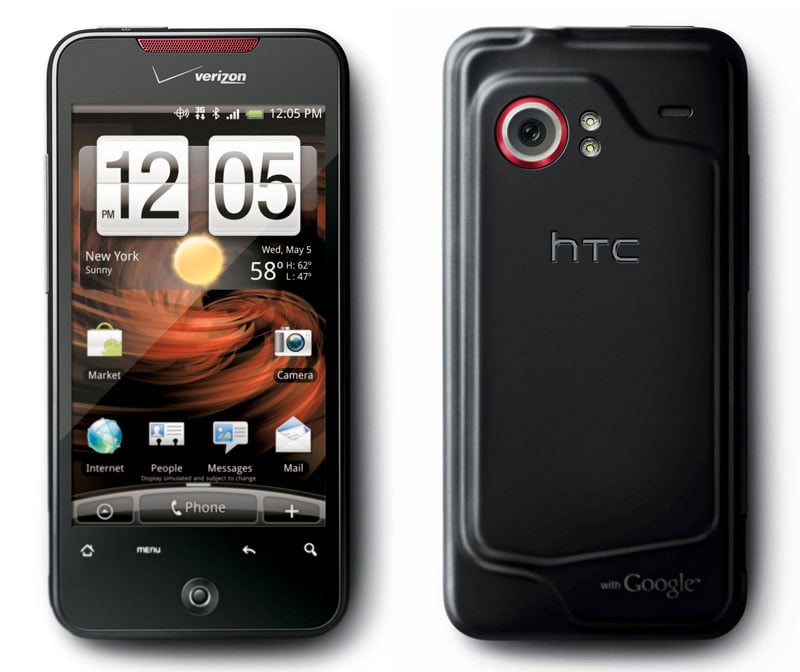 Even though the phone has reached the End of Life, HTC and Verizon will not be leaving owners of the original Droid Incredible out in the cold as far as Gingerbread is concerned. In fact, HTC has (sort of) confirmed that the update will be rolling out at some point this summer.
It seems like progress is being made because today, May 19th, a leaked test build of Gingerbread leaked out although as of right now, it's not flashable. You know the saying, when it rains it pours? Yeah, look for something official to start rolling out at some point in the near future.
While we hate to say this, this very well could be the last update that Verizon brings to the Droid Incredible after taking it from Eclair to Froyo and now to Gingerbread. Those of you that don't want to part with the old guy should keep your fingers crossed that Ice Cream Sandwich is in its future.
HTC Droid Incredible 2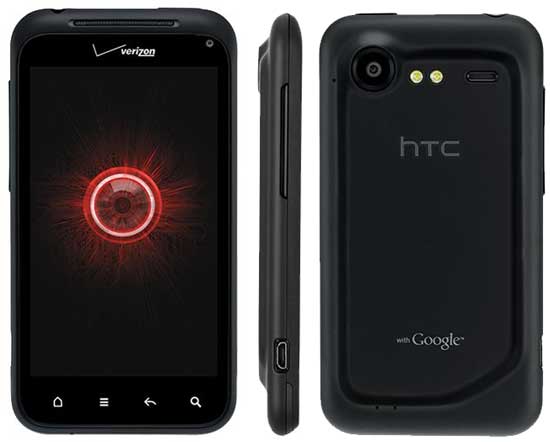 HTC and Verizon's successor to the original Droid Incredible, the Droid Incredible 2, was launched on April 28th. Out of the box, the phone is running Android 2.2 Froyo but it shouldn't be running it for much longer.
Its European twin brother, the Incredible S, was recently updated to Gingerbread which means that an upgrade should be right around the bend.
In our review of the Droid Incredible 2 we found Android 2.2 to be snappy, even HTC Sense worked properly, and we expect nothing less from Android 2.3 when it arrives. Quite honestly, if the Droid Incredible 2 had 4G LTE, it would be one of the best smartphones on the market right now. Gingerbread should keep it in the upper echelon of 3G phones though, whenever it arrives.
Update: The update has arrived.
HTC EVO 4G
Yes, Gingerbread is coming for Sprint's HTC EVO 4G. No, there isn't anything official yet. However, the unofficial word pegs the update as rolling out at some point during Q2 of this year. That means that HTC EVO 4G owners should have the update by the end of June.
If Sprint is hard at work on an update for the Samsung Epic 4G, then they are probably hard at work getting an update ready for the EVO 4G. After all, an official ROM leaked out back in April. We have a feeling  that they will be waiting for the release of the HTC EVO 3D before they release it and seeing as though the EVO 3D is up for pre-order, everything points to June.
As for Android 3.4, we love the EVO and hope that it gets the update. We also think that it's likely as it remains one of Sprint's most popular phones even after almost a full year of service.
Update: Sprint has confirmed that the Android 2.3 Gingerbread update for the HTC EVO 4G will be available on June 3rd and will roll out on June 6th.
HTC Incredible S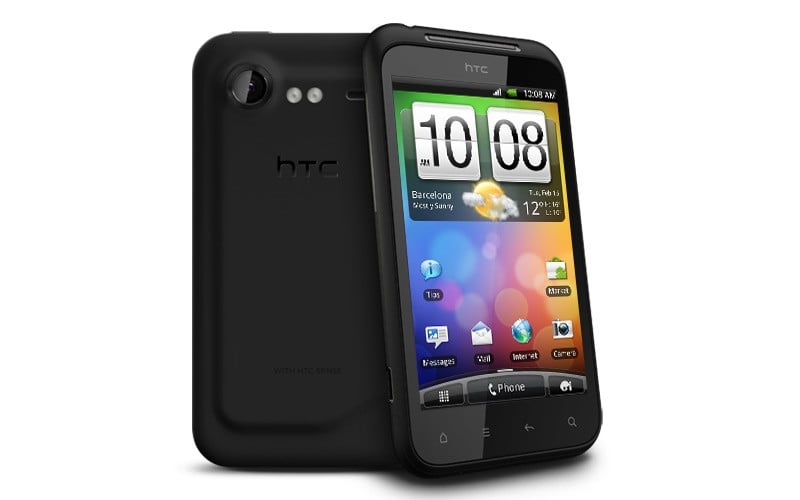 The Incredible S, as promised, got Android 2.3 alongside the HTC Desire HD which means that the update began rolling out on May 4th. From what we can tell, the update is either done rolling out or getting close to finishing.
And while it's certainly nice that Android 2.3.3 is finally here, many folks are complaining about several issues including issues with the calender sync and Wi-Fi connectivity problems similar to those found on the HTC Desire HD. Other than that though, it seems to be running pretty smoothly for most people.
As the HTC Incredible S was just released back in February, it should see an upgrade to the next major version of Android.
Update: It's out.
HTC ThunderBolt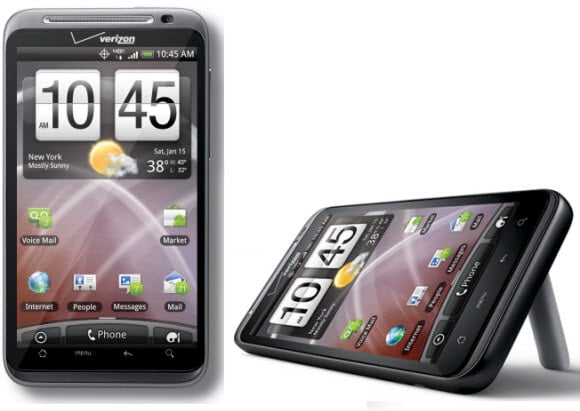 While there has been no confirmation yet from HTC or Verizon, the HTC ThunderBolt will definitely be getting an upgrade to Android 2.3 Gingerbread. In fact, as rumor has it, the update will apparently be rolling out around the same time as the HTC EVO 4G's update which means Q2 which means some point in June.
Now if there is one thing that ThunderBolt owners are hoping the Gingerbread update brings its a resolution to the battery life issues that plague the device. Unfortunately, it seems that its more of an issue with Verizon's 4G LTE network rather than an issue with Android 2.2 but there is a chance we still might see some improvements arrive with Android 2.3.
Also, after a recent update not called Gingerbread, HTC ThunderBolt owners have been seeing random reboots with their device (our own Kevin Purcell included). HTC and Verizon are apparently working together on a fix but it's possible that that fix might just come with the release of Gingerbread.
The HTC ThunderBolt is one of only two 4G LTE phones currently out for Verizon which means that it's not only a popular device but that it's a lock to get Android 3.4 Ice Cream Sandwich later on this year.
T-Mobile G2x/LG Optimus 2X
Gingerbread could not arrive sooner for  T-Mobile G2x owners. Like the HTC ThunderBolt, owners of the device have been seeing random reboots. Optimus 2X owners have also seen random reboots although there is a firmware update that is rolling out that will apparently neutralize the problem. Can't say the same thing for the G2x which has no solution in sight.
While Android 2.3 isn't certain to be  the fix for the problem, it probably won't hurt. Luckily, it's coming to both devices soon with all sorts of whispers swirling about the G2x and the Optimus 2X apparently getting cleared for take off at some point this summer.
Both devices will likely be getting a boost up to Android 3.4 Ice Cream Sandwich. After all, the G2x has only been out since April and both possess top of the line dual-core processors.
Update: Gingerbread is now available for the LG G2x. You'll have to manually install it though.
LG Optimus One
LG has announced that all versions of the Optimus One (Optimus S, Optimus T and LG Vortex just to name a few) will be getting the Android 2.3 Gingerbread update at some point in the future. When exactly? Well, only LG knows that and they aren't saying. Fortunately, an unofficial video of Gingerbread on the Optimus One has appeared and it very well could mean that an update is on the way soon.
As for an update to Ice Cream Sandwich, that remains unclear. And because it looks like T-Mobile at the very least has a possible successor to the Optimus One in its pipeline, there is a good chance that Gingerbread could very well be the last update that LG brings to the Optimus One. It's low-end specifications aren't helping its cause either.
Motorola Atrix 4G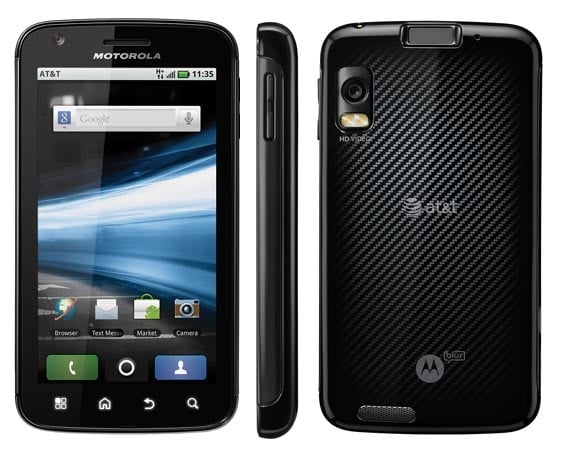 The Motorola Atrix 4G sorely needs Gingerbread. From poor call quality (that Motorola admits is an issue) to crashing to, you guessed it, reboots, the Atrix is in dire need of an update. The latest firmware update that enabled HSUPA speeds seems to have made things worse and a little Gingerbread might clear things up a bit.
The only problem is that there hasn't been anything concrete nor any sort of whispering that we've heard that paints a clear picture as to when the Atrix might see its Android 2.3. It's only been out since February so there is no reason to get up in arms yet but if summer passes without an update, you can be that Atrix owners will be grabbing their pitchforks and taking a stroll to their favorite forum.
AT&T's Atrix 4G has a dual-core processor so Android 3.4 Ice Cream Sandwich is all but certain to be in its future.
Update: The update has rolled out to some users and will hit other Atrix 4G owners soon.
Motorola Droid 2
Gingerbread has already leaked out for the Motorola Droid 2 and that is a pretty clear cut sign that an official roll out will be coming at some point in the future as well. When? That remains to be seen but don't be surprised if it sees it around the same time as the original Droid Incredible and the Droid X.
Some of the biggest problems that Droid 2 owners seem to be having with the Froyo 2.2 update are issues syncing and problems with Exchange. Let's hope both of those are completely solved with Gingerbread.
Unfortunately, it appears that people are having a bunch of problems with the leaked Gingerbread update as well with an issue list that includes random reboots, lag, and problems with the lock to name a few. Motorola and Verizon will likely have these hashed out by the time the official update rolls out.
Update: The Motorola Droid 2 Global update has apparently been delayed.
Update 2: More bad news.
Motorola Droid Pro
Motorola confirmed that its device that has hints of BlackBerry, the Motorola Droid Pro, would be getting Android 2.3 Gingerbread at or around the same time as the Motorola Droid 2. And while the Droid Pro isn't an overwhelmingly popular phone with the masses, the fact that it's going to be getting a boost up to Android 2.3 should be exciting for you business types out there that swooped on one.
Update: The Droid Pro Gingerbread update has apparently been delayed.
Motorola Droid X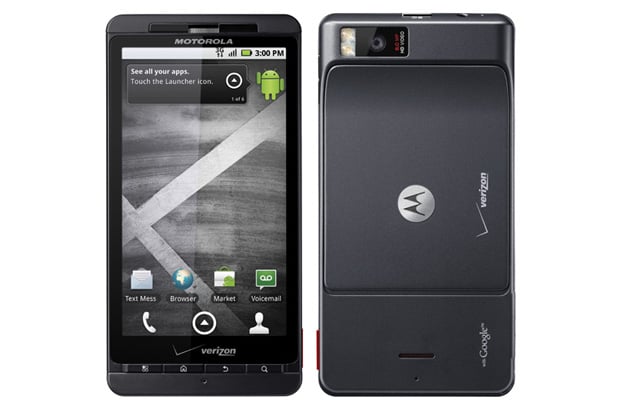 The Gingerbread update for the Motorola Droid X has turned into quite the saga. It has already leaked out not once, but twice, and Motorola apparently rolled it out to some users during a controversial test run just a short time ago. It also appears that one lucky soul was able to snag the  official update early.
The guy who received the update got Android 2.3.3 and not Android 2.3.4 which means the Droid X might get the earlier version of Gingerbread. Not like Droid X owners would care. They just want the update. Since the release of Froyo back in September, Droid X owners have been plagued with issues ranging from problems with Exchange to bad battery life. Things seemed to have quieted down since the initial release but there are definitely people out there with issues.
Like the situation with the Droid Incredible, the Droid X  just saw its successor roll out, a successor called the Droid X2. That of course could mean that it's the end of the line, update wise. Keep the faith though, Droid X owners.
As for Gingerbread, the release of the Droid X2 could finally mean that the Droid X is ready for its Gingerbread update.
Update: The Motorola Droid X Gingerbread update is now available.
Nexus One
Google rolled out the Android 2.3 Gingerbread update for the Nexus One on February 22nd.  The Nexus One also recently received a boost up to Android 2.3.4 which brings a host of bug fixes to the Nexus S including fixes for random reboots, battery life improvements, better GPS connectivity and more.
Some people are reporting that the GPS problems and battery life issues that were plaguing the device before Android 2.3.4 are still persisting but those don't appear to be too widespread.
Google's Nexus One has been out since January5th of 2010 making it over a year old. With it no longer being sold though Google, there is a slight chance that Gingerbread could be the last update that Nexus One owners see but we wouldn't count on it. This is the original vanilla Android phone after all and it's 1GHz processor is definitely still up to snuff.
Nexus S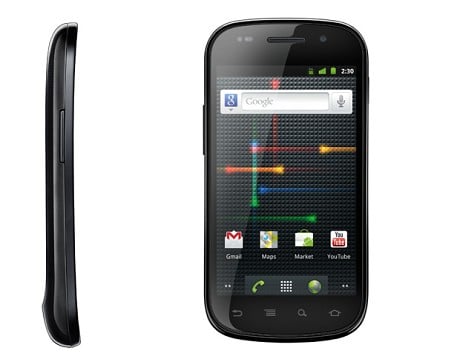 Google's Nexus S was the first device to sport the update and Sprint's upcoming Nexus S 4G will have Android 2.3 on board out of the box as well. The Nexus S, like the Nexus One, recently received a boost up to Android 2.3.4 which brought along video chatting via Google Talk.
It appears that Nexus S owners running the device through T-Mobile have been experiencing issues with the video chat feature that apparently is due to some sort of 'engineering constraint' that's not found in Sprint's version of the Nexus S known as the Nexus S 4G.
Other problems with the update include battery life issues, the phone hanging when attempting to boot up and issues with both Fring and Facebook compatibility just to name a few.
The Nexus S will likely be one of the first phones that gets Android 3.4 Ice Cream Sandwich when it arrives later on this year, specific date unknown.
Samsung Galaxy S
The Vodafone version of the Samsung Galaxy S saw its Android 2.3 update start rolling out only to have that roll out suspended by Google for unknown reasons. However, just a short time ago, the update began to roll out to Vodafone owners once again with whatever problems seemingly taken care of.
The resumption of the roll out for the Vodafone version of the Samsung Galaxy S comes shortly after Samsung confirmed that its Galaxy S series of phones around the globe would be getting the Gingerbread update. The updates will come at a staggered pace with the UK and Nordic countries seeing it first in the middle of May with other continents gradually seeing it over the next several months.
While there isn't much news for U.S. Galaxy S owners yet, it's become clear that Sprint and Samsung are working hard to get the Android 2.3 update out to the Samsung Epic 4G as testing has recently begun. As for the other devices, there is nothing concrete out there just yet. Verizon's Samsung Fascinate just got Android 2.2 Froyo after all. Let's hope we see something for it, AT&T's Captivate and T-Mobile's Vibrant soon.
As for an update to Android 3.4 Ice Cream Sandwich, it's unclear but because these phones have pretty decent hardware, there's a pretty good chance that they will get an update past Android 2.3.
Update: Gingerbread for Sprint's Epic 4G, at the very least, appears to be close.
Sony Xperia X10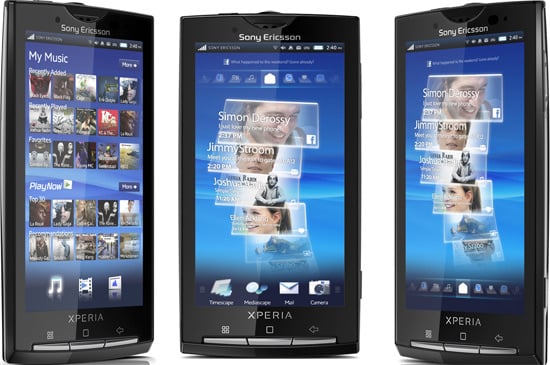 Sony Ericsson shocked Xperia X10 owners by announcing that the device would see the Android 2.3 Gingerbread update at some point in late Q2 or Q3 of this year. Sony has made it clear that not all Xperia X10 owners will see the upgrade so if you own one of AT&T, you might want to keep your fingers crossed during the duration of this summer.
However, it's hard to get down about the news because Sony originally stated that the phone would not get upgraded past Android 2.1 Éclair. So, it's pretty hard to complain about an update that was not even supposed to arrive. The Xperia X10's jump from Android 2.1 to Android 2.3 will be unique so it will be interesting to see how that works out when it does. We expect it to be extremely buggy but hopefully, Sony proves us wrong.
Sony itself says that Android 2.3 Gingerbread will be the last major update for the Xperia X10, so there isn't any Android 3.4 in its future unfortunately.
Update: It's close.
T-Mobile G2
According to both a tipster and HTC, the HTC-made T-Mobile G2 will be receiving an upgrade to Android 2.3 at some point during Q2. That means that the roll out will probably come around the time that HTC Desire Z owners see their Gingerbread update roll out.In fact, just recently, there have been signs pointing to a roll out in the imminent future, possibly as soon as May, so if you own a G2, be on the look out for an update.
Oh, and it's always a good sign when an official ROM decides to leak out. The G2 is still a very relevant phone on T-Mobile and it will likely be included in the Android 3.4 Ice Cream Sandwich roll out later this year.
Update: The G2's unofficial official update is available for manual installation.
T-Mobile myTouch 4G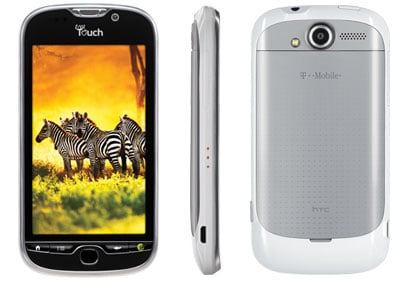 There is some pretty solid and very recent evidence out there that indicates that the myTouch 4G will be receiving Gingerbread at some point during Q2 of this year. That means that it will likely be coming out at some point in June.
As far as we can tell, issues with Froyo on the myTouch 4G have been minimal but that doesn't mean that myTouch 4G owners aren't exited to be getting their hands on the latest and greatest software. In fact, the time we (well,I) spent with the myTouch 4G was pretty enjoyable and that means that Android 2.3 will only make it a more desirable phone. Even if it's been out for six months.
Speaking of its recent release, it appears that T-Mobile is gearing up to release a successor to the device called the HTC myTouch 4G Slide aka HTC Doubleshot that will feature a dual-core processor. It's unknown how that might affect an upgrade to Android 3.4 Ice Cream Sandwich but seeing as though the myTouch 4G remains a popular phone on T-Mobile, it's likely to continue to get updates.
Update: The myTouch 4G update is out.
—
For a list of phones that officially aren't getting Android 2.3, head here.