Which iPhone 11 Storage Size Should You Buy?
Choosing the best iPhone 11 storage size for your needs and your wallet is tough. In this guide we'll help you pick the right one for your needs and budget.
You may think, "I need to pick the cheapest iPhone 11!", or "I should buy the biggest storage.", and while both have merits, the answer is generally somewhere in between.
The biggest thing to remember is that you will pay for more iPhone 11 storage one way or another. You either pay for it upfront with more onboard storage, or you pay for it monthly with iCloud storage or another cloud storage option.
iPhone 11 Storage Options
There are three iPhone 11 storage options, and if you choose the base option, you're still getting a decent amount of storage.
You can buy the iPhone 11 in 64GB, 128GB or 256GB varieties. Apple's iPhone 11 Pro models offer more storage if you decide you need it.
While you can add storage to some Android phones with a MicroSD card, you cannot do that with the iPhone 11. You can add storage with iCloud or when you buy a Lightning-compatible drive.
Pay for Storage Today, or Pay Later
You'll pay for storage now, or you will pay later for cloud storage. This is especially true if you take a ton of photos and videos.
Fortunately, iCloud storage is fairly inexpensive. You can get 50GB of cloud storage for just a dollar a month. Here's how the pricing breaks down:
50GB: $0.99
200GB: $2.99
2TB: $9.99
Many users will be able to live comfortably with the iPhone 11 64GB version. If you don't take a ton of photos or 4K video and if you stream most of your media this will do fine.
That said, the larger models are nice upgrades if you keep stuff stored locally an plan to partake in Apple Arcade and Apple TV+ with shows locally on your iPhone.
If you don't get enough storage upfront, you may end up dealing with the hassle of freeing up space, upgrading sooner or spending more on a data plan.
Who Should Buy the 64GB iPhone 11?
The 64GB iPhone 11 is a nice option for many users, but there are some limitations. Here are a few reasons to consider the iPhone 11 variant with the least amount of storage:
You stream most of your movies and music.
You don't record a lot of 4K videos.
You plan to store your photos in iCloud Photo Library or locally on a computer.
You come nowhere close to using 64GB of storage on your current iPhone.
If you fit these criteria, this is the phone for you. If you think you will have a kid, travel more or get a pet, you may need more storage and should consider the next step up.
Who Should Buy the 128GB iPhone 11?
Most iPhone 11 buyers should go with the 128GB option as it doubles your storage and adds a lot of peace of mind.
You like to store lots of movies and music locally.
You need or prefer to keep your photos stored locally.
You plan to shoot tons of 4K video.
You're close to using 64GB of space on your current iPhone.
You can't stand having to constantly manage the data on your phone.
This is a nice middle option that can work nicely with or without iCloud and should last you several years.
Who Should Buy the 256GB iPhone 11?
The 256GB iPhone 11 is a nice option if you need a lot of local storage. That said, if you need a ton of storage for photos and videos, you may want to consider the iPhone 11 Pro, which comes with better cameras.
Photo buffs who don't want to use iCloud.
People who travel often and want everything local.
How to Check Your Current iPhone Storage
You can check how much storage you are using on your iPhone in just a few seconds. This lets you get an idea of how much you might need.
Tap on your Settings app.
Tap on General.
Tap on iPhone Storage.
If your phone is a year old, you should hopefully have about 50% of your space left. If you're within 10-15% of full, you need to make sure you get more storage. Keep in mind the older iPhones came with different storage options so investigate and then make a choice.
If you're already using iCloud, you should also check on your iCloud storage usage:
Open Settings.
Tap on your Name at the top of the screen.
Tap on iCloud.
This screen shows your iCloud storage use and your current plan. If you tap on Manage Storage you'll get a better breakdown of how you use cloud storage.
5 Reasons to Wait for the iPhone 15 & 5 Reasons Not To
Wait for Design Changes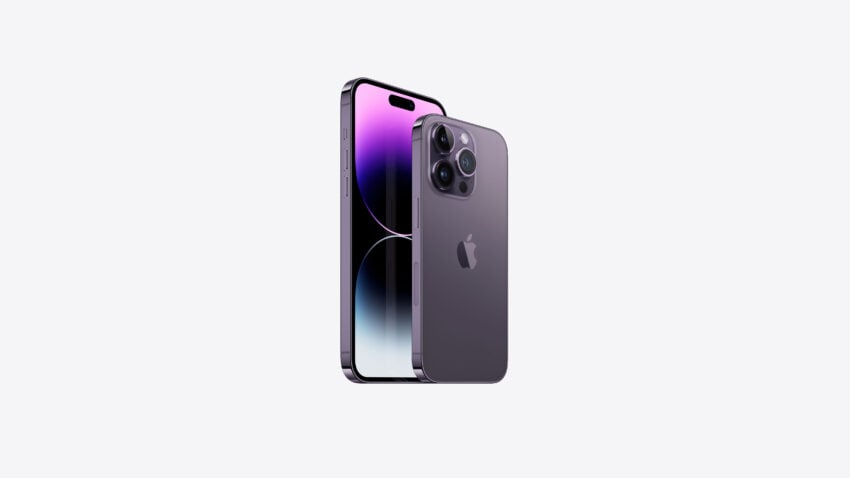 Last year, Apple introduced a brand new pill-shaped notch the company calls Dynamic Island. Unfortunately, this change is only available on the company's high-end iPhone 14 Pro and iPhone 14 Pro Max models. That will likely change this year.
Analyst Ross Young believes Apple could bring Dynamic Island to the lower-end iPhone 15 models. Bloomberg's Mark Gurman does as well.
Analyst Ming-Chi Kuo says the iPhone 15's proximity sensor will be integrated into Dynamic Island. The proximity sensor on the iPhone 14 Pro models is under the display outside of Dynamic Island. This could lead to Face ID improvements.
This might give some of you considering Apple's iPhone 14 or iPhone 14 Plus a reason to hold out and wait for the new models.
On the flip side, Young doesn't think the standard iPhone 15 models will get 120Hz/LTPO like the iPhone 15 Pro models.
This has been backed up by another source who says the iPhone 15/iPhone 15 Plus won't get ProMotion and Always-On display capabilities.
We've heard the the iPhone 15 Max's design will be made out of titanium as opposed to stainless steel. The frame supposedly has a brushed finish.
In a tweet, a prominent leaker says the iPhone 15 Pro models will "have thinner bezels" with curved edges. The display is reportedly still flat, however.
ShrimpApplePro says additional sources now agree with the information and that the bezels on the iPhone 15 Pro models will indeed be thinner.
In a tweet, well-known leaker Ice Universe says the iPhone 15 Pro Max will break the record for thinnest bezels on a smartphone. The record is currently held by the Xiaomi 13.
In a follow up tweet, he's shown off what are evidently glass displays and third-party screen protectors for the iPhone 15 series.
Analyst Jeff Pu from Haitong International Securities also believes the company is working to deliver a new titanium design.
So does Gurman. In a report Gurman says the iPhone 15 Pro models could be about 10% lighter than their predecessors thanks to the new design.
We've also heard the iPhone 15 Pro will have a new mute button that replaces the switch. This "Action" button could work like it does on the Apple Watch Ultra in that it will allow users to map it to different functions.
This new addition has seemingly been confirmed by the iOS 17 beta.

As an Amazon Associate I earn from qualifying purchases.