Which IPhone 11 Storage Size Should You Buy: 64GB, 128GB or 256GB?
Choosing the best iPhone 11 storage size for your needs and your wallet is tough, and it is one of the most important iPhone 11 options you can choose. Apple sells three iPhone 11 storage sizes, 64GB, 128GB and 256GB.
You may think, "I need to pick the cheapest iPhone 11!", or "I should buy the biggest storage.", and while both have merits, the answer is generally somewhere in between. The biggest thing to remember is that you will pay for more iPhone 11 storage one way or another. You either pay for it upfront with more onboard storage, or you pay for it monthly with iCloud storage or another cloud storage option.
We're breaking your iPhone 11 storage option choice down into the most important elements, so you can decide how much iPhone 11 storage you actually need.
iPhone 11 Storage Options
Apple offers three iPhone 11 storage options, and if you choose the base option you're still getting a decent amount of storage.
You can buy the iPhone 11 in 64GB, 128GB or 256GB varieties. Apple offers more storage on the iPhone 11 Pro models if you need it.
Apple charges $50 more for 128GB and $150 more for 256GB of storage. The $50 price bump makes the upgrade to 128GB very tempting.
Apple's 64GB iPhone 11 is $699 or $29.12 a month, the 128GB is $749 or $31.20 a month and the top of the line storage option is $849 or $35.37 a month. You can bring the pricing down with a trade-in.
While you can add storage to some Android phones with a MicroSD card, you cannot do that with the iPhone 11. You can add storage with iCloud or when you buy a Lightning-compatible drive.
Don't expect new storage options later. Apple sticks with the iPhone storage options for a full year.
Pay for Storage Today, or Pay Later
You'll pay for storage now, or you will pay later for cloud storage. This is especially true if you take a ton of photos and videos.
The 64GB iPhone 11 doesn't offer enough storage for myself or my wife, but the 128GB would do in a pinch.
This is because we both use iCloud for our photos. Instead of keeping all of our photos on our phones or laptops, we store them in iCloud. You can get an iCloud storage plan for as little as a dollar a month.
50GB: $0.99
200GB: $2.99
2TB: $9.99
Many users will be able to live comfortably with the iPhone 11 64GB version. If you don't take a ton of photos or 4K video and if you stream most of your media this will do fine.
That said, the 128GB model is a nice upgrade if you keep stuff stored locally an plan to partake in Apple Arcade and Apple TV+ with shows locally on your iPhone.
If you don't get enough storage upfront, you may end up dealing with the hassle of freeing up space, upgrading sooner or spending more on a data plan.
Who Should Buy the 64GB iPhone 11?
The 64GB iPhone 11 is a nice option for many users. Apple sells it for $699 and if you trade in an old iPhone, you can get it for as low as $399. At the new lower price it is very tempting for many users, and rightfully so.
You stream most of your movies and music.
You don't record a lot of 4K videos.
You plan to store your photos in iCloud Photo Library or locally on a computer.
You come nowhere close to using 64GB of storage on your current iPhone.
If you fit these criteria, this is the phone for you. If you think you will have a kid, travel more or get a pet, you may need more storage and should consider the next step up.
Who Should Buy the 128GB iPhone 11?
Most iPhone 11 buyers should go with the 128GB option. Apple sells the 128GB iPhone 11 for $749, which doubles your storage and adds a lot of peace of mind.
You like to store lots of Movies and Music locally.
You need or prefer to keep your photos stored locally.
You plan to shoot tons of 4K video.
You're close to using 64GB of space on your current iPhone.
You can't stand having to constantly manage the data on your phone.
This is a nice middle option that can work nicely with or without iCloud and should last you several years.
Who Should Buy the 256GB iPhone 11?
The 256GB iPhone 11 is a nice option if you need a lot of local storage. This is $849 at Apple, and tempting if you need a lot of storage. That said, if you need a ton of storage for photos and videos, you may want to consider the iPhone 11 Pro, which comes with better cameras.
Photo buffs who don't want to use iCloud.
People who travel often and want everything local.
This is a tough choice, but with the pricing, as it is, we think this is only a great deal if you need a lot of room for content due to a limited plan or travel.
How to Check Your Current iPhone Storage
You can check how much storage you are using on your iPhone in just a few seconds. This lets you get an idea of how much you need.
Tap on your Settings app.
Tap on General.
Tap on iPhone Storage.
If your phone is a year old, you should hopefully have about 50% of your space left. If you are within 10-15% of full, you need to make sure you get more storage. Keep in mind the older iPhones came with different storage options so investigate and then make a choice.
Which iPhone 11 Storage Size Should You Buy?
If you buy a new iPhone every year, you have more flexibility in choosing an iPhone, and you might be fine with the iPhone 11 64GB option. With this version, you can always make the decision to upgrade next year if you need to.
If you plan to keep your iPhone for several years, go with the 128GB iPhone 11 storage size. This offers plenty of room for the long haul and it's only $50 more.
3 Reasons to Pre-Order iPhone 11 & 4 Reasons to Wait
Pre-Order If You Want Your New iPhone ASAP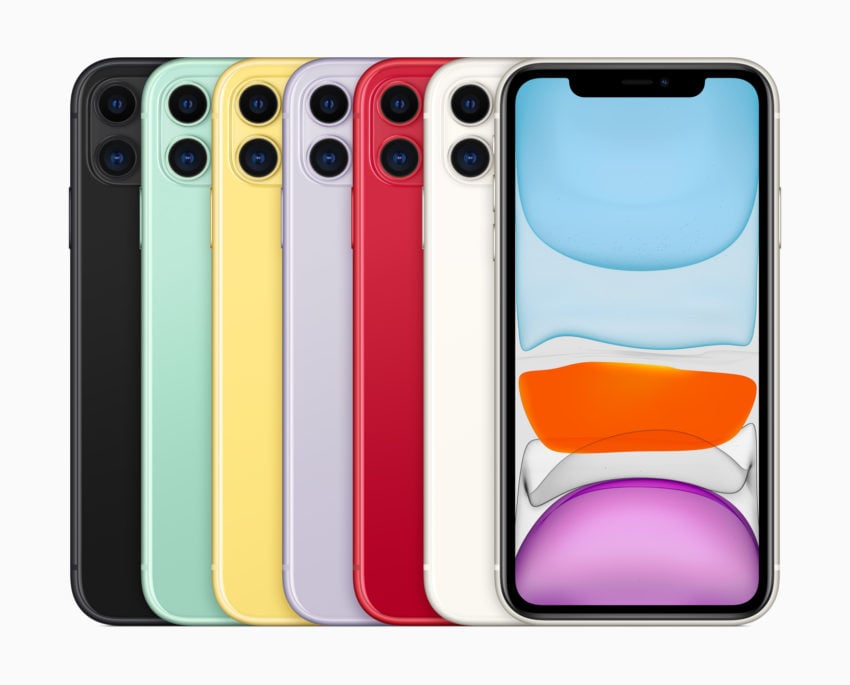 If you want to get your hands on the iPhone 11, iPhone 11 Pro, or iPhone 11 Pro Max next week you'll probably want to put in a pre-order when they go live on Friday.
The devices might not sell out completely, but there's a very good chance we see some (if not all) shipping dates get pushed into late September and/or October. 
If you want a guaranteed delivery on or around September 20th, you'll want to put in a pre-order through Apple or your carrier as soon as the clock strikes Midnight on Friday. 
If you don't put in a pre-order, and shipping times slip for the model you want, you'll have to wait in line next week or wait several weeks for your new phone to arrive.