You Can't Buy an iPhone 7 Plus in Store on Friday
There is no way to walk into the Apple Store on Friday and buy the iPhone 7 Plus. We already knew that the Jet Black iPhone 7 would be hard to find, but Apple confirmed that the iPhone 7 Plus is sold out for the release day unless you already pre-ordered for in-store pickup.
Online the iPhone 7 Plus is shipping in 2-3 weeks from Apple in some colors and is out to November in Jet Black. Best Buy is not taking online pre-orders for the iPhone 7 Plus for delivery or in-store pickup.
We are hearing from retail sources that the iPhone 7 Plus in any color will be in short supply, or non existent on Friday.
Apple warns users who plan to line up for the iPhone 7 Plus on day one, "During the online pre-order period, initial quantities of iPhone 7 Plus in all finishes and iPhone 7 in jet black sold out and will not be available for walk-in customers."
Apple will only sell the iPhone 7 in black, silver, rose gold and gold to walk-in customers on the iPhone 7 release date. If you don't want any of those options, don't bother lining up at an Apple Store.
Read: iPhone 7 Release Date Tips
You can attempt to line up at Best Buy, Verizon, AT&T, Sprint and T-Mobile for an iPhone 7 Plus — but it doesn't look good at those places.
If you do plan to line up, you will want to be one of the first people in line. Most stores will not tell you if they have the iPhone 7 Plus in stock in the back so it's not worth calling them today.
Buyers can still place an iPhone 7 Plus pre-order online from their carrier and from the Apple Store for deliver in October or later. If you place an online pre-order and then find one in stock before that you can typically cancel your online order and buy one in store with minimal hassle.
20 Best iPhone 7 Plus Cases
Tech 21 Evo GEM iPhone 7 Plus Case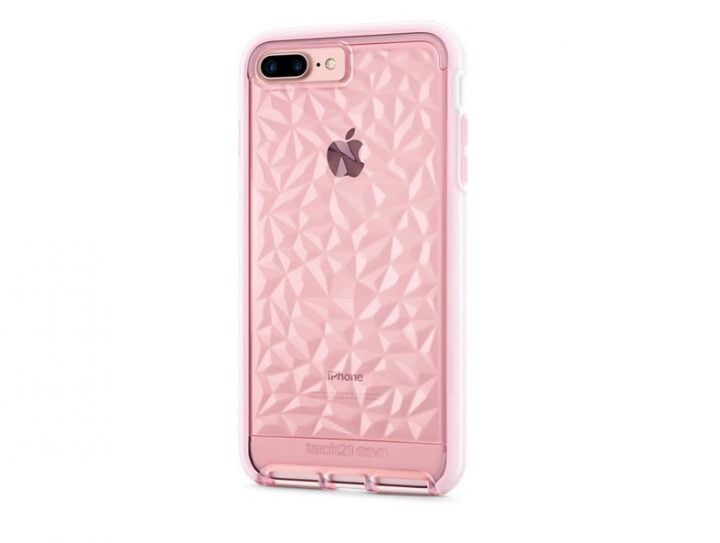 The tech21 Evo Gem iPhone 7 Plus case delivers more protection than the pink and sparkly exterior would lead you to believe.
Like the rest of the tech21 cases there is material in the edges of the case that senses shock from a drop and spreads the impact out over the full area of the case. This prevents a sharp impact on a corner from deliver all of the force on that corner, which is what would normally lead to a broken screen.
In addition to the FlexShock material, there is a raised lip to keep the screen safe when you set it on a table and there are openings to easily access all ports and to listen to the iPhone 7 Plus stereo speakers. Available in Rose, Purple and Green.
$39.95 at tech21