2016 Dodge Challenger Review: 392 HEMI Scat Pack Shaker
There's no doubting the 2016 Challenger's purpose when you slide into the Shaker seat, buckle in and hold the push to start button. And, if you somehow forget the sound of the 392 HEMI, the aggressive Shaker hood in Plum Crazy quickly makes it clear that this is a car designed to go fast, with a focus on the driver.
The 2016 Dodge Challenger Scat Pack with a 392 HEMI puts out 484 horsepower and an insane amount of torque that can put you and your passengers into the back of your leather heated and cooled seat.
The updated look stays true enough to the classic muscle car look to turn heads and you don't need to give up creature comforts like dual temperature controls, a heated steering wheel or a powerful infotainment system with an 8.4-inch display. The car even comes with its own Internet connection that can serve as a hotspot.
For users who couldn't care about a car's internet connection, this screen still serves an impressive purpose thanks to Dodge Performance apps that can show you your personal 0-60 times, 1/4 mile times and other performance data, as well as share it with friends as a digital drag strip ticket.
The 2016 Dodge Challenger 392 HEMI Scat Pack Shaker is capable of a 13.3 second 1/4 mile at 102 mph and go 0-60 mph in 4.5 seconds in our tests, and it could go faster.
Even with that much speed and power the Challenger is capable of delivering a respectable, for its class, 22.6 mpg highway and 15 mpg city with a 17.6 mpg total with nearly 900 miles put on the car in a week that took us through country roads, interstates and through downtown Cleveland at the tail end of the Republican National Convention.
A $37,995 base price gets you into a Challenger R/T. The Challenger R/T Scat Pack 392 HEMI Shaker with a six speed manual as tested is $45,585 thanks to mainly to the Shaker upgrade that includes more than just a Shaker hood.
After spending a week driving a Mustang GT, the 2016 Challenger is an interesting follow-up. The Challenger doesn't feature as showy of an interior and it requires more thought to drive than the Mustang GT, thanks in part to the Challenger's skip shift that too often attempts to force a shift from first to fourth to save gas.
The 2016 Dodge Challenger is undeniably a modern muscle car. When you look at the exterior you see touches of the 1970's Challengers brought back to life.
The included lower suspension brings this beast closer to the ground, adding to the already aggressive stance. From the distinctive front end that flows to a Shaker hood and intake to the wide rear, the Challenger is a definitively a modern muscle car.
It doesn't feature the same styling as a 2016 Mustang GT, but this heavier, larger body fits the power that Dodge manages to pack into the Challenger. Combine this with Plum Crazy and a HEMI popping out the hood and you have a car that commands attention and can answer that attention with performance.
20-inch performance tires with large Brembo brakes add to the dominating style that the Challenger brings.
The 2016 Dodge Challenger interior is more basic than the Mustang GT, but it fits the look and feel of the rest of the car. The driver's seat is a cockpit. Everything from the 8.4-inch Uconnect system to the controls are angled toward the driver. Where the Mustang GT interior features a flashy carbon fiber accent, the 2016 Dodge Challenger dash is a simple black that wraps up and to the windshield.
Looking out over the hood drivers are greeted with a powerful view that includes the beautiful shaker hood and a glimpse at the HEMI badge.
There is a lot more room in the 2016 Challenger compared to the 2016 Mustang GT. It's still not something you would want to road trip across the state in with four people, but you can haul two adults in the back for a short trip or two kids for a longer distance. A kid's booster seat was easy to fit in the back, but this isn't a car you want to be taking car seats in and out of.
The front seats are comfortable and not as tough to get in and out of as some racing seats that you will find in other sports cars. The headrest does not adjust independent of the rest of the seat back.
In the center of the dash is a 8.4-inch touch screen for the Uconnect infotainment center. This includes a dedicated internet connection and supports apps like Pandora and iHeart Radio. The touch screen is fast and responsive and voice control works very well.
Touch the Super Track Pak button on the dash to dial up the Dodge Performance pages where you can use Launch Control, see your G forces and check timers for 0-60, 1/8 mile and 1/4 mile with an option to save your results and share.
The 2016 Dodge Challenger performance is impressive, but it is more challenging to drive than a Mustang GT.
For most of our review that wasn't an issue, but the Skip Shift feature that favors shifting from first to fourth proved frustrating during the tail end of nearly 400 mile road trip resulting in a few curse words as I tiredly fought to get the Challenger into second. Although we couldn't test it, there is a $20 Skip Shift Eliminator that promises to remove this annoyance with a five minute install.
Despite a larger frame and a heavier body, the 2016 Dodge Challenger can move, especially with the 6.4L V8 SRT HEMI that connects to a 6-speed manual TREMEC transmission.
Toggle on sports mode to change steering and stability control and you'll find that this car can leave the a cloud of smoke behind as you tear off to your destination.
Even in sport mode the car will attempt to go from first to fourth on occasion, but it doesn't happen as much. You still need to really pull the car into second gear from time to time.
When at speed you can handle and accelerate through corners, but it's not as nimble as the Mustang GT. The rear end of the Dodge Challenger has a tendency to slide out if you mash on the gas through a corner from a low-speed.
The 2016 Dodge Challenger is easy to control at higher speeds and, thanks to the four Brembo brakes, you can stop quickly and under control.
Ultimately the 2016 Dodge Challenger 392 HEMI Scat Pack Shaker is fun to drive, gets good fuel economy for a muscle car and delivers a driver focused style that you won't find in many competitors.
You Need These 10 Must Have Car Features: Find Out Why
Smart Cruise Control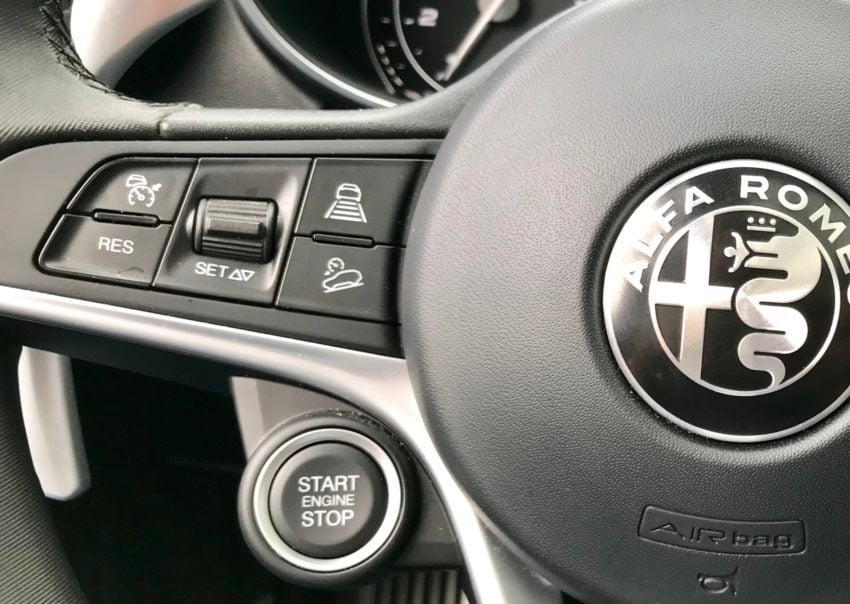 Do you hate constantly adjusting your cruise control, or giving up on cruise control because of traffic or due to a driver in front of you who keeps changing speed? You need a smart cruise control system.
Smart cruise control goes by many different names. You may see it listed as Radar Cruise, Adaptive Cruise or Intelligent Cruise control. Whatever it is called, it will allow you to set your cruise control and then stay with the flow of slower traffic.
Here's why we love it and why you need it. You get on the highway and set the cruise at 76 miles per hour. You also set the distance you want kept between you and the car in front of you. There are typically three or four settings so you can be close or keep a lot of space. Now you simply steer and your car will go 76 mile per hour when traffic allows it or there is no one in front of you. When someone is in front of you going 73 mph, the car automatically slows down to keep you the distance you choose from that car. This is indispensable in traffic and on long road trips.
Not all smart cruise control systems are the same. Some of work at all speeds, while others only work above a specific limit. Some systems can bring you to a complete stop in traffic and then restart without you needing to touch a pedal.
You can find adaptive cruise control on cars as cheap as $18,500 like the Toyota Corolla, and as an option on many cars below $30,000. Even on pricier cars you may need a higher trim level or special package to get this feature.

As an Amazon Associate I earn from qualifying purchases.