4 Last Minute Forza 6 Release Date Tips
As of midnight tonight, the fall and winter gaming season has arrived. September 15th is the official Forza 6 release date, and with it begins what many consider to be Microsoft's last great hope to catch Sony's PS4 in terms of sales numbers. Microsoft has the winter gaming season stacked with exclusives. It's a careful attempt by the company to prove to shoppers this holiday season that only an Xbox One can provide the memorable exclusive games.
Whether the plan will work is unclear, but Forza 6 has racing fans very excited. With Forza 6 developer Turn 10 Studios didn't have to focus on meeting a console launch date like it did with Forza 5. The developer didn't have to redesign many of its systems either; the Drivatar system is straight out of previous release, for example. Instead, the company focused on bulking out the racing simulator, adding more tracks, new weather and more cars.
Here are some last-minute Forza 6 release date tips and how you can prepare for the game now.
Read: Forza 6 Release Date Details
Planning to Buy Forza 6 Digital? Pre-Order Now
First things first, if you're planning to purchase Forza 6 today digitally, do it now. In fact, don't wait until you're in front of your Xbox One, go to Microsoft's Xbox website and purchase the game immediately.
When you make digital purchases on the Xbox website or through the Xbox One SmartGlass app, Xbox Live goes and starts that download on your Xbox One – provided that you haven't disabled background updates and the console's Always Connected power mode. You'll want to start your digital download of Forza 6 as soon as you can. The game takes up 45GB of the Xbox One's hard drive.
Upgrading From Xbox 360? Go With a Forza 6 Bundle Instead
Microsoft is selling digital and physical copies of Forza 6 that include everything from a dedicated Car Pass that unlocks rides for six months to better rewards for finishing races. If you have an Xbox One already your task is to choose between the $60 standard version available in stores, $79.99 Deluxe Edition and the $99.99 Ultimate Edition. Note that the last two are only available through Microsoft's Xbox Store, it seems.
If you don't have an Xbox One yet, there's a more obvious choice for you: Xbox One 1TB Limited Edition Forza Motorsport 6 Bundle. Microsoft is selling this bundle for $399 and it includes everything users need to get started with the game right away. A code to unlock a digital copy of the game is inside, along with a blue Xbox One with 1TB of storage and a matching controller. Microsoft also includes an Xbox One Chat Headset at no extra charge. GameStop and the Microsoft Store offer the Xbox One 1TB Limited edition Forza Motorsport 6 Bundle.
To be clear, you don't have to buy the bundle to get the special edition controller. Microsoft also sells just the Forza 6 Xbox One Wireless Controller for $64.99.
Take Advantage of these Forza 6 Deals
There are still some Forza 6 deals lurking. The Microsoft Store offers $10 Xbox Gift Cards when gamers purchase titles there instead of a third-party retailer. Until this tonight, Forza 6 is still among those games available in that deal.
Physical retailer Best Buy has a few interesting Forza 6 deals too. Anyone that purchases a physical copy of Forza 6 at their local Best Buy store gets $5 off the price of the Forza Car Pass. Shoppers who purchase an Xbox One get $10 off the cost of 3 Months of Xbox Live. Normally, 3 months of Xbox Live costs $24.99. The Forza 6 Car Pass costs $29.99 separately.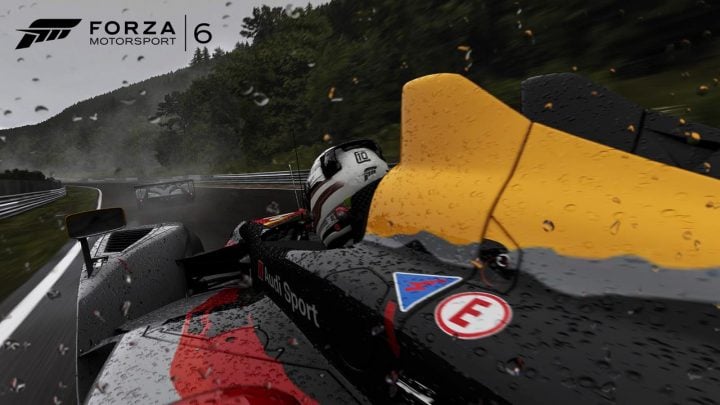 Know Your Forza 6 Pre-Order Extras
Every video game retailer likes extras. They use extras to lure in buyers, hoping to get more purchases and steal users away from competing retailers. Forza 6 has plenty of pre-order extras. It's a good idea to decide which pre-order extras you want now.
Buy Forza 6 from the Xbox Store and Microsoft gifts you a free Mazda MX-5 to race in the game and the Forza 6 Anniversary Car Pack. The 2012 BMW M5, 2005 Honda NSX-R, 2013 McLaren P1, and the 2014 Lamborghini Huracán LP 610-4 are all include din this pack.
GameStop shoppers get the 2015 Audi TTS Coupe, the Anniversary Car Pack and the SRT Hellcat Battletoads Car Skin to use on their vehicles. Amazon shoppers get the Anniversary Car Pack and the 2015 Subaru WRX STi.
Good luck with your Forza 6 release date purchase! Remember, you'll only be able to find standard versions of Forza 6 in stores. If you want the enhanced bundles you'll need to purchase a digital version of Forza 6 from the Xbox Store or Amazon. Don't forget that for some features in the game to work you'll need a subscription to Microsoft's Xbox Live gaming service. Xbox Live costs $9.99 a month or $60 a year.
12 New Xbox One, Wii U and PS4 Games For September
Mad Max - September 1st
Launching today on the Xbox One and PS4 is Mad Max. We have an incoming tidal wave of first-person shooters coming this calendar year. That incoming wave is what makes Mad Max refreshing. It's a combat game built around creating vehicles that can take on dangerous enemies roaming the rest of the open-world. In Mad Max, the Earth is a complete and utter wasteland, with survivors fighting over what precious resources are still left. The player drives the Magnum Opus, a vehicle they can customize to their play style.
Mad Max is on the Xbox One, Windows and PS4. It's also coming to PCs running Linux, but not the Wii U.

As an Amazon Associate I earn from qualifying purchases.