5 Best iPad Alternatives Running Windows
Are you looking for some iPad alternatives that run Windows? Here's a list of the five best options ranging in price from around $100 to over $2500.
When Apple introduced the iPad back in 2010, it wasn't the first tablet to hit the market because plenty of Windows Tablet PCs existed. Today, Apple's tablet stands out from the crowd in terms of sales and mind share. In fact, the term iPad is synonymous for many people with the word tablet regardless of the brand. Not everyone wants an iPad, though, and they're looking for good alternatives like the five here.
Some users want a Windows computer that runs their programs instead of apps. Vertical markets often rely on proprietary software without an iOS or even Android version available. Only a Windows tablet will do. That's why we've rounded up a list of the 5 best iPad alternatives that run Microsoft Windows.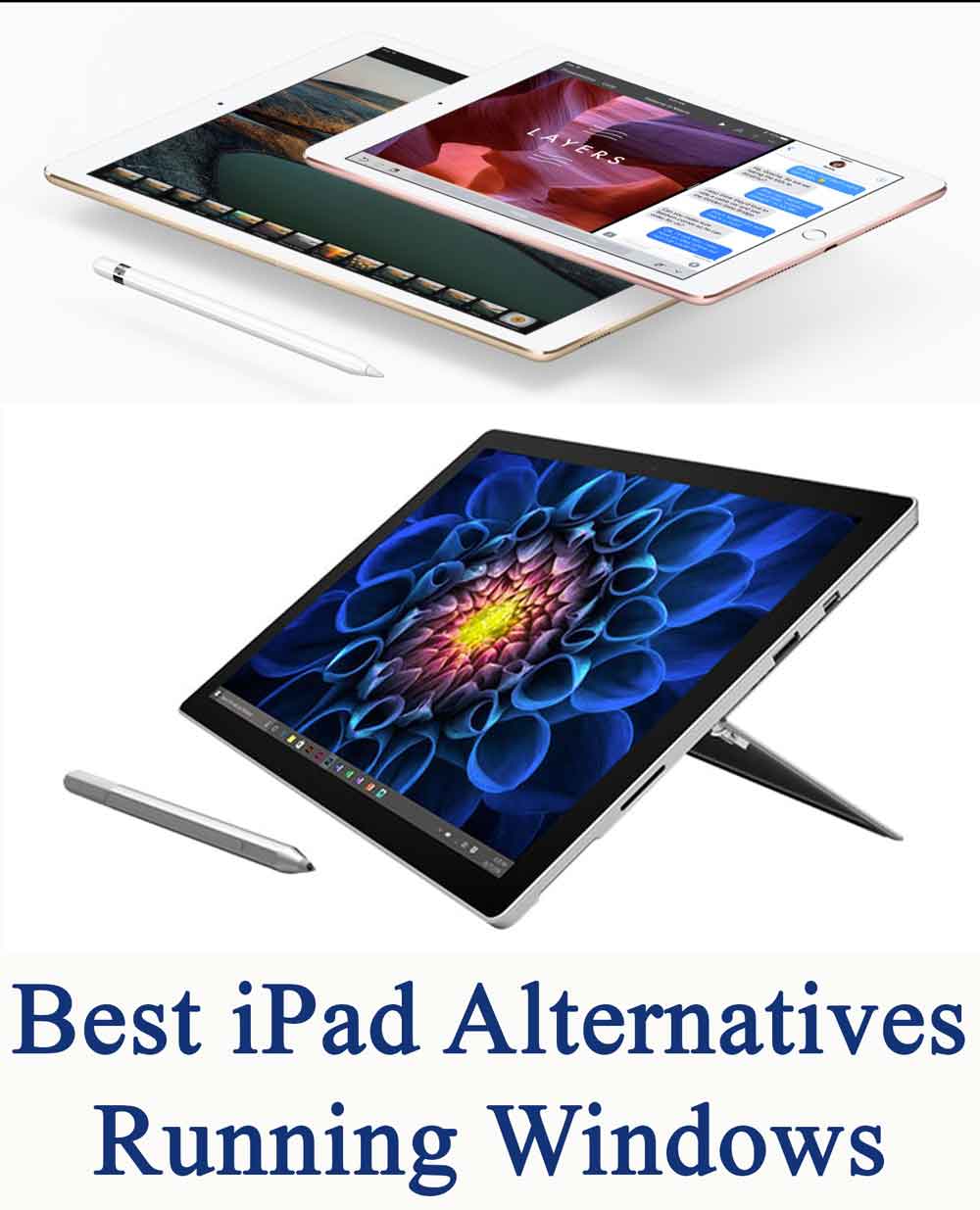 These Windows tablets come in various sizes and speeds, but they all run a full version of Windows and can potentially run all or most of your Windows software. We avoided the 2-in-1 convertibles with the keyboard permanently attached except for one favorite. The rest will function without a keyboard attached and some come with specially designed keyboards like the Surface Pro 4 and Samsung's Galaxy TabPro S.
Microsoft Surface Pro 4 – Best of the iPad Alternatives
Probably the best Windows tablet available comes from Microsoft. Every model of the Surface Pro 4 includes the great all metal hardware design with a fantastic 12.3-inch display boasting a 2736 x 1824 resolution. The display has excellent multi-touch capability and works with the amazing Microsoft Surface Pen. It might be the best stylus available on a tablet, except for maybe the iPad's Apple Pencil.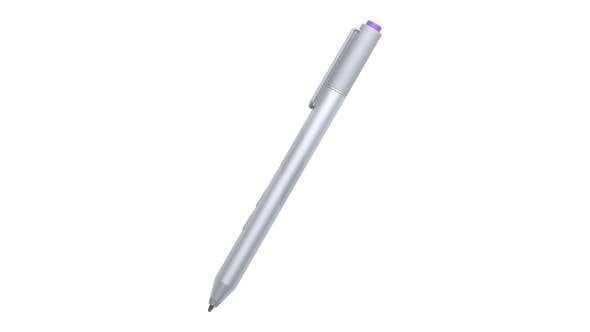 The Surface Pro 4 has a full-sized USB 3.0 port, a micro-SD card slot, headset/mic combo jack, and a DisplayPort. The bottom edge also connects to the Surface Type Cover, which comes extra for $129.99 without a fingerprint reader and $159.99 with one. They also now sell a Signature Edition Type Cover with special fabric material, but no fingerprint reader. It's also $159.99.
Enjoy up to 9 hours of battery life, depending on your screen brightness, the programs you running and the processor you have.
Speaking of processors, Microsoft configures the tablet with the following combinations and prices:
Intel Core m3 processor, 128GB SSD and 4GB of RAM for $699 (sale price, regularly $799).
Intel Core i5 Processor, 128GB SSD and 4GB of RAM for $999.
Intel Core i5 Processor, 256GB SSD and 4GB of RAM for $1,099 (normally $1,199).
Intel Core i7 Processor, 256GB SSD and 8GB of RAM for $1,499.
Users can also configure other combinations. We maxed out the specs with 16GB of RAM, Intel Core i7 Processor and 1TB SSD and it costs $2,599.
For more coverage on the Surface Pro 4 see the following posts from our team:
Samsung Galaxy TabPro S – Gives Surface Competition
The Samsung Galaxy TabPro S might seem like a "me-too" device from Samsung copying the hardware of the Surface Pro 4, but that's a good thing. It copies it in the best areas and even adds some improvements.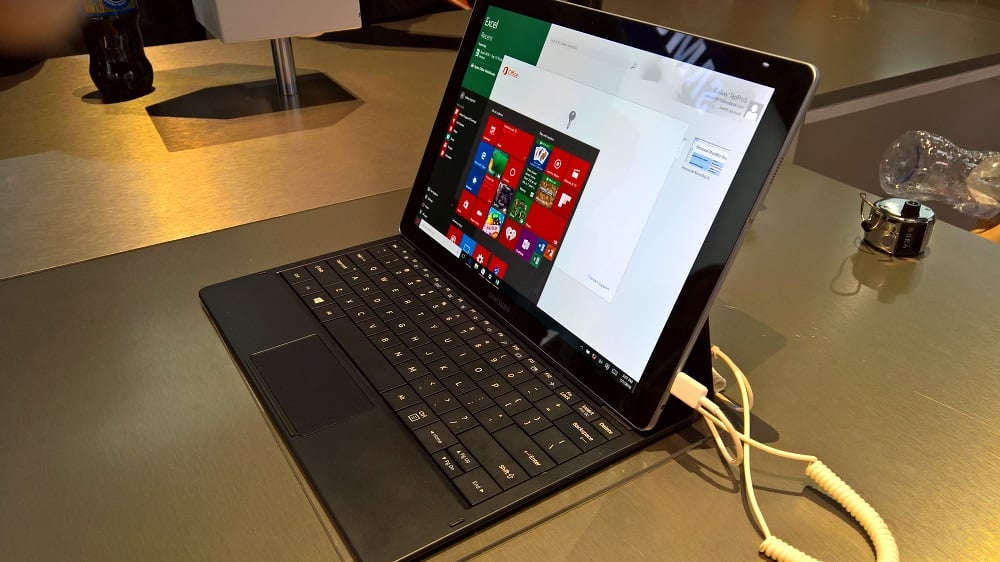 First, here's a list of the specs that make this an impressive alternative to the iPad Pro for $799 and $749 at B&H Photo:
2.2GHz  Intel Core M Dual-Core processor
4GB of RAM
128GB SSD
12-inch 2160 x 1440 AMOLED display
1 Type C USB port
1 headphone/mic combo jack
802.11ac and Bluetooth 4.1
Built-in GPS and NFC
Up to 10 hours battery life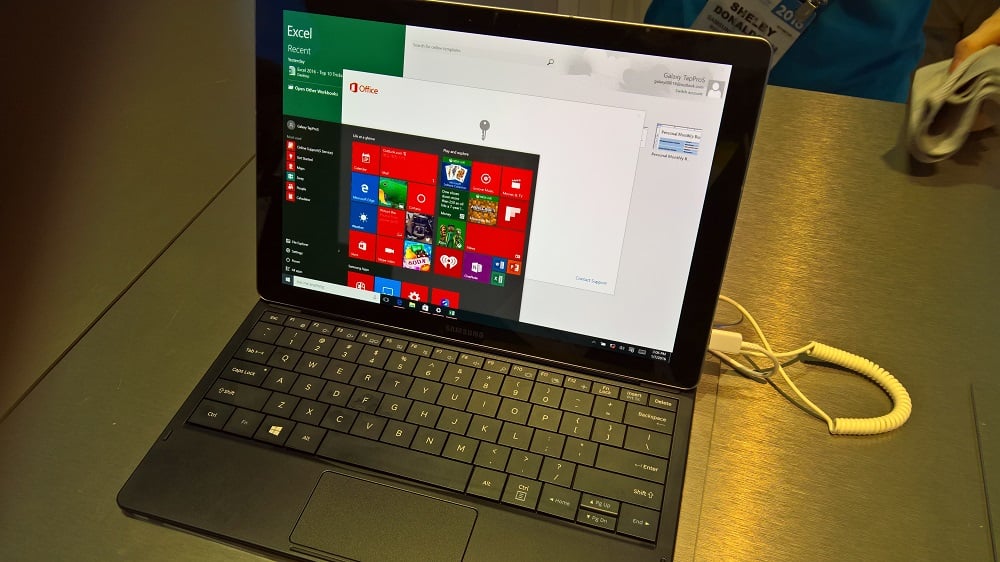 Some specs that stand out in comparison to the Surface Pro 4 include the AMOLED display and a Type-C USB port. Samsung's AMOLED displays look amazing with bright and rich colors. Type-C future proofs the tablet a little since that's the direction computing is going.
Samsung also added GPS and NFC to the list. That makes it more useful on the road and for quick connections via NFC.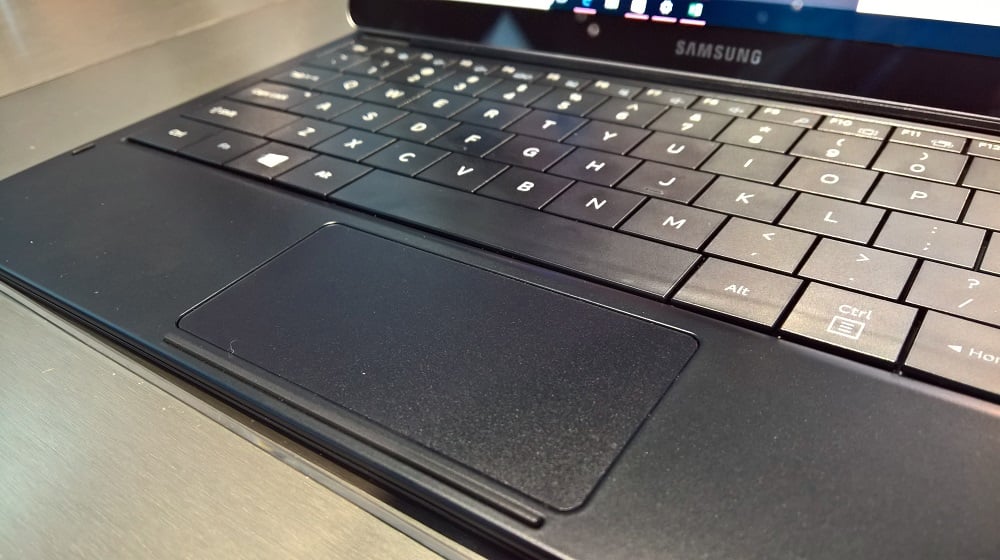 It also includes the keyboard at that price which is something Microsoft doesn't do. The Samsung C Pen that gives the tablet pressure sensitive writing and drawing features like the Surface Pen costs extra ($79.99 retail, but it's usually available for under $60 at Amazon or B&H Photo).
Dell Latitude 11 7000 Series – Best of Midrange iPad Alternatives
The Dell Latitude 11 5000 Series tablet starts at about $750. It competes with the Surface Pro 4 since it comes with an optional keyboard that attaches to a port along the bottom edge.
The 10.8-inch screen features a 1920 x 1080 display that supports multi-touch and the Dell mini-pen for writing and drawing on the screen. An optional keyboard connects to a special port on the bottom edge giving users a laptop-style experience with their tablet.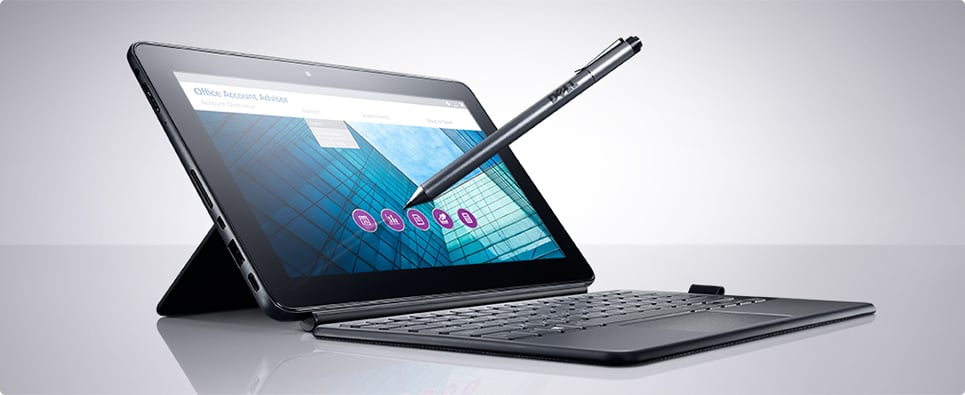 Starting at $749, buyers can get an Intel Core M3 processor, 4GB of RAM and 128GB SSD. Other optional configurations can include an M5 processor, up to 8GB of memory and a 256GB drive. Maxed out it costs $1,068.
The list of ports and buttons includes:
1 USB Type C 3.1 port for data and charging
Full-size USB 3.0 port
Micro-HDMI
Headphone/mic combo port
Fingerprint reader
Micro-SD card reader
Noble lock slot for security
Volume up/down rocker
Windows button
Lenovo IdeaPad Miix 310 – Best of the Low-cost iPad Alternatives
This ten-inch system comes in at $300 making it the cheapest tablet in the round-up.  In fact Amazon sells it for even less at $233. It runs on an Intel Atom X5 Z8350 processor, which means it's also the lowest powered device in our list. The 2GB of RAM and 64GB SSD means this machine is best for browsing the web, running simple programs and reading. You can also stream audio and video.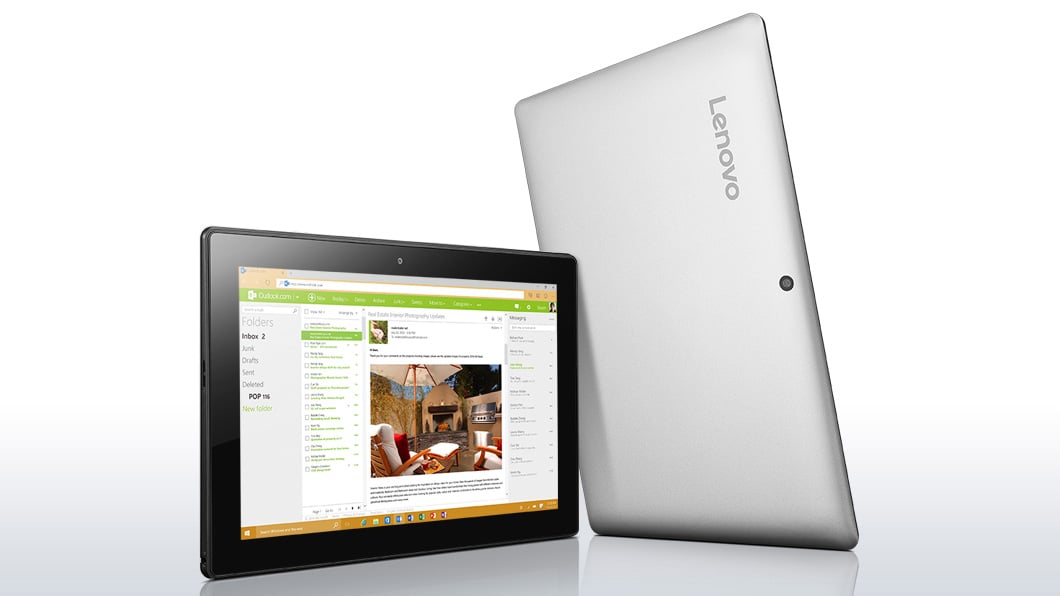 The 10.1-inch display sports a lower resolution of 1280 x 800. You can run that display for up to 10 hours.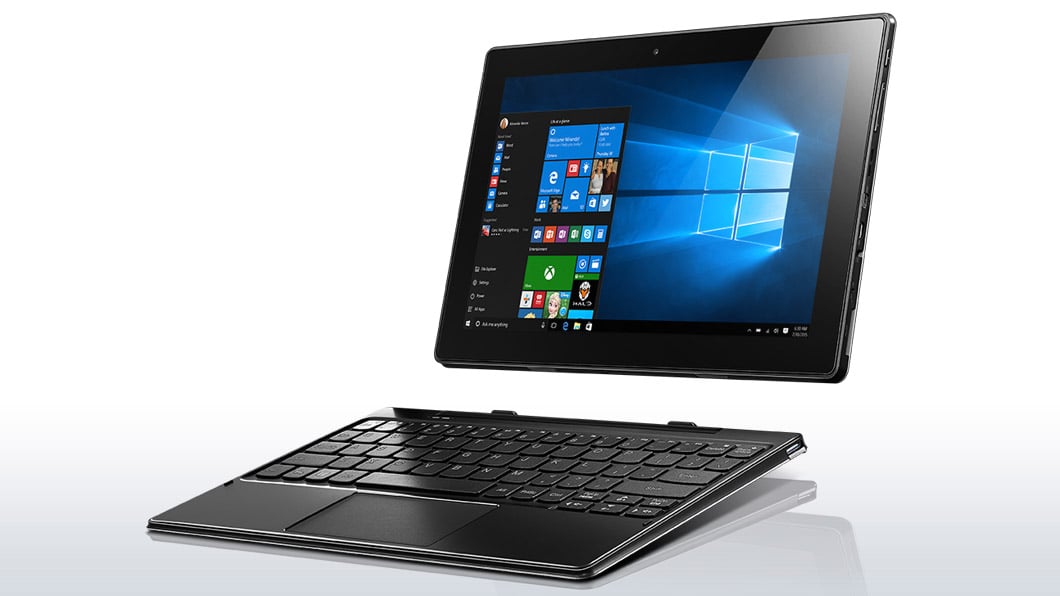 Add Bluetooth 4.0 and 802.11 b/g/n for connectivity. There's a keyboard dock to connect the detachable keyboard included with the tablet. Other ports include a micro-HDMI, micro-SD card reader, headphone/mic combo jack, micro-USB 2.0 and 2 full-size USB 2.0 ports on the keyboard.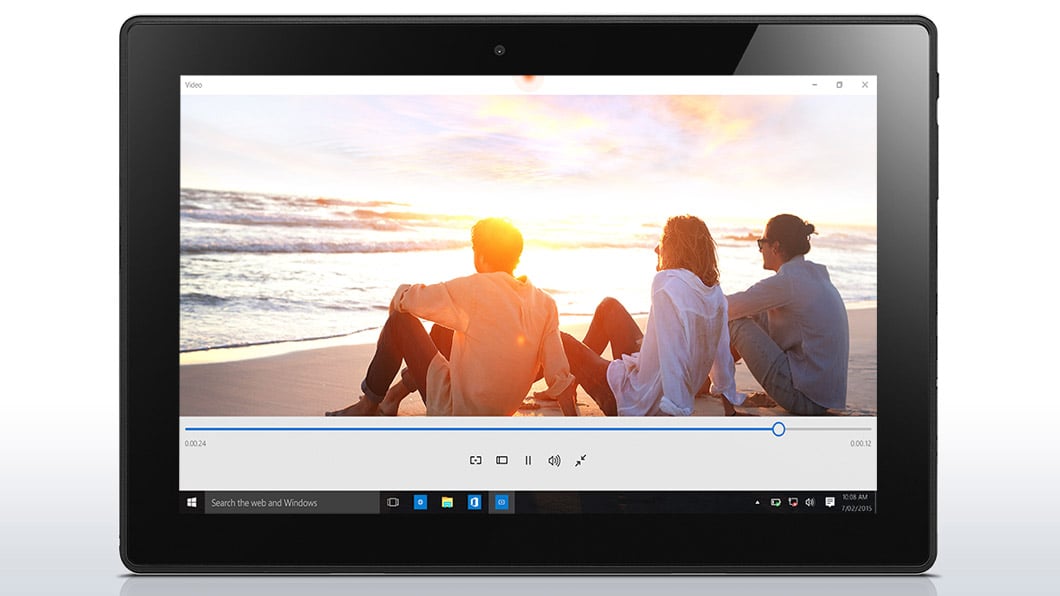 The tablet alone weighs only 1.28 lbs and less than 2.5 with the keyboard attached. That makes it one of the lightest available.
NuVision TM800W610L Signature Edition Tablet – Bargain Basement
The NuVision Signature Edition Tablet makes our list for two reasons. It's super cheap at only $150 from Microsoft Store or $100 at Amazon and it's one of the only 8-inch Windows tablets available today. Buyers can look hard for some models that are no longer manufactured. Dell's Venue 8 and the Toshiba Encore 2 8-inch model still show up on Amazon and other places, but Dell and Toshiba don't make them anymore.
NuVision designed the Signature Edition Tablet with a basic black plastic case, a 1920 x 1200 resolution, an Intel Atom processor and a meager 2GB of RAM and 32GB of storage. It comes with an expansion slot that supports up to 128GB in the form of a micro-SD card.
The battery lasts up to 6 hours, a little low these days. But that's probably enough for most people who will use this as a Windows book reader plus social networking, Internet and email. It can handle things like Netflix or streaming audio, too.
The tablet has a single micro-USB port, a micro-HDMI port and mic/audio combo port. Add Bluetooth 4.o and 802.11n Miracast enabled Wi-Fi. Miracast lets users cast the screen to supported devices like the Microsoft Wireless Display Adapter or a Roku Box or Stick.
Which Windows Tablet to Buy?
So which of these five tablets should you buy? If you just want the best tablet available without concern for price, go with the Surface Pro 4 and get as much as you can afford. It's a great device and works well as a laptop with occasionally using it as a tablet. The Samsung Galaxy TabPro S gives the Surface Pro a run for the money, so find one at a Best Buy store or Microsoft Store to see if you like the AMOLED screen better. Also, the USB Type-C port might make it a better option for some, since that's the future of connectivity.
People who want the smallest and cheapest should look at the NuVision. It's under-powered for most tasks, but not for the very basic tasks of reading books, playing streaming video or music, and doing your day-to-day email tasks. You can even hook it up to an external display to use it for presentations or hook up a keyboard and get some work done.
Buy the Lenovo if you want a larger 10-inch screen, but also want a lower price and have basic needs. The 1280 x 800 resolution seems a bit low, but the long battery life that comes as a result will make road warriors with limited needs happy. The included detachable keyboard makes it a great deal.
The Dell's a good mid-range option for people who can't afford the Surface or Samsung, but want more than the Lenovo or NuVision tablets offer.