5 Best Upcoming Android Smartphones
With 2012 winding down, it's time to take a look at the best Android has to offer for the rest of 2012.
The Android market currently has some top-of-the-line devices out on the market as you can see in our 5 Best Android Smartphones for October. From the HTC One X to the Samsung Galaxy S III, there are certainly some fantastic options should you need to order a smartphone right now.
However, as we move into the last quarter of 2012, there are going to be some high-end smartphones that should catch the eyes of consumers looking to get a phone with Google's Android operating system.
In effort to better compete with the new iPhone 5 and Windows Phone 8 this holiday season, Android manufacturers are kicking into full gear this fall which means that those who are able to wait should do so as these devices are going to be some of the cream of the crop in terms of Android phones that have launched in 2012.
Here, we take a look at what we consider the five best Android smartphones for the rest of 2012. Keep in mind, there are some rumors mixed in here so the specifications and release dates of these phones are subject to change.
That being said, here are the five to keep your eyes on.
Samsung Galaxy Note 2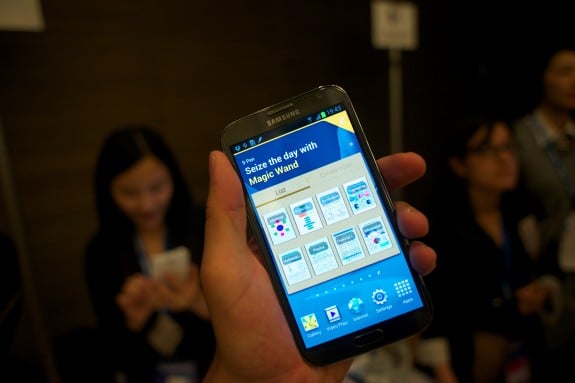 While the Samsung Galaxy Note 2, Samsung's new 5.5-inch phablet, has launched in other parts of the world, it's not going to land in the United States until October 24th or later. That is when Samsung will be unveiling the device, which improves on the original Galaxy Note in a number of ways, to the American public.
Read:  Samsung Galaxy Note 2 vs. Samsung Galaxy Note.
With its 4G LTE speeds, quad-core processor, improved S-Pen stylus, massive display, and Galaxy S III inspired design, the Galaxy Note 2 and its Android 4.1 Jelly Bean operating system are a force to be reckoned with.
This is a device that is perfect for those that want an extremely portable device that is part tablet and part phone. With its massive display and quick data speeds, this is a truly unique device and one of the best left on the table for 2012.
The Galaxy Note 2 is coming to AT&T, Sprint, T-Mobile, U.S. Cellular and Verizon and it's expected to retail for $299.99 on-contract.