5 Reasons to Wait for the Galaxy S22 & 3 Reasons Not To
While you might be tempted to buy a Galaxy S21, Galaxy Note 20, or another smartphone right now, some of you might want to hang around and wait for the rumored Samsung Galaxy S22.
The Galaxy S21, Galaxy S21+, and Galaxy S21 Ultra are Samsung's current flagships and they're worth a look if you're in the market for a new device.
You'll also want to investigate top Galaxy S21 alternatives like the Galaxy Note 20 series and Google's Pixel devices. And if you're fine with moving away from Android, make sure you check out Apple's iPhone 13 series, iPhone 12 series and iPhone 11 series.
Buy the Samsung Galaxy S21 5G for Just $149.99 w/ Trade In
While there are some tempting phones on shelves right now, we're hearing more about the devices coming to replace these devices in 2021 and beyond.
We've heard quite a bit about Apple's iPhone 14 series and iPhone SE 3 and we're starting to learn more about Samsung's rumored Galaxy S22 series.
Samsung Galaxy S22 Rumors
Samsung's new Galaxy S22 series might be called Galaxy S22, Galaxy S22+, and Galaxy S22 Ultra and carry the following model numbers: SM-S901x, SM-S906x, and SM-S908x. The names are evidently tentative, but that's what you should expect at this point.
We've learned quite a bit about the Galaxy S22 display sizes, two of which will reportedly be smaller than their predecessors. We've learned about potential upgrades to the cameras. And we've heard about new colors. According to analyst Ross Young, here are the Galaxy S22 color options:
Galaxy S22 – Black, Green, Pink Gold, White
Galaxy S22+ – Black, Green, Pink Gold, White
Galaxy S22 Ultra – Black, Dark Red, Green, White
The Galaxy S22 series is still in development which means plans can, and likely will, change before the company announces its nw Galaxy S models.
And because it's Samsung, we'll likely see a steady stream of Galaxy S22 rumors emerge throughout the year as we push toward the official release. These rumors will help you decide if the company's Galaxy S22 models are worth the wait.
The Galaxy S22 release date is still many weeks away and a lot of you may not want to wait to upgrade your phone. That said, the Galaxy S22 should definitely be on your radar if you're planning to make a switch this year or sometime next year.
In this guide we'll take you through the best reasons to wait for the Samsung Galaxy S22 and the best reasons to go with another device long before the announcements.
Wait for Even Better Performance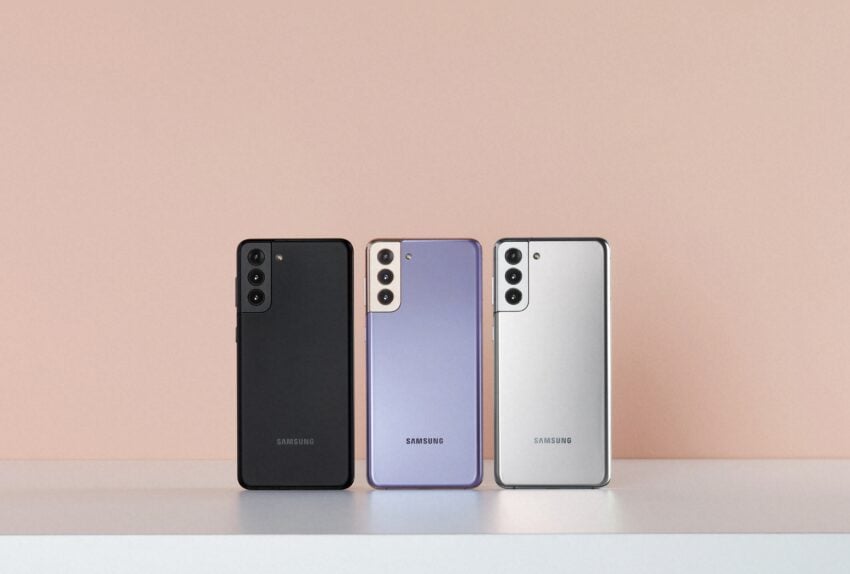 You can expect the Galaxy S22 series to build on the foundation left behind by the Galaxy S21 series and offer improved performance in a number of key areas.
Per usual, you can expect the Galaxy S22 to come with an Exynos processor in some markets and a Qualcomm chipset in others.
Nothing is confirmed, but there's a good chance the Galaxy S22 utilizes Qualcomm's next-gen Snapdragon processor. It should be the processor that powers the Galaxy S22 series in most markets.
Initially, it looked like the chip would be called the Snapdragon 898, but it's actually called "Snapdragon 8 Gen 1."
The processor has already shown up in Galaxy S22 benchmarks.
As for the Exynos side of things, Samsung is reportedly testing a new version of the processor with AMD graphics. It will reportedly be called Exynos 2200.
Like the Snapdragon, we've seen the Exynos 2200 appear in early benchmarks. The processor has shown up on the Galaxy S22 Ultra.
New processors should help the Galaxy S22 series deliver even better performance in key areas like speed, battery life, gaming, and multitasking.
The Galaxy S22+ and Galaxy S22 Ultra batteries have passed 3C certification. The Galaxy S22+ is listed with a 4,370 mAh battery (probably a 4500 mAh capacity) while the Galaxy S22 Ultra is listed with a 4,855 mAh battery (probably 5000 mAh capacity).
The Galaxy S22 battery has also received certification in South Korea and it's listed at 3,590 mAh which probably means 3,700 mAh.
Digitimes is also saying that Samsung is "reconsidering adopting vapor chambers for its new smartphones for 2022." This could help the devices run at peak performance for longer periods of time.
The report doesn't mention the Galaxy S22 series, but there's certainly a chance the flagship devices adopt this technology.
We've also heard that Samsung is currently testing improved charging power on the Galaxy S22. The information comes from leaker Ice Universe. He says the company is trying to bring charging power above 25W to 45W or 65W fast charging.
In a new tweet, Ice Universe says he's 100% sure the company will bring 45W wireless charging to the Galaxy S22 Ultra.
Twitter leaker FrontTron also claims Samsung is planning to test 65W charging on the Galaxy S22 series.
Another report points to 25W charging across the board, but we'd take it with a grain of salt given what we've heard thus far.
If you're a power user and you aren't thrilled with what's out there right now, you might want to sit back and wait for the Galaxy S22 series.

As an Amazon Associate I earn from qualifying purchases.