5 Trade In Tips for Samsung Galaxy Note 5 Buyers
The Samsung Galaxy Note 5 release date is likely coming in just a few weeks, and Samsung is poised to announce the Galaxy Note 5 at an event later this week. If you plan to buy the Galaxy Note 5 and you are going to trade in an old Galaxy Note, Galaxy S, Android phone or iPhone you shouldn't wait for the announcement and the Note 5 release date to take action.
After working through more upgrades and trade-ins than most consumers will in a lifetime we've learned the essential smartphone trade-in tips to get the most out of a trade and how to hang on to your old phone until the new phone arrives on your doorstep.
You don't need to own a specific phone for these trade-in tips to help you get the most money towards your Galaxy Note 5 purchase.
Compare Trade-in Prices Now
This is an excellent time to check out the trade in prices for your smartphone. Wether you plan to trade in a Galaxy Note 2, Note 3, Note 4, Galaxy S4, Galaxy S5 or an iPhone 6 Plus this is the time to check out the trade-in prices.
The companies listed below offer an online tool to see how much you can get towards your Galaxy Note 5 purchase, based on the phone you own and the condition it is in. Make sure you are honest when answering the questions as each company will verify the type, carrier and condition of your phone.
Here are the companies we recommend checking out when you plan your Galaxy Note 5 upgrade with a trade-in.
The value will vary from one device to the next, but you can count on $100 to $250 for recent Galaxy Note devices and over $400 for an iPhone 6. Check at all of these places as values can vary dramatically, especially if you are willing to get paid in Amazon credit.
Lock in a Trade In Value Before the Note 5 Event
One thing we know about smartphone trade-in prices is that they will drop as soon as the new model is announced. We even start to see a dip as soon as the event is confirmed. The Galaxy Note 2, Galaxy Note 3 and Galaxy Note 4 values will continue to drop and we expect iPhone trade-in values will drop in the next several weeks as well.
You can lock in a trade-in value for 30 days on Nextworth and Gazelle so that you can lock in the price you see today and keep using your phone until you get the Galaxy Note 5. The Galaxy Note 5 release date is likely in late August and you can lock in a price lock until early September now.
Look at Carrier Upgrade Specials and Restrictions
Before you look at trading in the Galaxy Note or Galaxy S towards your Galaxy Note 5 purchase you need to make sure that you are not on a payment plan with an early upgrade option that requires users to trade in their phone directly to the carrier to get an early upgrade.
Most early upgrade plans require some kind of payment or a trade in to upgrade early, while users on a contract don't need to worry about this.
Even if you lock in a price with Nextworth or Gazelle, keep an eye on carrier upgrade offers that may pay more than the phone is worth to convince you to buy a new Galaxy Note 5 at a specific carrier.
Hold Out for a Major Galaxy Note 5 Release Date Offer
We typically see Best Buy offer huge trade-in offers for a new Samsung smartphone. For the Galaxy Note 4 Best Buy offered a $200 trade in on almost any working smartphone. Even an original Motorola Droid worth a penny most days delivered a $200 gift card towards the purchase of a Note 4.
It would not be a surprise to see some type of major trade-in offer from Best Buy timed with the Galaxy Note 5 release date. The value may change as Sprint is the only carrier that will still offer contracts at Best Buy when the Note 5 release date arrives, but we can still expect some type of trade in deal.
Explore Selling On Your Own
Selling your old iPhone, Galaxy S or Galaxy Note on eBay or Craigslist can often result in a higher price for you.
You can use this eBay tool to see the current average selling price for your specific phone based on carrier, condition and accessories without actually listing it on eBay. This makes choosing between a trade-in and selling on your own a simpler process.
Samsung Galaxy Note 5: 10 Things Buyers Can Count On
Galaxy Note 5 Release Date Soon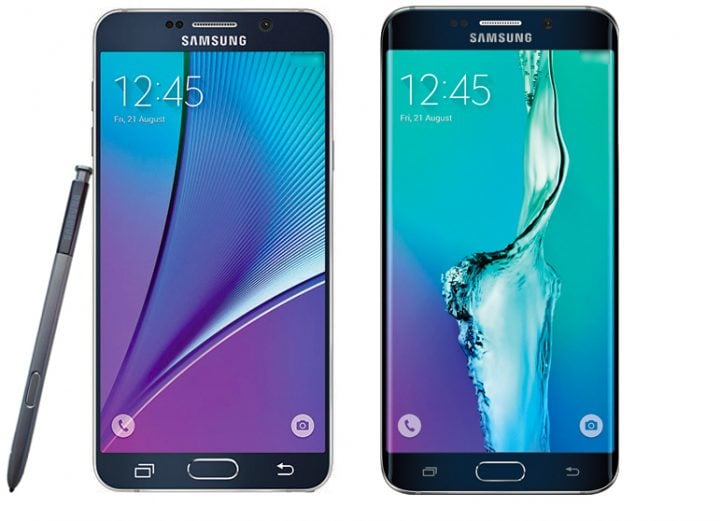 The Samsung Galaxy Note 5 launch date is confirmed for August 13th but the Galaxy Note 5 release date is still shrouded in mystery as we approach the device's highly anticipated launch.
As we noted over the weekend, we're expecting the Galaxy Note 5 release date to land a few days after the announcement for a few reasons which include the iPhone 6s release date.
You can count on a Galaxy Note 5 release date in August but you shouldn't expect every single region and every single carrier to get the Galaxy Note 5 on the first day.
Count on a widespread global Galaxy Note 5 release but know that these things take time. Not even Apple is able to get the iPhone out to everyone all at once. The supply chain has its limitations.
You can count on big markets like South Korea, Japan and the United States being among the first to get the device. And with Samsung (and its partners) clearly trying to get this phone out before the iPhone 6s, you can count on a ton of release dates taking place before September 9th.

As an Amazon Associate I earn from qualifying purchases.