5 Ways the Galaxy Note 7 Display Beats the iPhone
Samsung's new Galaxy Note 7 has what industry sources claim is the best smartphone display to date. Offering a beautiful 5.7-inch AMOLED screen that is crisp and clear, breaks records in terms of brightness, and is just excellent overall. With that in mind we wanted to go over a few reasons we think the Galaxy Note 7 display beats the iPhone 6s Plus.
Of course comparing Samsung to Apple can go a lot of different ways. From the specs, software, battery, camera, Android vs iOS and more. Rather than repeat a silly argument we've all heard a thousand times, we're simple sharing some things that make the Note 7 display stand out above the competition.
Read: 11 Reasons You'll Love the Galaxy Note 7
This year the Galaxy Note 7 has a lot to offer. From software features like an Always-On display, to hardware improvements of pinpoint accuracy for the S-Pen stylus, extreme brightness during outdoor use, to the best viewing angles, wide color accuracy and a new mode for night-time use. There's a lot to like here, and multiple reasons users will love the Galaxy Note 7.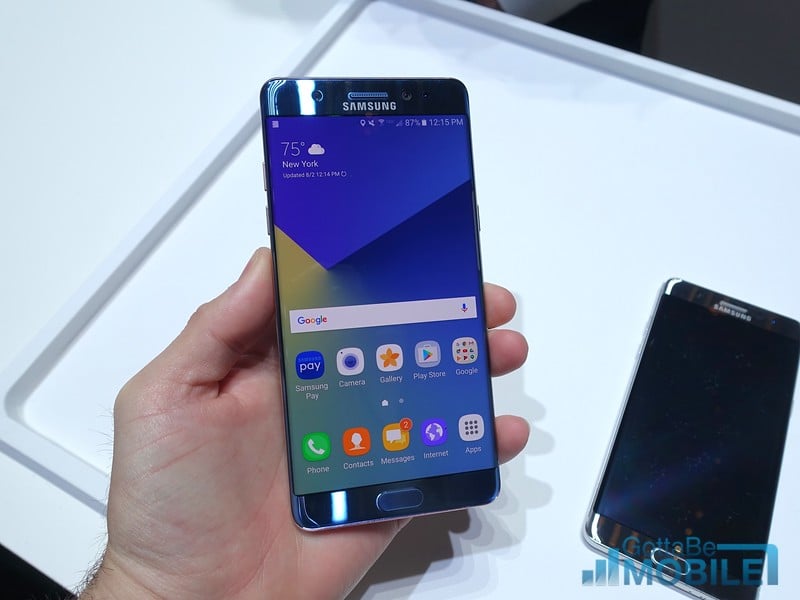 With each release of Galaxy smartphones Samsung improves the display technology by a considerable amount. The Galaxy S7 won awards for the best smartphone display ever, and before that it was the Note 5. However, the image specialists at DisplayMate conclude that the Note 7 is the best to date and isn't just better again, but completely leapfrogs the previous generation.
When it comes to comparing these two displays there are a lot of things to consider. For one, Samsung uses S-AMOLED screens vs LCD in the iPhone. These each have advantages, not to mention users have their own specific preferences. Apple's iPhone has also been praised for having the best LCD display on the market, so it's certainly no slouch, and everyone can agree the iPhone has an excellent screen.
Of course everything is subjective here, but when we consider everything Samsung has done with the Galaxy Note 7 from the curved edges to the Always-On display, it's easy to see why it's already winning awards before the phone has even been released. With that in mind, here's five things that make the Note 7 display great, and what makes it better than the iPhone.
Curved "Edge" Display
First up would have to be the curved display. While some may consider it simply a gimmick and nothing more than a unique looking screen to show off, it highlights all the research and development Samsung has done, and is a great way to showcase their next generation technology.
Being able to curve an extremely high 2560 x 1440 Quad-HD resolution display and still keep the brightness top notch, colors vibrant, and text crisp is certainly an accomplishment, and all the features that come along with it are nice too.
It's gorgeous to look at and use, and the curve is very subtle and not nearly as noticeable as other Samsung devices like the Galaxy S7 Edge. Then when you consider all the software controls built into Android users will certainly find it useful. There's an "Edge" panel full of different controls.
From the Apps Edge for quick access to your most used apps, to People Edge for favorite contacts. The Note 7 even has a new People Edge panel with shortcuts to individual contacts that pop-out and give the owner a wide selection of communication tools unlike ever before. As shown in our image above. There is a ruler, compass, and even quick notification panels that can light up while the rest of the screen is off with information, tweets, Facebook messages, sports scores and more. Being able to access all of this when the phone is on, and more importantly off, gives it a leg up over most of the competition.
A lot of Galaxy S7 Edge owners turn off the "Edge" features, but many find them useful. Either way, none of those are available on the iPhone and many other Android devices, giving Samsung Note 7 owners more ways to get things done. This is one of many reasons I plan to buy the Galaxy Note 7.