6 Essential Galaxy S6 Accessories
The Samsung Galaxy S6 is one of the best smartphones available today, and owners should have a few accessories to go along with it. We've already detailed some great cases, wallet cases, screen protectors and more in the past, so today we wanted to share a list of six accessories one could consider essential for all Galaxy S6 owners.
Whether its fancy leather or wood covers, kickstands for watching video, a simple screen protector, or even a tripod for capturing stunning videos with the 16 megapixel camera, the Galaxy S6 is a great device with tons of options. Almost every major manufacturer makes some sort of accessory for it, and buyers can often get overwhelmed.
Read: How to Reset a Frozen Galaxy S6
This list of essential Galaxy S6 accessories will help users get the most out of their smartphone and enjoy all it has to offer, protect it from damange, and get the battery charged as fast and as often as humanly possible. Read on for our list of six great accessories.
When it comes to smartphone usage and buying things like accessories, everyone has different wants, needs, or budgets. We could list 25 different accessories from car docks, stylus options, wireless keyboards, arm bands for hitting the gym, Bluetooth speakers, a smartwatch, and tons of other accessories, but not everyone wants or needs those things.
Read: How to Make the Galaxy S6 Look Like Stock Android
We could go on and on about the best car chargers, Galaxy S6 battery cases, or even micro-USB flash drives that allow users to have more storage now that the Galaxy S6 doesn't have a micro-SD slot for user expandable storage. And while all of those are excellent accessories for the Galaxy S6, not everyone needs a huge thick case or more storage. Most buyers just want a fast charge, a nice case, and possibly some good headphones to enjoy Google Play Music or Pandora Radio.
So, as we mentioned above, the list below will go over a small selection of just six accessories that we think every Galaxy S6 owner should have, or probably wants. These are essential accessories for the Galaxy S6. When you're done hitting all six slides below, check out our 65 Galaxy S6 Tips & Tricks guide.
Samsung Adaptive Fast Car Charger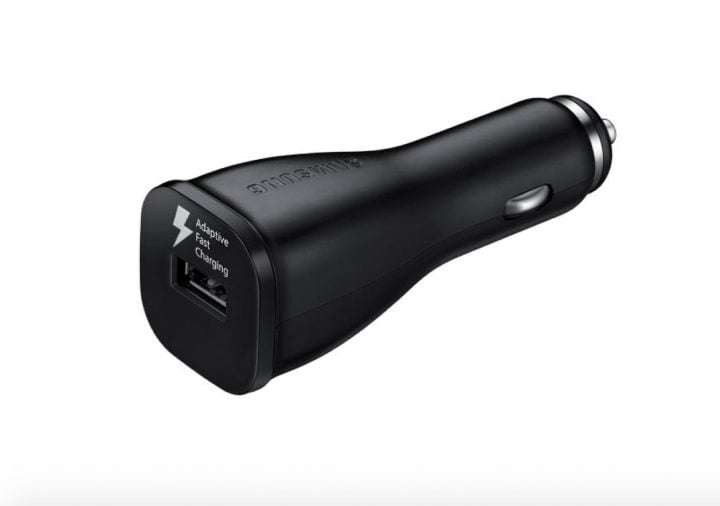 Just like the DROID Turbo, Nexus 6, and other devices, Samsung's Galaxy S6 supports one of the best features to come to smartphones in the past few years, which is called "fast charging".
Adaptive fast charging allows the Galaxy S6 to go from 0-50% in under 30 minutes, perfect for any occasion or to top off the battery before a night out. Quick charging is a great feature and works with the included charger in the box. That said, how about in the car? Get the same adaptive fast charging speeds while in the car headed to work, or to meet friends.
Samsung offers a 2A output high-speed adaptive fast car charger for the Galaxy S6 that will give it plenty of juice, faster than any other run of the mill car charger. Yes, faster than those 2.4A advertised chargers. It's a bit expensive compared to some of our quick chargers linked to earlier in this post, but coming from Samsung you know you'll have the best, safest, and fastest charge possible for the Galaxy S6.

This article may contain affiliate links. Click here for more details.