6 Reasons to Buy the iPhone SE 2 & 4 Reasons to Wait
There are some reasons to consider buying Apple's iPhone SE 2. On the flip side, there are also some great reasons to think about waiting or buying something else.
Last April, Apple finally released the long-awaited iPhone SE 2, also known as iPhone SE 2020. Apple simply calls it iPhone SE. And while it shares a name with the device that arrived back in March of 2016, it doesn't look anything like the original 4-inch iPhone SE.
The second-generation iPhone SE looks like the iPhone 8 and iPhone 8 Plus though it comes with some upgraded internals like Apple's A13 Bionic processor.
It comes in several colors and three different storage configurations giving those looking for a budget alternative to the iPhone 12 series (iPhone 12 mini, iPhone 12, iPhone 12 Pro, and iPhone 12 Pro Max) and iPhone 11 series (iPhone 11, iPhone 11 Pro, and iPhone 11 Pro Max) a host of options.
The iPhone SE 2 starts at $399 though you can trade-in your old phone and save a bunch of cash. For instance Apple's trade-in offer allows you to save up to $100 if you trade in an iPhone 6s Plus.
You get 64GB for $399 or less, but if you need more storage you'll have to spend a bit more. The 128GB iPhone SE 2 is $449.99 without a deal while the largest option, the 256GB model, will cost you $549 without a deal.
Needless to say, if you want a cheap iPhone with excellent specs, the iPhone SE 2 is an appealing option. It's not the only option you've got though.
You'll want to take a long look at in-house competition like the iPhone XR, iPhone XS, and others. There are also some excellent Android-powered alternatives out there like the Samsung Galaxy S10e and Google's Pixel 4a.
Sale
With that in mind, we want to guide you through the best reasons to buy the iPhone SE 2 right now, the best reasons to wait, and the best reasons to go with something else.
Buy for Fantastic Software Support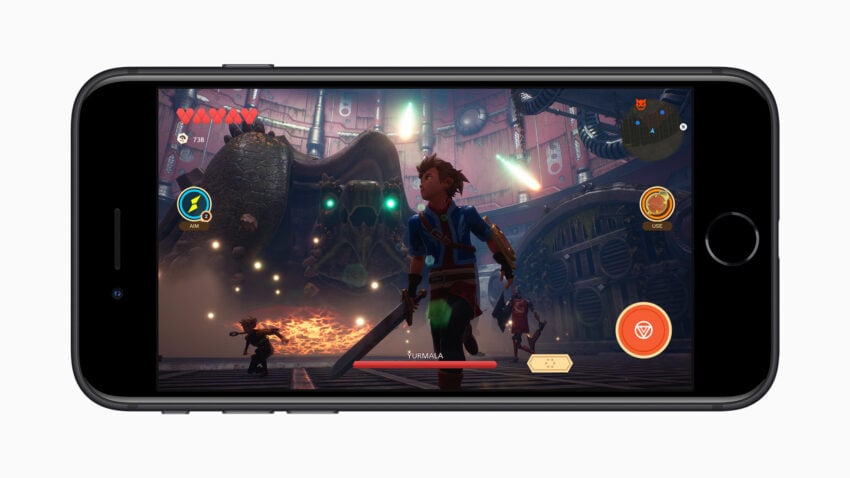 If you plan on keeping your next iPhone for a long time you should probably buy a newer model like the iPhone SE 2.
If you typically wait three, four, or even five years to upgrade your phone, the iPhone SE 2 has a lot of appeal. Here's why.
Apple doesn't advertise this on its website, but the iPhone SE 2 will get excellent software support for many years to come.
The company typically keeps iPhones updated with new software for four to five years. The company's software support includes major OS upgrades with new features in addition to a constant stream of bug fixes and security patches for potential exploits.
While it might be tempting to buy an older, cheaper iPhone, software support for those devices will come to an end much sooner.
Apple didn't bring iOS 13 to the iPhone 6, iPhone 6 Plus, or iPhone 5s. They didn't get iOS 14 either.
The iPhone SE 2 will, at the very least, get iOS 15 and iOS 16. And there's a good chance it gets iOS 17 and iOS 18 as well.
The iPhone SE 2's hardware also ensures that it will get robust versions of iOS. Older phones sometimes miss out on new features due to hardware limitations. That's the case with iOS 14.
Last update on 2020-12-15. This post may contain affiliate links. Click here to read our disclosure policy for more details. Images via Amazon API

This article may contain affiliate links. Click here for more details.