7 Common FIFA 17 Problems & How to Fix Them
There are FIFA 17 problems that annoy and frustrate gamers who just want to play soccer or fùtbol on the PS4, Xbox One, PS3, Xbox 360 and PC. This is how to fix the most common FIFA 17 problems.
Occasional FIFA 17 server problems can prevent you from playing online against your friends, random players and playing FIFA Ultimate Team online. Many times FIFA 17 server problems are short lived, but if EA servers as a whole are down you will need to play locally.
Unfortunately some of the FIFA 17 problems will likely stick around until after the first FIFA 17 update arrives in early October.
How to Fix FIFA 17 Installation Problems
If you can't install FIFA 17 on your console or PC you should make sure you have enough storage space on the internal drive. Even if you are installing to an external drive you may need some local space available on the Xbox One.
Another thing you can try to do if your FIFA 17 installation is stuck is to disconnect from the Internet and restart the installation.
Try clearing local saved games on your console. If you backup your games to Xbox Live you won't lose progress, but if you only keep them locally this will cause you to lose data. Go to Settings -> All Settings -> System -> Storage -> Clear local saved games.
Once this is done, go to Settings -> All Settings -> Network -> Network Settings -> Go offline. This will take your console offline so it doesn't try to download the game again.
How to Fix FIFA 17 Stuck on Welcome Screen
If FIFA 17 is stuck on the welcome screen EA recommends the following actions.
Disconnect any USB peripheral or controllers you aren't using.
Try to start playing. If you're still stuck, go to step 3.
Make sure your controller is assigned to your profile using these steps:
a. Press the Xbox button on your control to return to the Xbox One dashboard
b. Go to Settings > All Settings
c. Go to Kinect & devices > Devices & accessories
d. Choose the controller you're using
e. If you don't see your Gamertag next to Assigned to, then choose the Assign to someone option and choose your profile.
How to Fix No Faces in Journey Mode
When playing FIFA 17 on PC, you can fix no faces in Journey mode by using the following settings change on Nvidia GPUs.
Go to NVIDIA Control Panel -> Manage 3D settings -> Program Settings.
Choose FIFA 17 game.
Choose the preferred graphics processor: High-performance NVIDIA processor.
Specify the settings for FIFA 17 by checking the box next to Application-Controlled.
How to fix FIFA 17 Connection Problems
You need to make sure EA is not down for everyone before you take further action. The FIFA 17 servers may be down instead of it being a problem with your connection.
If it isn't an EA problem you should try restarting your console and your router. You may also want to check your modem.
Look in console settings to see what NAT type you have and if it is not Open you should look at support for your console on how to fix NAT problems.
How to Fix Missing FIFA 17 Coins and Points
When you start FIFA 17 you should see an option to transfer your FIFA 16 points to FIFA 17.
This only works when you stay on the same console. That means you cannot transfer from Xbox 360 to Xbox One or from PlayStation to Xbox. This will not transfer FUT Coins, Club Items or Transfer Market items. Once you do this you will not be able to move the points back.
If you are missing coins in your FIFA 17 Web App you need to make sure you are on the right account for your current console. If you used to play PS4 and now play on Xbox you need to switch or it will look like you are missing coins. Check out this guide.
How to Fix FIFA 17 Ban Problems
If you abuse the system in FIFA 17 you can get a FIFA 17 ban from FUT or completely from FIFA 17, future FIFA games and even all EA games.
When you buy FIFA 17 coins you run the risk of being banned. If you farm coins, use bots, buy a mule account or other methods listed on this page you may run into issues.
If you have not done any of these and you are still banned you can ask for help, but be warned that it is hard to get un-banned if it is not a limited time block.
You should set up Login Verification to prevent someone else from abusing the rules on your account.
How to fix other FIFA 17 Problems
If you run into other FIFA 17 problems you may need to uninstall the game and re-install it. If the game is stuck installing, you should disconnect from the Internet and try installing that way.
Gamers who have problems redeeming FIFA 17 codes for player loans and for other bonuses should contact EA Support or wait 24 hours. Sometimes there are problems redeeming items during the first day of the game.
FIFA 17 vs FIFA 16: 7 Reasons You Should Buy FIFA 17
FIFA 17 Journey Game Mode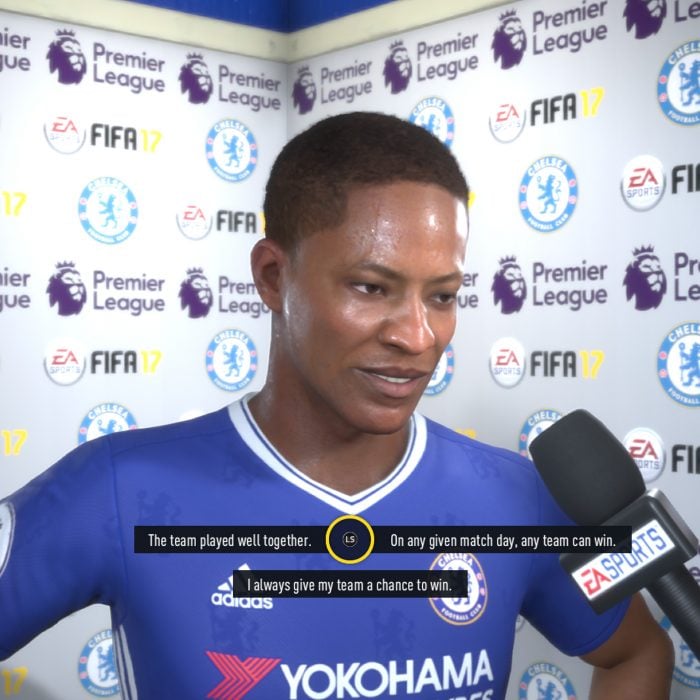 There is now a Story Mode in FIFA 17 called My Journey. You are in charge of a player who is trying to make it in the big leagues. You need to control him on and off the pitch.
Thanks to the Frostbite engine the game can render the field, the manager's office and your apartment as you try to navigate the complexities of playing on the field and making the right decisions off it.
You are Alex Hunter an up and coming player in the Premier League. You can play on any club in the league, but you cannot create your own player -- you need to control Alex.
The game will change based on your performance on the field and decisions you make off of it. This includes your career and it will influence how other characters react to you.
This mode is not in FIFA 16, and is completely new for 2016 and FIFA 17.