10 Things to Know About the Nexus 5X Android O Update
Google's released the final Nexus 5X Android O Developer Preview which means we're extremely close to the device's final Android 8.0 release.
You don't need to be a developer to try out Google's next version of Android. You simply need a compatible device, some patience, and a few minutes of free time.
The pre-release version of the Nexus 5X Android O update is packed with new features and enhancements and it's an extremely tempting upgrade ahead of the update's official release date.
That said, there are a number of problems, errors, and defects that could affect the normal functioning of the device. If want to try the Android O update right now, you'll want to be extremely careful. Especially now with the final release as close as it is.
Read: For a look at the official Nexus 5X Android Oreo update, take a look at our new guide.
Our guide to the beta addresses these ongoing Nexus 5X Android O problems. It also takes a look at the Nexus 5X Android O Developer Preview 4's performance, the Android Nougat downgrade, and some other key things current and prospective beta users need to know about the Nexus 5X's version of Android O.
With an official Nexus 5X Android O release just a few weeks away, we plan to update this roundup with new information about the update's performance.
Check back in with us as we poke and prod the Nexus 5X's last Android O beta for its benefits, problems and hidden features.
Quick Nexus 5X Android O Beta 4 Review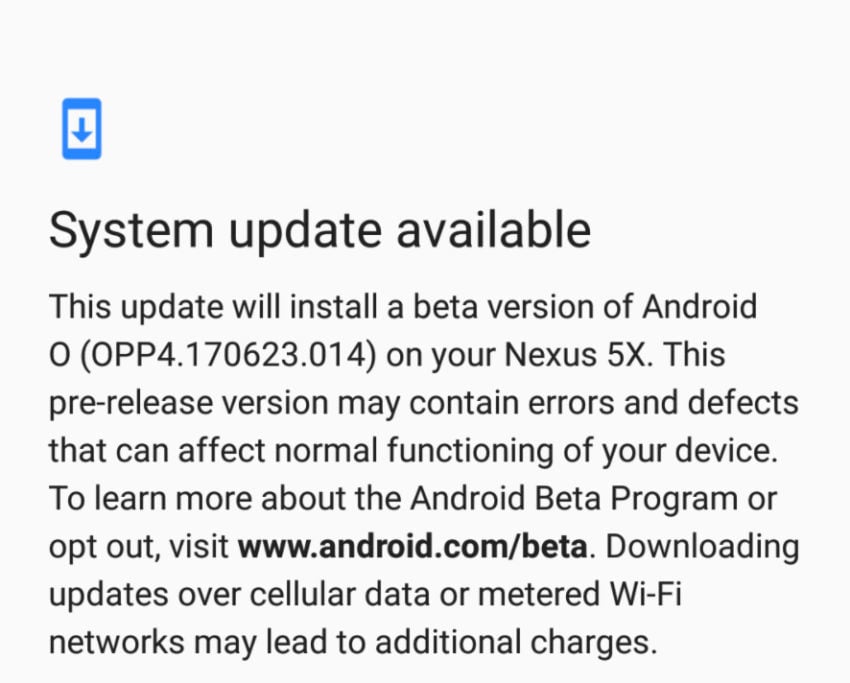 Before we get into our impressions of the fourth and final Android O preview, here are a few things to know about the Nexus 5X Android O beta 4 download and installation.
The Nexus 5X Android O beta 4 update is a pretty sizable update. It took us about a minute or so to download over a high-speed Wi-Fi network. The installation took about seven minutes to finish up.
We recommend putting aside 15 minutes or more to monitor the download and the installation for problems. This is particularly important if you're installing the beta for the first time.
Everything went smoothly for us but it's impossible to predict what you'll see during your installation process.
We've been using the Nexus 5X's new Android O beta for a few weeks now and we recently installed the fourth and final beta release.
We've spent several days with the update but we've starting testing the device's battery life, connectivity, and UI speed. We've also been testing our core apps and services. Here's what we've noticed thus far.
We've seen complaints about weird battery drain but we haven't noticed anything on our device. Battery life is still about the same as it was on Android Nougat.
If you do start to encounter battery life issues on the new version of Android O, take a look at our guide to fixing bad battery life or consider downgrading to Nougat.
Connectivity is also strong. We've been able to connect the Nexus 5X to multiple routers including eero and Bluetooth devices including headphones and speakers. Android O isn't perfect though.
The clunkiness that was present in the previous versions of the software is still present in the fourth version of Android O.
When scrolling in the multitasking tray and when pulling down our Quick Settings, we're still seeing some lag and jaggedness. We've also noticed choppiness when opening and closing some apps.
Random reboots have been a problem for us and the device has already rebooted itself once while on the fourth developer beta. Several apps, including Chrome and YouTube, have also crashed.
The Nexus 5X Android O beta is far from perfect but that's why it's called beta. This is pre-release software and it's still unfinished.
If you're feeling leery, you probably should wait for Google to roll out the final version of the Nexus 5X's Android O update.
For more feedback, take a look at our reasons to and not to install the Nexus 5X Android O beta right now.