Battlefield 1 Beta: 5 Things to Know
The Battlefield 1 beta is live and today we want to take a look at the most important things to know as we push away from the release date.
Battlefield 1 is confirmed for Xbox One, PS4 and PC and it'll be taking gamers back to World War 1. EA DICE recently confirmed a number of key details including vehicles, weapons, classes, game modes, maps, and more.
The developer also confirmed a Battlefield 1 release date, well, release dates. The game will be out on October 13th for EA/Origin Access subscribers, October 18th for Early Enlisters, and October 21st for everyone else.
You don't have to wait until October to play Battlefield 1 though.
EA DICE is hosting a Battlefield 1 beta ahead of the game's highly anticipated arrival later on this year. The beta is open which means anyone with an Xbox One, PS4 or PC can play a portion of the game right now.
The company's confirmed some of the key Battlefield 1 beta details an here's what we know, so far, about the Battlefield 1 beta. We'll continue to update this as more information about the open beta becomes available.
Battlefield 1 Beta End Date
The Battlefield 1 beta is live. For everyone. Across all three platforms (Xbox One, PS4, PC). It won't be around forever though.
The war's not over yet. The Battlefield 1 Open Beta will end on Thursday, September 8. pic.twitter.com/FkWPE9trX9

— #Battlefield V (@Battlefield) September 5, 2016
The Battlefield 1 end date is set for September 8th on all three platforms. EA DICE could choose to extend the beta but nothing is confirmed yet.
Battlefield 1 Content
The Battlefield 1 beta doesn't include the full version of the game. Instead, it's a small snippet of what you'll see in October.
The Battlefield 1 beta features the new Sinai Desert map and two popular game modes, Conquest and Rush.
Conquest. An all-time fan favorite of Battlefield players, Conquest is a large-scale game mode with up to 64 players fighting for the control of key objectives. With large armies on foot or behind the wheel and the addition of fearsome Behemoths, Conquest brings together all the elements of the signature Battlefield All-Out War.
Rush. A 24-player mode where the Attacking force must find and destroy the Defending force's Telegraph Posts, which can be used to call in artillery strikes. The Defenders can deny the Attackers their mission by disarming explosives they plant on the telegraph positions. Should the Telegraph Posts be destroyed, the Defenders must fall back to the next sector and protect the Telegraph Posts there.
EA DICE will be looking into changing Conquest back to the classic ticketing system. This all depends on the feedback from the beta.
If you're fine with spoilers, take a look at the video above. It'll show you the weapons, classes, and other items featured in the Battlefield 1 beta.
Battlefield 1 Beta Size
The Battlefield 1 beta requires a sizable chunk of space on your hard drive.
The PS4 Battlefield 1 file size is about 6.5GB. On the Xbox One, you'll need around 6.2GB of free space. On the PC, you'll need around 7.1GB.
For some of you, this won't be a problem. Others will need to clear out some space in order to complete the download and installation process.
Your Progress Won't Carry Over
As expected, the progress you make in the Battlefield 1 beta won't carry over to the final version of the game.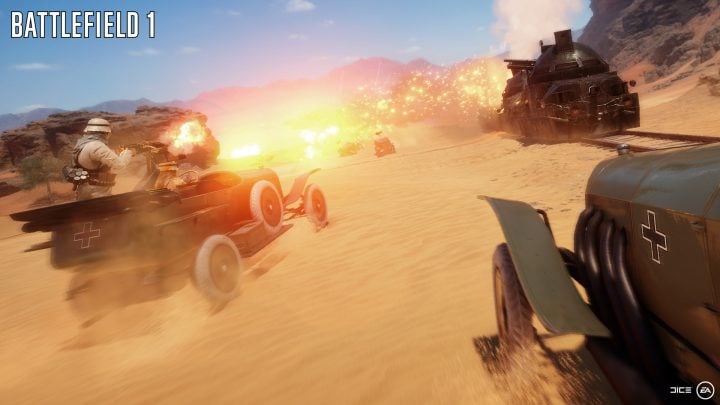 In a note on its beta website, EA DICE says that Gameplay Progress, Achievements, Characters, Character Data and/or Any Other Value Or Status Indicators Achieved Through Gameplay In the Beta Will Not Transfer to Battlefield 1."
If you decide to buy the full version of the game, you'll start from scratch.
Battlefield 1 Beta Problems
EA DICE notes in the beta's fine print that this is pre-release software and may contain errors and defects. And it does.
The Battlefield 1 beta is already plagued with performance problems and other issues. And that's why we highly recommend getting familiar with the Battlefield 1 forums right now. We're already seeing potential fixes pop up there.
If you're using a GeForce graphics card on PC you'll want to download the brand new GeForce 372.70 driver.
It provides the "optimal experience" for Battlefield 1: Open Beta" and it could help iron out performance issues you're having.
For a list of other Battlefield 1 problems and potential fixes, take a look at our list.
Bonus Thing: Battlefield 1 Beta Reward
EA DICE is offering a reward to the Battlefield 1 community.
If you reach rank 15 and you play the beta on four different days, you'll unlock a dog tag that you can use in the full version of the game.
The Battlefield 1 beta will be live for a few more days so you still have some time to get this achievement done.
Battlefield 1 Release: 10 Key Details
Battlefield 1 Problems & Update
Now that the game is out we're starting to hear about some of the early Battlefield 1 problems.
Battlefield 1 players are noticing issues with Battlepacks, issues accessing the Battlefield 1 trial, crashes, invisible players, installation issues, various issues with the weapons, texturing issues, lag, and a whole lot more. We expect complaints to continue as we push away from the game's release date.
In response to these complaints, EA DICE has issued the first Battlefield 1 update for Xbox One, PS4 and Windows PC. The latest Battlefield 1 update tackles some of the glaring issues with the game's UI, graphics, and more.
For more on the October Battlefield 1 update, take a look at our roundup.