Best Buy Fumbles Madden 16 Release Date
If you pre-ordered the Madden 16 Deluxe Edition at Best Buy you should call the store before you head in to pick up your pre-order on the Madden 16 release date.
Many gamers turned to Best Buy for the new Madden game thanks to an incredible Madden 16 deal that offers $30 off Madden 16 with a Madden 15 trade-in — but all is not well at Best Buy.
When we stopped in at Best Buy to pick up a copy of Madden 16 Deluxe on the August 25th around noon the cashier stated that Best Buy had all copies except for this one available. The first reason for this unfortunate missing copy was alphabetical order. After pressing the issue a few minutes later the story changed to it was the last pre-order in the system.
At first this looked like a limited problem, but there are multiple reports of Best Buy fumbling the Madden 16 release date pick ups.
In Findlay, Ohio the Best Buy location was unable to fill a pre-order for the Madden 16 Deluxe edition, even though the online store order lists the game as available for same day pickup.
Thanks @BestBuy for not getting Madden 16 in on release day. Or should I say my pre order.

— Josh Smith (@Josh_Smith) August 25, 2015
In California a user reported that Best Buy did not have enough copies of Madden 16 Deluxe in stock so he had to settle for the regular version.
@dabulls629 @BestBuy I preordered the deluxe edition at best buy but they didn't have enough deluxe editions so I just got the reg version

— Rabdear (@Rabdear) August 25, 2015
Another user in California reports that Best Buy did not have any of the the Deluxe edition pre-orders on hand for a midnight Madden 16 release date event.
https://twitter.com/DanLoDolce/status/636052789840453632
In one case the user was able to get a regular version of Madden 16 free of charge because they had trades and a coupon. Best Buy promised a $10 discount on Madden 16 Deluxe at another store due to the delay and said they would call when the game is in stock, but there was no specific timeframe given.
Other users report similar problems with buying Madden 16 at Best Buy, including one who heard it will take a week to arrive.
Really @BestBuy @EASPORTS I pre-ordered deluxe edition of madden 16 & it's not in stock? Who's @ fault?

— Bryan Sanders (@LOSTheDuDe) August 25, 2015
https://twitter.com/JesRey7/status/635968381980512256
@BestBuy so I pre-order a game only to be told it's not there and it will take another week to get it. Smh

— J (@TheRealJskill) August 25, 2015
Thanks @BestBuy @EAMaddenNFL for messing up the best buy orders of madden 16 deluxe edition. Drove 20 minutes out of my way to no copies!

— carlos (@soxfan020) August 25, 2015
@EASPORTS We have a VERY disappointed 12 year old waiting for his pre-ordered ultimate game to arrive @BestBuy #WheresMadden16?

— Tic Tock Mrs. Glock (@TicTockMrsGlock) August 25, 2015
At this time Best Buy still lists Madden 16 Deluxe available for in store pickup on release day at one location.
It is not clear if EA or Best Buy is at fault for this mishap, but it is a good idea for users who pre-ordered Madden 16 Deluxe Edition at Best Buy to call the store before coming in to pick up the pre-order. This does not impact the regular version of the game.
Users who settle for a regular version pass up on $50 in Madden Ultimate Team packs, which is a significant drop in value to users who play Madden Ultimate Team mode.
For more on what this special edition offers you can check out our look at if Madden 16 Deluxe is worth buying. Our Madden 16 review covers how well we like the new game and the slides below compare Madden 16 vs Madden 15.
Madden 16 vs Madden 15: 10 Key Differences
Madden 16 Catch Upgrades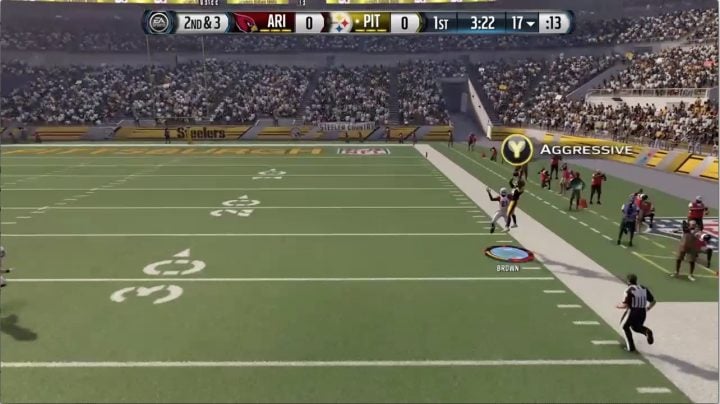 In Madden 15 catching the ball is a one choice option that either happens or doesn't -- and if you are lucky when you catch it you can still pick up some yards. The receiver doesn't play very differently from one situation to another.
In Madden 16 you can choose to catch the ball with an Aggressive Catch, a Run After Catch or a Possession Catch. This allows you to pick the right catch for the situation.
If it's a long bomb where you need to go high, you can control the receiver and go up to grab that ball for a spectacular to watch catch. Unfortunately if you are near the sideline you might end up out-of-bounds and the odds are good you won't pick up any more yards if you use this in the middle of the field.
The RAC option positions the receiver to add to the yards by catching with a focus on picking up more yards. This is perfect when throwing to a receiver that needs to pick up three or more yards after the catch to get the first down.
Other times you just need to make a catch so that you can get the first down or keep the clock running. The Possession catch option delivers a catch that you are more likely to hold on to, but you might not get any added yards and if there is a lot of pressure you may miss out.
You can control all of these after the throw and it actually works really well.