Best Fast Car Chargers for the Galaxy S10
These are the best fast car chargers for the Galaxy S10, Galaxy S10+ or S10e. Whether you're getting bad battery life or just want it to recharge faster, here's how. One of the many awesome features of the Galaxy S10 is how fast it can recharge, and these will give you those same quick speeds in your car or truck.
Samsung calls this "adaptive fast charging" and if you buy the right car charger your Galaxy S10 can top off the battery in the car just as fast as it does at home. However, only certain car chargers offer these speeds, and we'll recommend some of your options below.
Best Fast Car Chargers for the Galaxy S10
These chargers allow the Galaxy S10 to go from 0-50% battery in just 25 minutes, which is enough to last you the rest of the day on these phones. If you have an old regular car charger, you'll be at around 11% after a 25-30 minute drive. See the difference?
1. Samsung Official Adaptive Fast Car Charger
Buy it Now on Amazon for $19 (or from Samsung for $20)
Our first recommendation is Samsung's very own fast adaptive car charger. This has precise power output levels perfect for the Galaxy S10 family of phones and is nearly identical to the wall plug that came in the box with your phone. Plus, this charger has two USB ports, so you can charge more than one device at a time.
This ensures a safe, fast and efficient charging experience while you're traveling. Keep in mind that only one of the two ports is "fast charge capable" although the second one still uses a decent 2.0 amps of output power. Furthermore, Samsung provides both a USB Type-C and a micro USB cable in the box, which is a big plus.
2. Anker 24w Slim Fast Car Charger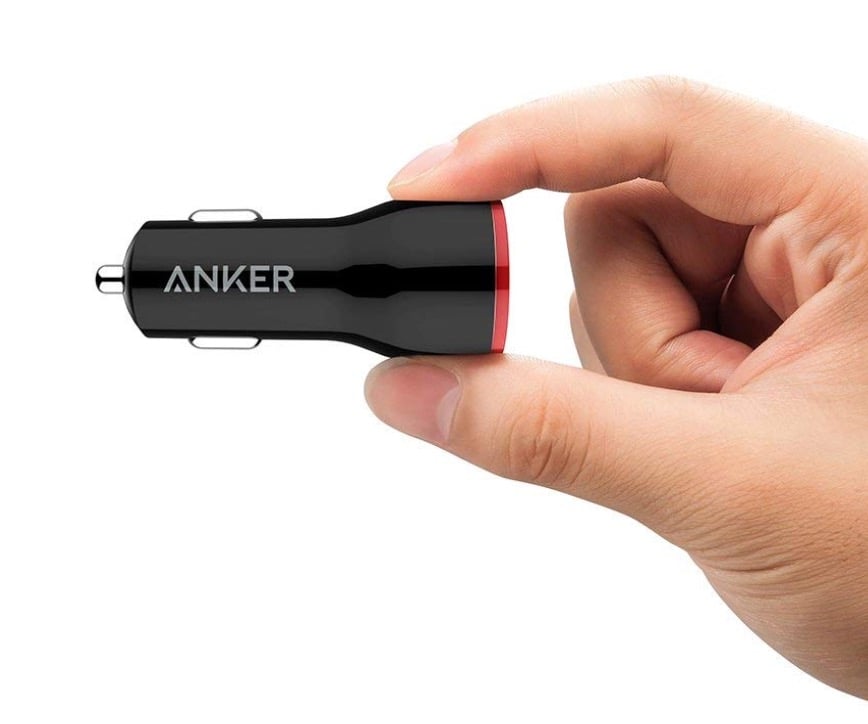 Another great option comes from Anker. They're a brand we know, use, and trust. Anker has multiple different car chargers that support Quick or Adaptive fast charging, but this one is your best bet.
This is basically one small, cheap, fast car charger for the Galaxy S10. You're not getting multiple ports or anything fancy, but it gets the job done. Just know you're phone will recharge as fast as safely possible with this little $11 plug. You'll want to buy a few extra USB Type-C cables, but that's fine when you save money getting this charger.
3. RAVPower Dual Quick Car Charger (Both Ports QC)
If you want BOTH ports on your car charger to offer fast charging this is the one you want to buy. The RAVPower Dual Port Quick Car Charger perfect for any Samsung Galaxy owner. This is actually the car charger I use, as it's the most affordable one that offers adaptive fast charging on both ports.
Basically, this little charger is very small, affordable, and will top off any device you plug in super fast. Whether that's the Galaxy S10, a friend's iPhone Xs or even the upcoming Galaxy S11. It's backward compatible to work with any older devices. You can plug any cable into the two ports and get fast, safe, efficient charging. I just love knowing that either port is fast, making it easier to plug in a device and go.
4. Anker 39w Dual Fast Car Port Charger
Here's another charger that offers full adaptive and Quick Charge fast charging speeds on both ports, plus some, but it's pretty expensive. We're talking about the Anker 39w Rapid Charger. People know and trust Anker for charging products, so this had to make our list.
The Anker 39w fast charger doesn't offer Power Delivery, but it's still certified for all those other fast charging technologies like Quick Charge 3.0 and will still top off the S10 super quick. We like the low-profile design and stylish faux carbon fiber finish. Plus, it'll work with the Galaxy S11 and Note 11 in 2020.
5. Belkin Dual Output 15w Fast Charger
Buy it Now from Amazon for $13 (or from Belkin for $35)
Last but not least, we wanted to highlight and recommend the Belkin Dual Output fast charger. Mainly because it has a USB Type-C cable built-in, so you'll never lose your charging cable or have a friend "borrow" it and never give it back. Plus, there's a regular fast output port for another cord or a second device.
Belkin's charger not only supports quick/adaptive charging, but it delivers 15w Power Delivery, too. That means it's powerful enough to recharge a Macbook, iPad, Nintendo Switch and more along with safely recharging your Galaxy S10. The second port still offers fast charging, which is nice.
Read: 15 Best Samsung Galaxy S10+ Cases
These are honestly your best options, and remember, do not buy a junky car charger from a gas station or you will not get these fast speeds. And if you're dealing with bad Galaxy S10 battery life or other issues here's our full problems and fixes guide.