5 Best Free Antivirus Programs for Windows
Your Windows PC is your online sanctuary. You use it to watch Netflix and check the latest sports scores. It's where you go to read about topics you care about and learn new things. It's also your primary way of getting things done and managing your day. Malware and viruses threaten your sanctuary every day and installing free antivirus programs for Windows is your only way to keep your information safe.
We're doing more on our PCs than we ever have before. Hackers know this, and that's why they continue to attack. They're constantly coming up with new ways to infiltrate your system and learn all there is to know about you. They want to break into your PC so that they can snatch your banking details. Sometimes they don't even want it for themselves. They're willing to sell your private information to others just to make a profit.
You can attempt to avoid antivirus programs by picking up a Chromebook or Mac, but that isn't really a solution. Even Apple encourages users to get antivirus software.
Read: Apple Says Users Should Get Antivirus Software
The best free antivirus programs for Windows will do their part to help you keep your PC virus and malware free. They'll scan the code on your Windows computer for anything that looks suspicious. They'll monitor your downloads folder so that anything that even looks like it may cause a problem can be immediately quarantined or removed. Together with the filters in Internet Explorer, Microsoft Edge and Google Chrome, they're designed to make sure that the sites you visit don't place any nefarious code on your notebook, desktop or tablet.
Read: 5 Anti-Malware and Antivirus Apps to Keep Android Safe
Why You Need Free Antivirus Programs for Windows
To be clear, you need antivirus programs installed on PCs in your home. Whether it be one of the best free antivirus programs for Windows listed here or a trial of some antivirus protection that came with your PC. Not having any is dangerous.
In the old days, everyone was worried about browsing the wrong sites and having malicious bits of code, called cookies, stored by their browser. Those are still important but so are new types of threats. We tend to use flash drives and hard drives to transport documents, music collections and more. What if a flashdrive a friend used on your PC was infected with something? Without paid or free antivirus programs for Windows, how would you know?
Read: How to Reset Your Windows 10 PC
There are other threats out there too. Phishing scams are as popular as they've ever been. Basically, malware creators attempt to fake a legitimate email from a business. These emails contain links to a website where they ask you to provide information about yourself. The site where you enter your information can look professional and legitimate, but it's not. Emails are still used to target users with bogus attachment downloads that can infect your PC. Before you even realize what is going on, a PDF could have let something on to your PC that you never intended to be there, like a program designed to track what you type.
Here are the 5 best free antivirus programs for Windows.
5 Best Free Antivirus Programs for Windows
Free AVG 2017
Microsoft Security Essentials
Avast Antivirus
Windows Defender
Panda Free Antivirus
Free AVG 2017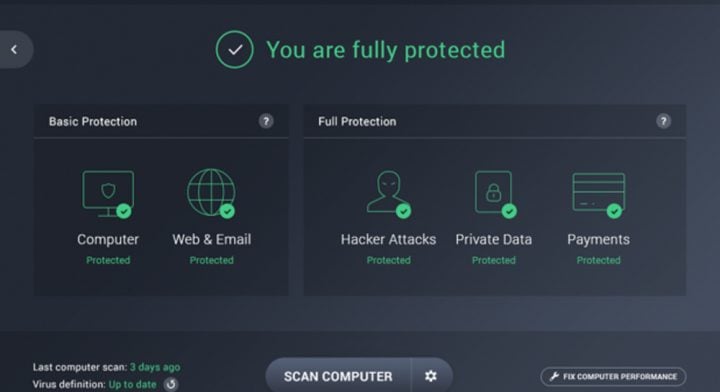 AVG has been available for a while now. You may have seen a boxed copy of the software at an office superstore or an electronics retailer years ago. Free AVG 2017 is available online now, and it includes some must-have updates to keep you safe.
In addition to real-time protection, Free AVG offers real-time security updates too. There's no scheduling an update once a week to learn about new threats. It's always checking your files. The antivirus program includes real-time download protection too, meaning it'll look into the files that you're downloading to make sure they are safe. It can scan for malicious attachments in your email and stop you from browsing to dangerous sites.
The Pro version adds blocking for fake websites, phishing emails and has an enhanced firewall to block malicious internet traffic.


As an Amazon Associate I earn from qualifying purchases.