Best Samsung Galaxy A8 Cases (2018)
These are the best Galaxy A8 cases that will keep your phone looking nice and new. Samsung's Galaxy A8 for 2018 has a big display, small bezels, and a rear-mounted fingerprint scanner. Combine that with an affordable price tag, and this is a phone you'll want to keep protected. Most of these cases are available for the Galaxy A8+ as well.
Galaxy A8 cases come in a slew of different styles, features, colors, and materials. Some are more durable than others, but all of them should keep the phone safe. We've gathered the best cases available all from brands we know, use, and trust.
Read: 175 Neat Things Samsung Bixby Voice Can Do
Whether you want a cheap thin case or durable military-grade protection, we have you covered. Our list details some cases as low as $7, which is far cheaper than the $150+ you'll spend to fix a broken screen. Additionally, you'll need to pay $15-$30 or more to get the most durable cases or something officially made by Samsung. We even have wallet or kickstand cases to fit your wants and needs.
Just because this phone costs less than the Galaxy S9 doesn't mean you don't want to use a case. In fact, a high-quality case from trusted brands is the best route. Or, even a cheap $7 TPU case on Amazon is better than nothing. Additionally, more expensive cases have screen protectors built-in or use really durable materials. Don't forget that your A8 is IP68 dust and water-resistant, so you don't need a waterproof case.
Considering this is the Galaxy A8 and not the Galaxy S9, you don't have a ton of different choices. However, we still managed to find some great cases that will surely protect your phone from life's daily hazards. Including ultra-thin or clear cases for those that don't want to cover up the premium design. Before we begin, these are for the newer 2018 Galaxy A8, not the 2017 model.
A case will help prevent damage or scratches to the camera on the back of your phone, make it easier to hold and keep the 5.6 or 6-inch screen safe. While some of the biggest brands like Speck and Incipio have yet to launch Galaxy A8 cases, you still have more than a few options to choose from. Including Spigen, one of the best case manufacturers. We've done the hard work for you, so pick a case from our slideshow below.
Spigen Liquid Air ($13)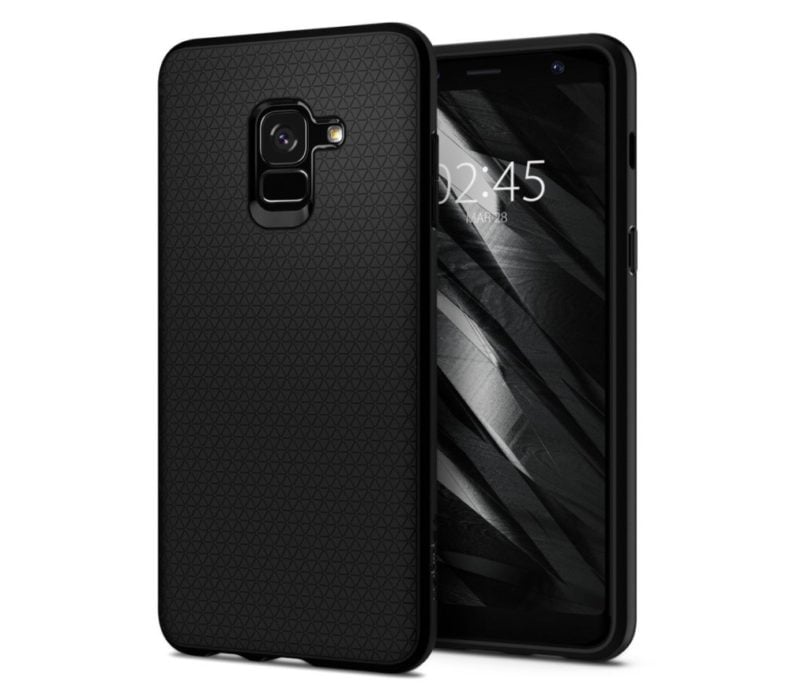 First up on our list is a case from Spigen. They're one of the most trusted brands when it comes to smartphone protection. Spigen creates excellent cases that fit perfect, have buttons that are easy to press, yet durable enough to keep your phone safe.
Spigen uses a strong military-grade TPU material with reinforced corners and "Air cushion" technology. This absorbs impacts from drops or damage while keeping the case slim and lightweight.
The company also adds a nice tactile textured back for slip-resistance, tactile buttons, and oversized cutouts for the ports and headphone jack. They make the best cases, and this one is our favorite.
Buy it Now on Amazon for $12.99 or get the Spigen Neo Hybrid

As an Amazon Associate I earn from qualifying purchases.