How to Fix Bad Galaxy Note 8 Battery Life
If your phone isn't lasting as long as expected here are over 10 tips to fix Galaxy Note 8 battery life problems. Samsung's phone has a lot to offer, but it's not perfect especially now that it's nearly two years old.
Owners received a big boost in performance and battery with the Galaxy Note 8 Android Pie update, known as One UI, but that isn't enough for everyone. If you still want or expect better battery life here are some settings to change, options to consider and quick tips to deliver the best experience. We'll also help you find and address any potential problems draining your juice.
How to Fix Bad Galaxy Note 8 Battery Life
Samsung phones have tons of options, controls, and settings that you can change for an improved experience. And while some of them are great, others simply drain the battery even if you don't use them. We'll cover that and plenty of tips below. Additionally, you can take advantage of Samsung's battery saver modes and performance modes to get the most out of your phone. These tips will help you squeeze more battery life out of your phone or find what's draining it too fast.
Galaxy Note 8 Android Pie Problems
Before we dig into everything else, we want to address some Android Pie problems, as that update just arrived. It's an improved experience for some, but not for everyone. Some people are dealing with new issues. One, in particular, is regarding abnormal battery drain. Samsung's One UI software is great, but it's also brand new, and there will be a few bugs Samsung will have to fix.
Thankfully for you, we've put together a detailed Galaxy Note 8 Android Pie problems and fixes guide. This will help you understand the One UI update, Pie problems, and more. Otherwise, here are some general battery saver tips and options.
Find Apps Eating Up Your Battery
Our first recommendation is always checking for apps that are misbehaving. If you want to fix your bad Note 8 battery life, keep an eye on running apps in the settings menu. Malfunctioning apps cause all sorts of trouble, including running the phone out of battery.
Read: 10 Neat Things the Galaxy Note 8 Can Do
Whether these are pre-installed apps or something you downloaded from Google Play, there is a chance a rogue app is causing an issue. This goes for all Android devices, not just Samsung's new Note.
If you use an application a lot, it's going to drain your battery. At the same time, some situations occur where an app uses an abnormal amount, and that's what we're trying to avoid. We've seen this with the Oculus app Samsung pre-installs on the phones and even Facebook.
Our screenshot above shows what an average day should look like for heavy users. Average smartphone owners may get even better battery life. We've used the Note 8 for nearly 24 hours, including over 4 hours of "screen on" time. You'll also notice the phone displays I have over 4 hours of battery remaining.
On the left, the app using the most battery is actually the Android system resource. This is typical, but if you see some other app near the top something is wrong. If this does happen, make sure you close the app or even try uninstalling and reinstalling it.
Go to Settings > Device Maintenance > Battery > Battery Usage to see what's going on.
We also recommend updating apps around or after the update to Android 9 Pie. Even Samsung's own Galaxy App Store has several updates going out to make apps ready for Google's latest OS.
Reboot Your Galaxy Note 8 to Fix Battery Life
There are many different things that could cause your Note 8 to drain too fast. Sometimes the easiest way to stop it is a simple reboot. If you notice the battery draining too fast just reboot the phone and most likely it will fix itself.
This sounds like a silly recommendation, but you'd be amazed how many minor problems get fixed by a simple reboot.
Disable the Always-On Display
A feature most love about the Galaxy Note 8 is the Always-On Display. The small clock, date, notifications and battery meter on the screen at all times — even when the screen is turned off. This is the customizable always-on display.
Samsung claims the AOD feature will drain less than 4-5% throughout an entire 8 hour work day. So while it's a small difference, if you're looking for every advantage possible turn this feature off. Head to Settings > Display > scroll down and disable the Always-On display.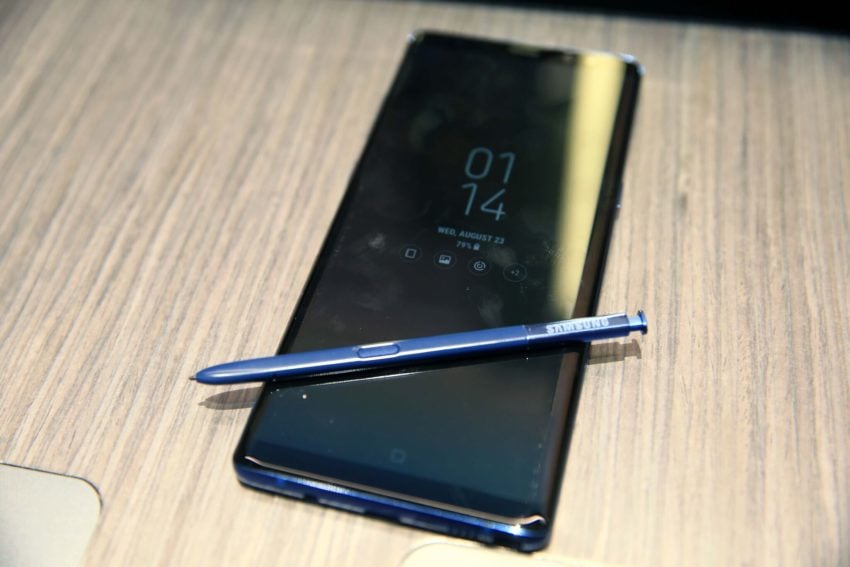 Screen Brightness & Sleep Time
However, the Always-On display will likely improve battery life, not make it worse. That's because most users check their phone over 140 times a day. Turning it on just to check the time or a notification, and that's all. The feature we mentioned above cuts down on that, so we recommend keeping it on.
Instead, make sure you hit the power/sleep button whenever you're done using the phone, so the screen isn't just turned on for no reason when you're done using it. Additionally, controlling the screen brightness and sleep timer are equally important.
Head to Settings > Display > Brightness and lower the brightness to something around 50% or less. Leaving the Note 8 on auto-brightness isn't the best for battery life. The screen is plenty bright already, so turn it down unless you are outdoors.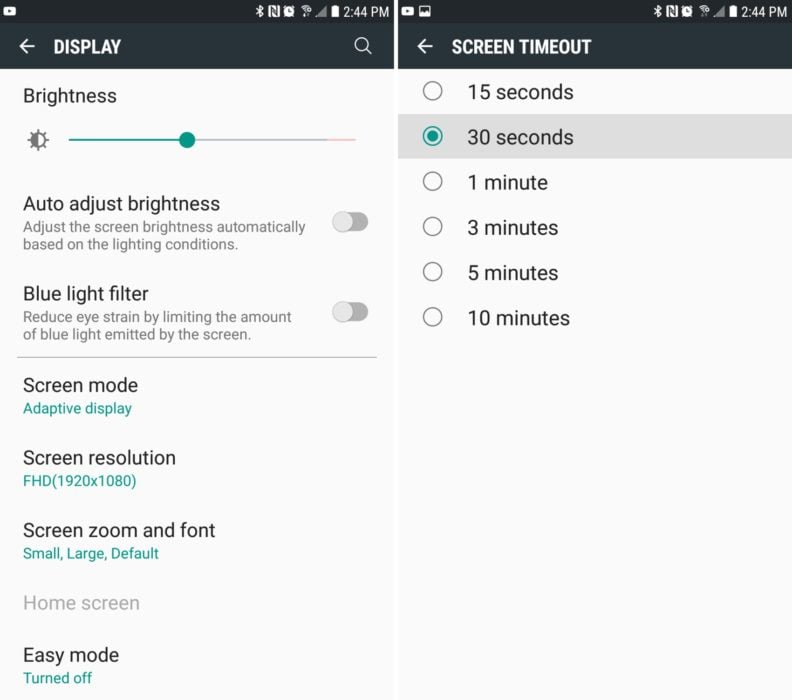 While we're in display settings we also recommend turning down the "screen timeout" option. This is how long the phone stays on after each use before the screen dims and turns off by itself. Samsung uses 1-minute, but we suggest trying 30 seconds. Now, every time you use your phone it doesn't sit on a desk or table turned on for one minute at a time. Add up the 140 times most check their phone, and you'll quickly use up all your battery life.
Use a Black Wallpaper
This isn't for everyone, but using a Black wallpaper will improve battery life too. This is because Samsung's AMOLED display technology works differently than most phones. It's easier and more efficient when displaying black, instead of color. Pixels don't need to turn on individually — or as high — to display a black image.
After you've downloaded a nice wallpaper long-press a blank area of the screen and go into Wallpapers to apply it. This only helps a bit, but combine it with all of our tips and you'll see good results.
WiFi, 4G LTE, Bluetooth & GPS
Again, every bit helps when you combine it all over 8-10 hours a day. With that said, if you aren't using WiFi or Bluetooth, turn them off. Connecting to WiFi when possible saves battery life. That said, if you're not using WiFi but it's constantly trying to find and connect to one, it will hurt battery life.
Another reason we run out of battery too fast is GPS. Whether that's Google Maps or Facebook Messenger trying to find your location. Google Maps isn't as accurate with this turned off, but disabling the GPS chip shows substantial improvements to battery life.
Head into Settings > Privacy & safety > Location > and select Location Method, then choose "Battery Saver" or the middle WiFi and Mobile networks.
Turn off Galaxy Note 8 Features You Don't Need
Like we said earlier, Samsung phones have tons of software features. Some of them are extremely helpful, while others will use up battery for no reason.
Any previous Galaxy owner knows all about the many gestures or motion controls. If you don't use them, turn them off to help save juice. Like swiping a hand over the screen to take a screenshot, keeping the screen on if the sensors see a face looking down and more. They even have a feature where putting a phone to your ear while reading a text message instantly calls that person. Use these if you want, or turn them off if you don't.
Head to Settings > Advanced Features > and turn off things like Smart Capture, Palm Swipe Capture, Direct Call, Easy Mute, and disable "Smart Stay" in the display settings. These all need power and sensors inside the phone for things we rarely use.
Battery Saver & Performance Modes
Next, try Samsung's built-in battery controls, savers, or performance modes. Under Settings > Device Maintenance > Battery you'll find performance modes. Basically, owners can choose what works best for them. This will change the screen brightness and resolution, or even slow down the process to extend battery life throughout the day. Click here for more information. Plus, Google added some battery optimizations to Pie that will help too, over time.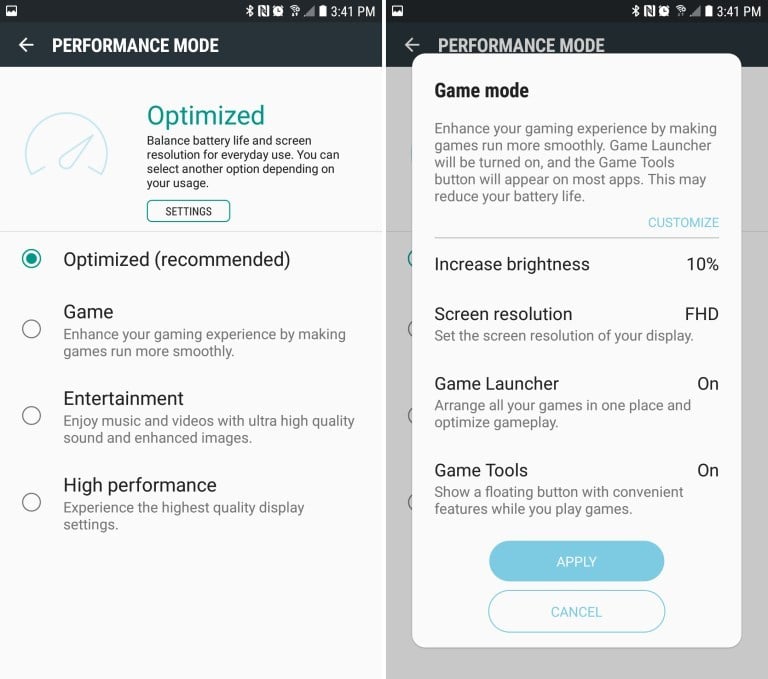 One thing to mention is changing these settings will mess up your homescreen and icon locations. That's because they adjust the screen resolution. The changes are small, but average users will benefit from what Samsung has to offer here.
What's Next?
Before we close with a few last-minute tips, we want to talk about what's next. That will be another update of Android 9 Pie with tons of bug fixes. Then, eventually we'll see Android Q later this year.
Obviously, the Android 9 Pie One UI update won't fix every problem, and so far we're actually seeing a few new ones emerge. That said, the new One UI software is brand new and Samsung WILL issue several updates within the next 3-months to improve things. Either way, get ready for the Note 8 Android Pie update if you didn't get it already, and everything else it entails.
Other Battery Tips & Tricks
At the end of the day, battery life always comes down to how you use your phone personally. Some are heavy users, some aren't. Another app worth checking out is BetteryBatteryStats. This program shows you what apps use what, and will highlight potential problems. It's a pretty powerful app that will give you more insight into your usage habits.
Another thing to consider is Bixby, Samsung's virtual assistant. Don't use the always listening wake commands, or customize how much Bixby does. This will help battery life too.
Read: How to Enable Full Screen Apps on the Galaxy Note 8
Last but not least is Airplane mode. When you don't need your phone for calls, texts or internet turn on Airplane mode. This setting turns off all data, radios, services and more and most phones can last 4-5 days with it enabled. If you're traveling, give it a try. I've also found that deleting apps I no longer use or restarting my Note 8 once a week helps too. This gives the phone a clean slate and fresh start, not to mention cuts down on apps that bog down the system.
In closing, here are a few tips for general problems, and we'll update this post with more battery-saving tips in the near future.

As an Amazon Associate I earn from qualifying purchases.