Best Galaxy S10 Wallet Cases
These are the best Galaxy S10 wallet cases worth buying in 2019. Whether you want to ditch your wallet or just leave a bulky purse at home, a wallet case is highly recommended. Giving you one less thing to worry about so you can grab your keys, find your phone and head out the door. They also keep your big expensive phone safe.
Samsung Galaxy S10 cases come in a slew of different styles, and wallet cases are some of the most popular. With a phone this powerful and neat features like Samsung Pay built-in, all you really need is your phone and some ID.
Our list has everything from thin wallet cases, folio flip wallets, to premium protection made by Samsung or other reputable brands. Hold a few cards for the night out or take your entire wallet everywhere.
Best Galaxy S10 Wallet Cases
Silk Wallet Slayer Case for the Galaxy S10 – $15
Spigen Slim Armor Wallet – $16
Samsung LED Wallet Cover – $65
Goospery PU Leather Wallet – $14
Case-Mate Wallet Folio Cover – $49
Modos 2-in-1 Removable Case Wallet – $21
Nodus Access III Leather Wallet – $49
1. Silk Wallet Slayer Case for the Galaxy S10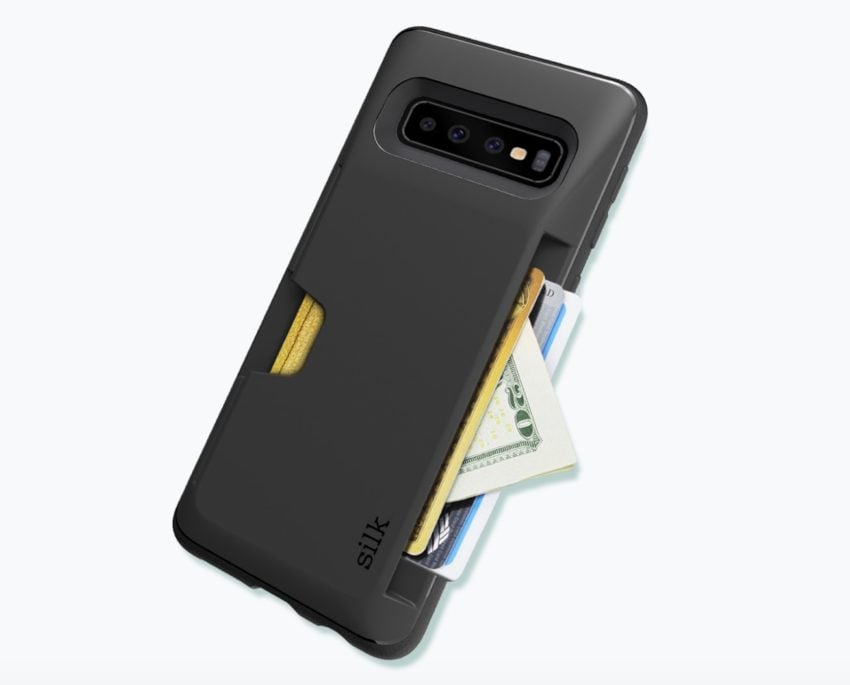 The first case on our list is one of my favorites, the Silk Wallet Slayer. They've made excellent wallet cases for the iPhone and Galaxy devices for years, and this one is no exception. This case is made entirely out of a rugged and durable TPU that's shock absorbent.
The Silk Wallet Slayer can hold three credit/debit cards or your ID, plus some cash. And, it can hold only one card too, so you don't have to fill it up to keep things safe. We really like the tactile easy to press buttons and Silk's textured grippy sides to keep the phone comfortably in your hands. Plus, there's a hidden kickstand feature that uses a card or ID as a kickstand. It's pretty neat, and one of the best Galaxy S10 wallet cases you can buy. Plus, you can create your own look and case with the Silk Design Studio.
Silk confirmed to GottaBeMobile that wireless charging still works through the case, and through your credit cards, and it will NOT ruin the magnetic strip. So enjoy every feature of your phone with this case.
2. Spigen Slim Armor CS Wallet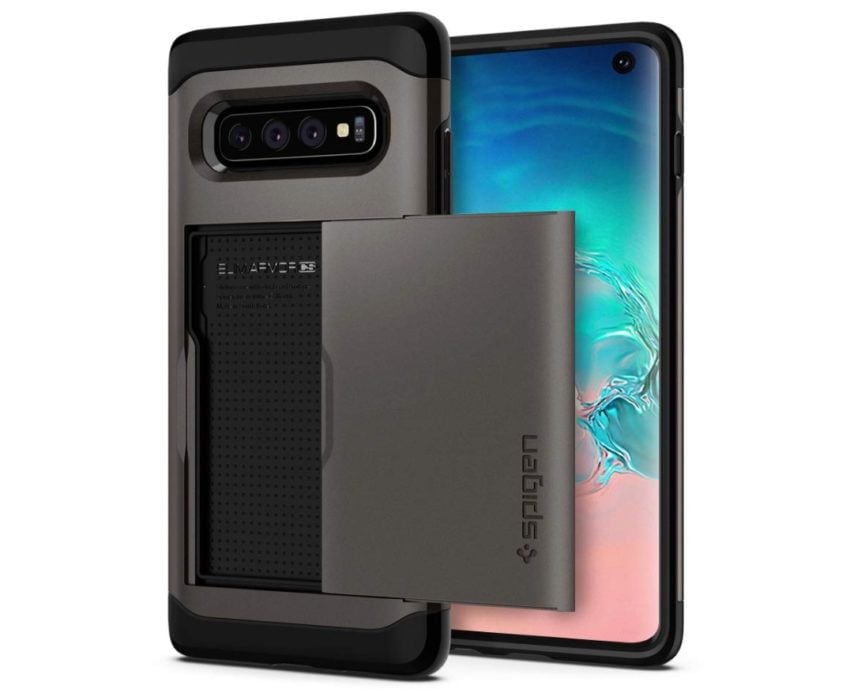 Next, you can't go wrong with the Spigen Slim Armor. The best part about this Galaxy S10 wallet case is that everything stays completely hidden. This is your typical dual-layer TPU and polycarbonate plastic case, which means it's very durable.
However, there's a little cover on the back hiding a hidden compartment that can hold 2-3 cards plus some cash. And because thieves can't see your wallet contents, you potentially won't be as much of a target for theft. Plus, this will totally keep your phone safe thanks to the shock absorbing TPU bumper on the inside and hard polycarbonate frame on the outside. Give it a try today in a few different colors.
3. Samsung LED Wallet Cover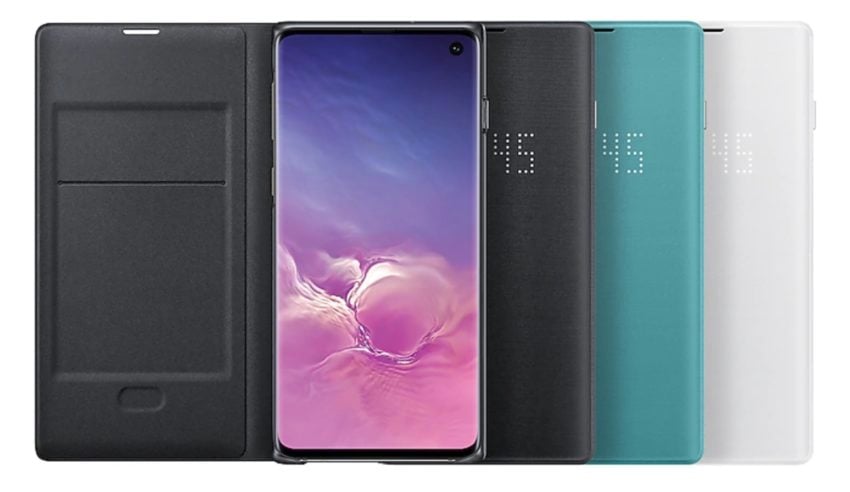 Buy it Now from Samsung for $65
Another option is Samsung's official wallet case for the Galaxy S10. And while it's more expensive and only holds one debit card or ID, that's all some people need. Plus, it's made by Samsung so you know it'll fit perfectly, look good and keep your phone safe.
Plus, the LED wallet cover will show you important information on the front (like notifications, incoming calls, texts, time, date or weather info) without ever opening the case to expose the screen or reveal your wallet. There are small LED lights inside the front folio flap, which a lot of people really enjoy. Again, it's expensive but worth it.
4. Goospery PU Leather Wallet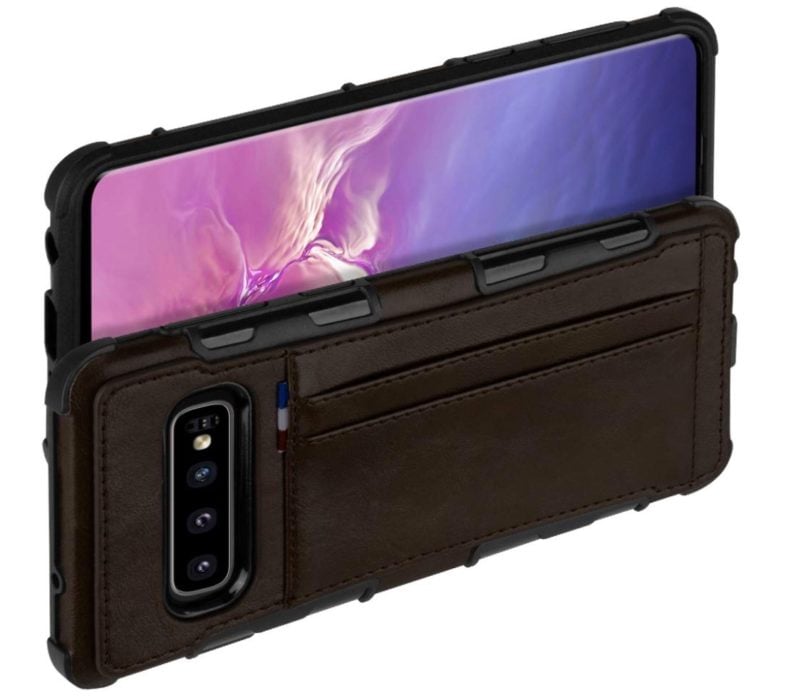 Personally, I don't like the "folio" flip cover wallet cases. They're big, bulky, clumsy and often get in the way while I'm trying to take photos. If you're the same way, consider a regular wallet case for the Galaxy S10 like the Silk above, or this fancy PU leather wallet case from GOOSPERY.
GOOSPERY offers this premium PU leather case in three different colors. And while it'll only hold two cards, that's enough for most. One debit or credit card and your ID. Plus, they're using a durable TPU inner frame and a polycarbonate shell. Then, the outer edges have this soft, smooth, yet refined PU leather you'll love. It smells and feels like real leather, too, which is nice.
5. Case-Mate Wallet Folio Cover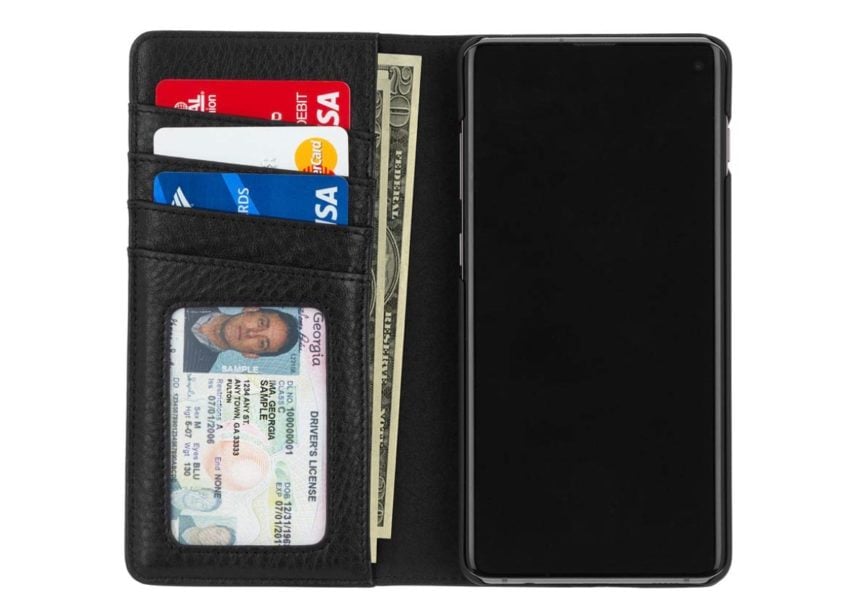 Case-Mate is a brand that's been around for years and years. They make rugged and durable wallet cases that are built to last. Their new wallet folio for the Galaxy S10 has FOUR credit card or ID slots, including one with a window for your driver's license. Plus, under the four card slots is a full-length pocket for cash, checks if you're a dinosaur or other important things like receipts.
They're using a premium calf-skin genuine leather that's handmade with precise stitchwork too, and it shows. Plus, the back of the case folds out, away from the phone, and doubles as a kickstand for hands-free movies or Netflix sessions. It's a great case that most people will enjoy.
6. Modos 2-in-1 Removable Case Wallet
This wallet case does a little bit of everything. And while it almost has too much going on, some Galaxy S10 owners will absolutely love what this case has to offer. It's a regular case, a wallet case, kickstand, and there's even a zippered pocket to hold valuables or change. Yeah, it does it all.
You can store up to 14 credit, debit, ID or reward cards in this wallet, plus cash, plus change, and it has an ID window to boot. The front folds open like most folio wallet cases with three spots and an ID window, but on the back is where all the magic happens.
However, the part most people will really enjoy with this case is the 2-in-1 removable wallet feature. You can actually take your Galaxy S10 out of the wallet, if you don't want to carry the whole setup, and your phone is still safe. That's because the removable Galaxy S10 case made from durable TPU and fabric wraps around the phone but is separate from the rest of the wallet. It's a novel idea that you'll absolutely love.
7. Nodus Access III Leather Wallet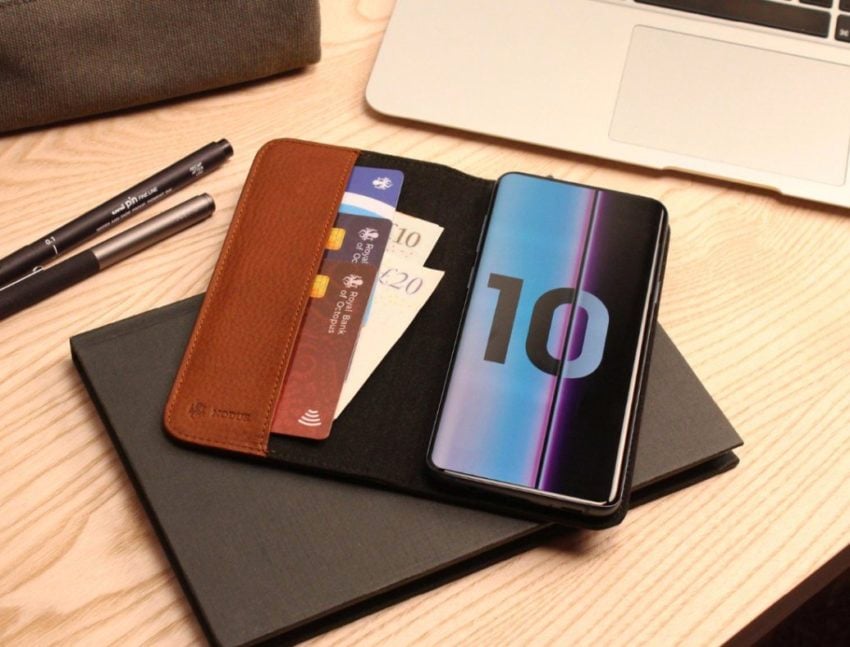 Last but not least, for now, is a stunning and beautiful premium leather wallet case for the Galaxy S10 from Nodus. They've made some of the highest-quality iPhone wallet cases for years, and finally, in 2019 they're offering the Access III wallet for the Galaxy S10 and S10+.
The Nodus Access III uses hand-crafted 100% genuine vegetable-tanned Italian leather with fancy stitching throughout. Each case looks, feels, and smells like fancy leather. You'll love it. They're using a soft microfiber lining on the inside too, which will keep the front and the back of your Galaxy S10 safe.
An inner utility pocket holds three credit or ID cards plus some cash, and if you noticed, the phone looks like it's magically in the case. That's because the back has a patent-pending micro-suction cup system that holds the phone securely in place. There's no weird TPU bumper that goes around the phone or anything. You get to feel and use the phone like there's no case on it. This is one premium Galaxy S10 wallet case anyone can appreciate.
We'll update this list as we try more cases and find some worth recommending. Or, get yourself a Galaxy S10 battery case and power through the weekend with ease.

As an Amazon Associate I earn from qualifying purchases.