8 Best Galaxy S8 Wallet Cases
Buying a Galaxy S8 wallet case is a great way to protect your phone and carry less at the same time. These cases can replace a bulky wallet or allow you to leave your purse at home. It's one less thing to remember so you can grab your phone, find your keys and head to work.
Galaxy S8 wallet cases come in a slew of different materials and styles. Below we'll explain what each style has to offer and recommend a few that will surely fit your need.
The first style is a folio flip case. Designed to look like a wallet with the same magnetic strap and it covers the entire device. It can hold three credit cards or cash on the inside. These cases can become bulky but are still the most popular style. The fold-out flap gets in the way while you take photos and your ID cards could scratch the screen. Many folio cases feature a built-in kickstand and an included ID window for convenience.
Read: 16 Best Official Samsung Galaxy S8 Accessories
The next option is similar to a typical flat case that doesn't cover the front of your phone. It has ID and credit card slots on the back. These are thin and sleek but may not hold as many cards. Your wallet contents are also somewhat visible and could be a target for theft. Not to mention there's no flap covering the screen and you may want to buy a screen protector.
And finally, there is a third option that looks like most flat cases sold by carriers, but with a sliding door to hide and protect your wallet contents. These are bulky and typically only hold one or two cards. Each one has its benefits for certain scenarios.
Here we've rounded up some nice wallet cases that match these styles. All from brands we know, use and trust. They are available from Amazon with fast shipping and often priced lower than official accessories from Samsung. All of them are available for both the Galaxy S8 and the Galaxy S8+. While you're here, consider some battery cases or even clear cases to show off that premium design.
CM4 Wallet & Kickstand Case for Galaxy S8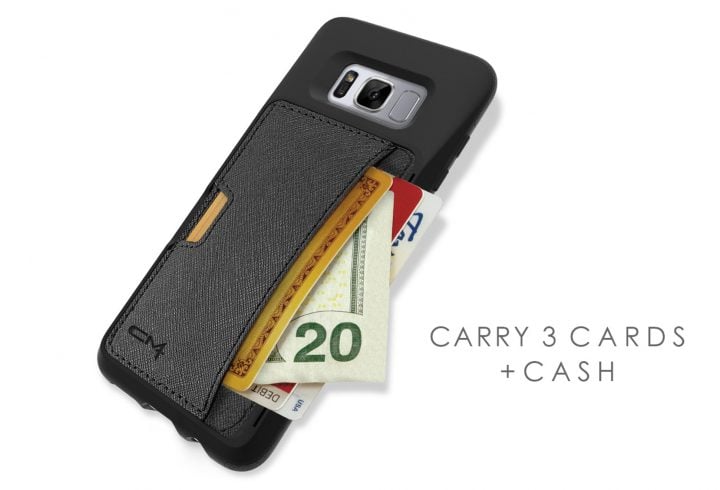 Our first choice for a wallet case is from a company called CM4. The Q-card wallet and kickstand case has multiple features. It can hold three credit or ID cards and some cash, safely and securely. This isn't a flip case yet you still get a kickstand.
If you don't want a folio flip case as mentioned above, this is a good route. CM4 uses a durable TPU material with air-cushioned corners and a textured grip around the edges all in a sleek design. Adding a wallet to your phone without the bulk.
My favorite part of this case is the synthetic leather material that holds your credit cards, which is recessed into the body of the case. Additionally, it has a unique feature where owners can use their ID as a kickstand. It's pretty neat, and one of my all-time favorite cases.
Get it today on Amazon for $24.99 or for the Galaxy S8+