10 Best Galaxy S8 Clear Cases
The new Samsung Galaxy S8 and Galaxy S8+ are two of the best looking phones ever released. Buyers will want a case, but there's no need to cover the premium design while you're at it. As a result, we've gathered up a list of the best clear cases for the Galaxy S8. Offering both style and protection.
While we've already detailed some good cases for the Galaxy S8 and the Galaxy S8+ those are a combination of multiple choices. That said, a lot of people don't want a case or want something minimal. That's exactly what we'll be showcasing here today. Minimal clear cases for the best experience.
Read: Galaxy S8 Release Date Breakdown
Once the April 21st release date arrives owners will be looking for cases of all shapes and sizes. We'd recommend buying one from our list below. Which is full of brands we know, use and trust when it comes to smartphone protection.
After being announced on March 29th Samsung confirmed the release date is April 21st. Along with it they detailed a slew of accessories you'll want to consider. Including a clear case for the Galaxy S8 and S8+.
For those that don't know, this year the phones are huge. Offering a massive 5.8-inch display on the regular model, and a bigger 6.2-inch Infinity display on the Galaxy S8+. That's a lot of screen and glass, which can get damaged if dropped.
Read: 13 Galaxy S8 Features You'll Love
Additionally the back is completely covered in Gorilla Glass too. Meaning it can scratch or crack, even though it's pretty durable glass. Out of the box the Galaxy S8 is a durable device, but with glass everywhere, big screens and curved edges, we'd highly recommend a case and or a screen protector.
Not to mention it's IP68 dust and water-resistant, meaning those types of cases with added protection aren't needed. As a result many buyers will opt for a simple and thin clear case, which is why we have a few to recommend.
Rather than suggest a few, we've gathered a big list of clear cases that will go perfect with Samsung's new phones. These are trusted brands like Spigen, Speck, Samsung, Tech21 and many more. Without further delay, here are the clear cases you'll want to consider.
Samsung Protective Clear Cover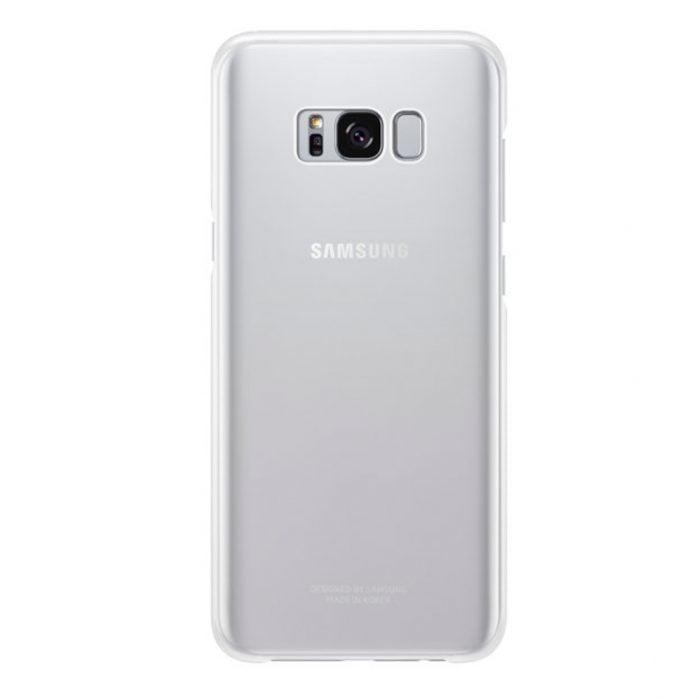 Like we've seen over the past few years, Samsung is offering a slew of different cases and accessories for the Galaxy S8 series. One of the first ones that stood out is their new protective clear cases. They are color-matched to the four main colors at release, yet still clear.
Meaning you can get a slim, durable, and solid clear case made by Samsung perfect for the Galaxy S8. They're available in Black, Blue, Silver and Gray. Basically this is a hard clear case with a hint of color to match your phone. We'd recommend this first as it's made by Samsung for their own product. Guaranteed to be just about perfect.